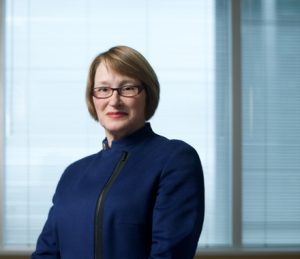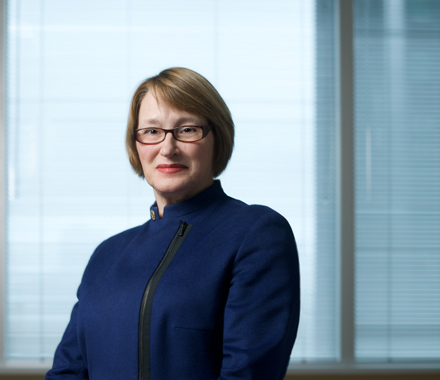 By McGill Reporter Staff
McGill has tapped one of its own to lead the University into a challenging, transformative future. Suzanne Fortier, President of the Natural Sciences and Engineering Research Council of Canada (NSERC) in Ottawa and a McGill alumna, was the unanimous choice of the Board of Governors to succeed Heather Munroe-Blum and become McGill's 17th Principal and Vice-Chancellor.
In order to comply with the transition period that must occur between her departure from NSERC and her new position at McGill, Dr. Fortier will take up her duties in early September. An Acting Principal will be appointed to serve from July until September.
A distinguished scientist, teacher and academic leader, Dr. Fortier received a BSc (1972) and a PhD (1976) in Crystallography from McGill. Crystallographers specialize in the development of mathematical and artificial intelligence methodologies for determining protein structure. Dr. Fortier has authored or co-authored more than 80 scientific publications and earned numerous national and international awards and distinctions.
She was a member of the Protein Engineering Network of Centres of Excellence (PENCE), the Institute for Robotics and Intelligent Systems (IRIS) and Communications and Information Technology Ontario (CITO).
"Dr. Fortier's record of outstanding scholarship, demonstrated leadership in academic and research senior administration and success in forming national and international partnerships gives her the ideal qualifications to lead McGill at this time," said Board of Governors Chair Stuart H. (Kip) Cobbett.
"It is of special significance that she is returning to her alma mater after having built an exceptional career on a national and international scale. Her strong track record in fostering outstanding programs of teaching, scholarship and research will serve McGill and its mission superbly."
Dr. Fortier said she is looking forward to taking on the post.
"I am proud to be invited to serve as the next Principal and Vice-Chancellor of McGill," Dr. Fortier said. "Principal Munroe-Blum blazed a trail as McGill's first female Principal and as an exceptional leader, and it will be an honour to follow in her footsteps. McGill opened up a world of opportunities for me, and I look forward to working closely with the McGill community upon my arrival."
The native of St-Timothée, Que., Dr. Fortier was selected following a recommendation from the Board of Governors' Advisory Committee assisting in the search.
Committee members were enthusiastic about her selection.
"Dr. Fortier will be great for McGill because of her extensive experience, leadership abilities and love for McGill," said Haley Dinel, Vice-President (University Affairs) of the Students' Society of McGill University and a member of the Advisory Committee.
"The remarkable string of positions Dr. Fortier has held and her achievements in them tell us that she will be a strong leader for McGill," said another member of the Advisory Committee, Dr. Bernard Robaire, Professor of Pharmacology and Therapeutics.
"We are very fortunate to have a new Principal who has so many of the attributes that we heard were important during our more than 30 consultations with every major element of the McGill community. She is a highly respected academic with a strong research and administrative background, both within academia and in the public service, as President of NSERC.
"Some of the key elements that make us so enthusiastic about her becoming our Principal is her love of McGill, her alma mater, her knowledge of Quebec, her ability to listen and to establish a rapport with everyone around the table, and her gift for engendering enthusiasm."
Prior to joining NSERC in January 2006, Dr. Fortier had served as Associate Dean of Graduate Studies and Research, Vice-Principal (Research) and Vice-Principal (Academic) at Queen's University in Kingston, Ont., where she was also Professor of Chemistry.
Her predecessor was also full of praise.
"I am absolutely delighted at the forthcoming appointment of Dr. Fortier," said Prof. Munroe-Blum. "She is an exceptional person. She has distinguished herself in ways that prepare her perfectly for this important role. We are lucky to have her coming to us."
Cobbett said in an interview he was pleased to reach the end of what he described as "a long road, but a very satisfying one," that lasted about a year.
And he had praise for Prof. Munroe-Blum, as she nears the end of her second term.
"I don't want to sound trite, but Suzanne has very big shoes to fill. Heather's done, I think, an outstanding job and is leaving McGill in very good shape. And it's up to Suzanne to pick up where Heather has left off," Cobbett said. "Obviously, Suzanne will make her own mark on the University, she will be a different Principal, just as every Principal is different. I am confident that she will continue the upward trajectory McGill is on.
"She's absolutely passionate about taking this job. She has a love and a respect for McGill that is quite extraordinary."
Dr. Fortier said she is eager to take on the post despite the challenges facing McGill and other Quebec universities in terms of government-imposed budget cuts and continuing funding uncertainties.
"It is a time of profound transformation in our world, a world that is increasingly global, without borders, changing at a very fast pace and highly competitive," she said. "Universities around the world are looking at the crucial role they play in this transformation. The discussions and analyses taking place in Quebec, are to be seen as important steps in this process and I look forward to participating in this transformation.
"Being part of the broader community of McGill, a community with a strong commitment to excellence, is what I am looking forward to the most.
"I came to McGill as a student from a small Quebec village, speaking little English. I knew I was joining a great Canadian university, but I had no idea I was joining one of the best universities in the world.
"My McGill education has opened many doors for me. McGill is a great asset for all the people of Quebec and I am highly committed to increasing its presence in Quebec."
In 1997, Dr. Fortier received the Clara Benson Award for distinguished contributions to chemistry by a woman, as well as the Entrepreneurship Award from Communications and Information Technology Ontario. She was awarded the Queen's University Distinguished Service Award in 2005, an Honorary Doctor of Letters degree from Thompson Rivers University in British Columbia in June of 2006 and the Queen Elizabeth II Diamond Jubilee Medal last year. She is a fellow of the American Association for the Advancement of Science and an officer of France's National Order of Merit.
Dr. Fortier served as a member of the Board of Directors of the Ontario Centres of Excellence Inc., the Board of Governors of the Royal Military College of Canada and the federal government's Council of Science and Technology Advisors (CSTA).
She is currently a member of the Board of Directors of the Canada Foundation for Innovation, the Strategic Committee of Investissements d'Excellence Bordeaux, the Steering Committee of the Networks of Centres of Excellence and the Ontario Task Force on Competitiveness, Productivity and Economic Progress.
When she finds time away from work, Dr. Fortier said, she loves to spend time with family and friends "around great meals that we prepare together. I also very much enjoy cultural life and I will be spoiled in Montreal with its fantastic creative environment. I also enjoy learning about other cultures, and, to give you an example of this, I have been learning Italian and Greek.
"Learning is the activity I enjoy most, both in my professional and personal life. It brings me joy and inspiration."
For more details about the Principal-Designate or the selection of the 17th McGill University Principal and Vice-Chancellor, including the membership of the Advisory Committee, the search criteria and the phases of the selection process, please visit www.mcgill.ca/secretariat/advisory/principal-designate.