At the end of her interview with the McGill Reporter, Dr. Ruth Westheimer, perhaps the best-known sex therapist in the world, asks for a copy of the article after it is published. When she is told that the Reporter is online only, but the article will be printed out and sent to her, Dr. Ruth is relieved. "Good," she laughs. "I may be sexually literate but I am computer illiterate!"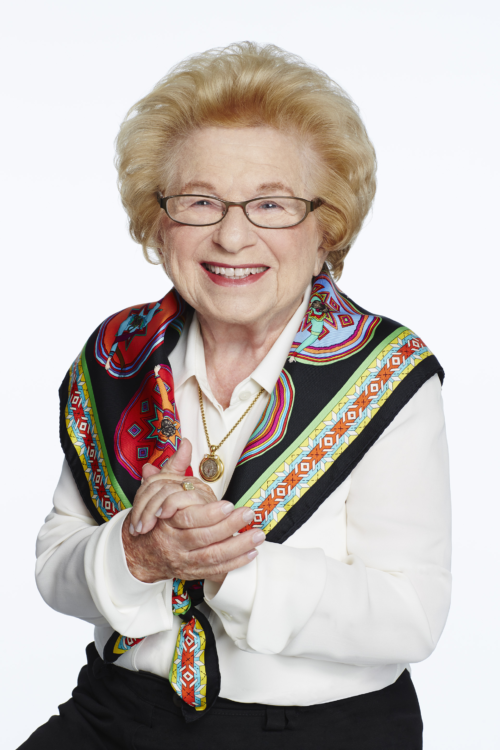 Dr. Ruth got her "big break" in 1980. Following a lecture to New York broadcasters on the need for sex education programming, she was offered her own radio show. Sexually Speaking (later renamed The Dr. Ruth Show) aired on WYNY in New York, and featured frank – and often explicit – discussions on relationships and sex that was completely unheard of at the time.
By 1984, the show was syndicated and Dr. Ruth's rise to fame was meteoric. With her heavy German accent, quick sense of humour, and matter-of-fact way of discussing topics that made many people blush, the diminutive (4'7") Dr. Ruth became a household name. She soon jumped to television with her own show and was making appearances on everything from Late Night with David Letterman and The View, to Quantum Leap and Hollywood Squares.
A documentary about her life, Ask Dr. Ruth, premiered to critical acclaim earlier this year at the Sundance Film Festival. The film offers a rare view into the incredible life of Dr. Ruth, from Holocaust survivor and Israeli-trained sniper, to best-selling author and a fierce advocate for sexual health, abortion and LGBTQ rights.
On October 23, the indefatigable 91-year-old ("91 and a half," she laughs), will close the 2019 Trottier Public Science Symposium, this year titled Longing for Longevity. In advance of her lecture, Sex After 50, Dr. Ruth spoke to the McGill Reporter about… well… sex, of course.
How revolutionary was it for someone – especially a woman – to talk so frankly about sex in the 1980s?
It was very unusual. But for me to participate, there could be no subject that was off limits. If I couldn't say 'orgasm' or 'erection,' how was I going to talk about issues of sexuality?
I was very fortunate because the radio show started in New York people there are very generous toward people with accents [laughs].
I did that for 10 years, then I did a lot of television and – look at me – I'm still talking about sex.
Things certainly have changed. Now it seems the media talks about sex all the time.
It has changed a lot since my first radio show. Back then it was like the British mother who told her daughter on her wedding night, 'Lie back and think of England.' Now it seems like sex is everywhere. But the pendulum will swing back to the middle again.
Your Trottier Symposium lecture is titled Sex After 50. How does sex change as we get older?
There are things that people have to know. For women, the orgasmic response is not as strong after 50. For men, the erection and the ejaculation may be less strong, but they can still have sex – and they should have sex.
But older people should have sex in the morning when the testosterone level is highest for men. Also, after a good night's sleep, women are often more receptive to sex. People should not give up on sex.
So, it isn't true that people lose interest in sex as they get older?
Hopefully not! But they have to be sexually literate. For example, they should know to use a lubricant because having intercourse with a vagina that isn't lubricated can be painful and make a woman less inclined to have sex.
The main misconception is that older people don't really want sex. That's wrong. They certainly want to be touched and hugged and they want companionship. If they are sexually literate they will know how to have a good sex life during the later stages of life.
Does the sex change as we get older?
Yes, it evolves.
Maybe we don't have to satisfy both partners [in the same session]. Maybe he gets satisfied by her one time and she gets satisfied by him another time. Sex it doesn't always have to be like Siamese twins – everything at the same time.
How important is intimacy?
Sex is not only about intercourse and orgasms. The important thing is the companionship, and the friendship, and the knowledge that this is the person I can talk to and I can share my life with.
A lot of couples find it difficult to talk about sex even though they've been intimate all these years. How do couples approach their changing needs?
The thing to do is to watch some kind of program on sex and to read. There are plenty of books on sex, not just my books. People need to say "I know it's difficult to discuss orgasms and erections but in order for us to engage in terrifically good sex we have sit down and talk about these things."
Why is important for us to have a healthy sex life?
It's something that was given to us and we should use it, of course! If someone says they don't need it I just say 'Have a good time and go swimming!' [Laughs]
You talk about sex in a very straightforward way, But, you are also very funny.
It's very important to use humour. In the Jewish tradition it says a lesson taught with humour is a lesson retained.
You've been talking about sex your whole life. Do you ever get tired of it?
Not yet. Tomorrow I'm going to watch the movie Ask Dr. Ruth at the school where I got my Masters and then I will have a discussion with someone on television. I just did an interview with the Hollywood Reporter and now I'm talking to you.
I'm not getting tired of it yet. And, if I do, I will stop.
What keeps you so passionate about sex?
I meet so many people who tell me that I helped save their life or that I helped them when they were having difficulties. That's very rewarding.
People are very excited that you will be speaking at the Trottier Symposium
I'm delighted to come to McGill and Canada too! My son is a professor at the University of Ottawa, my daughter-in-law is also a professor there, and I have two Canadian grandchildren. My granddaughter is at the University of Toronto and my grandson is in his last year high school.
I like you Canadians very much!
If you had one bit of advice to give our readers about sex what would it be?
The important thing is to have a relationship. And then on top of that relationship, you should be sexually literate to make sure that you know all there is to be known about sex. But first you need that relationship. I'm old-fashioned and a square – you can tell that to the people at McGill – but I speak explicitly and I will answer their questions explicitly.
The 2019 Trottier Public Science Symposium will be held on October 22-23. All events will take place at the Centre Mont-Royal (1000 Sherbrooke Street West, corner Mansfield). Free. General Seating. No reservations required. Get more information online.