By Pascal Zamprelli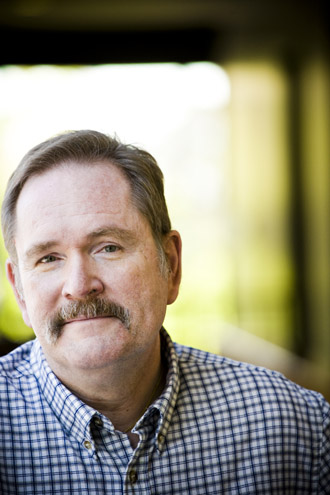 "Working with students, I think it's a psycho-therapist's dream job," says Dr. Robert Franck, of working at McGill's Student Mental Health Service, where he has recently been appointed Clinical Director. Having worked McGill's Department of Psychiatry for about 25 years – the last 10 of which were split between part-time work at the Mental Health Service and work at various hospitals – Dr. Franck knows what he's getting into, and couldn't be happier about devoting more of his time to students.
"Students are highly motivated, when they run into difficulty and change, to look for strategies in addressing their situations in a concrete and specific way," he said. "For many it's the first time they've left home, and they're dealing with all sorts of issues of autonomy, growth, self-development and all of these things I think are addressable in ways that are specifically helpful to the student population as opposed to a hospital-based population.
"Students are wonderful in that they are able to look at things from different perspectives, and welcome the opportunity to do so, as opposed to being defensive about it. They're willing to explore things; they're willing to change."
There is indeed much to explore for the student in need. Dr. Franck notes that McGill is one of only two universities in Canada that offers a "full-service model" with respect to mental health, which means that, short of hospitalization, students can have all their needs met, including crisis management, short-term therapies, and even prescriptions (though he is quick to point out that "we don't rush to medicate").
Nine psychiatrists work at the service, four of whom are full time, as well as four psychologists and two psychotherapists. They are trained and ready to deal with a variety of issues, from anxiety disorders to depression – which represent the most common cases Dr. Franck and his colleagues see – to eating disorders and attention problems. Appointments are encouraged, but there is a drop-in policy so any student who feels in crisis at any time can come in and will be seen that day.
All students, Dr. Franck insists, can rely upon a strict policy of confidentiality, and can rest assured they will be active participants in the care they receive. "Long gone are the days where we were the experts telling people what to do," Dr. Franck said. "We see ourselves more as collaborators with the student – to work together to come up with something that the student endorses."
Dr. Franck sees the importance of collaborating with not only with students, but also with the many other services offered to students in need, so that students receive the most efficient and effective care. "We are just one of several services offered to students throughout their studies at McGill," Dr. Franck said, explaining that his group works closely with the Counseling Service, the Office of Students with Disabilities, McGill Health Services, as well as many student-based initiatives such as Queer McGill and Nightline. Students should feel comfortable going to any of these points-of-entry with the confidence they will have all of McGill's resources at their disposal and working together. (All of these services, it should be pointed out, are already paid for through student's fees.)
"We're not competitors in this market; we help each other out, and we each have our own niche, each type of thing that we do best, and why not learn from each other in these instances," said Dr. Franck. "I'd like to kind of work with all these services so that we know what we're doing, that we know each other's strengths, and that we deliver the best quality of health care and mental health care to the student that they can get."