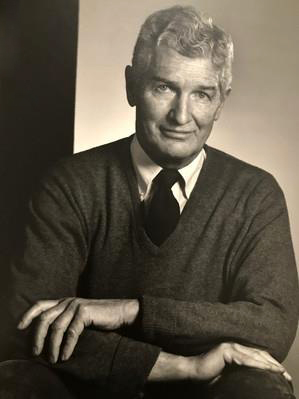 "Skip Sheldon was an iconic figure," says Dr. Richard Cruess, who served as Dean of the Faculty of Medicine from 1981-1995 of the late Dr. Huntington (Skip) Sheldon, BA'51, LLD'96. "He was as gifted a teacher as McGill has ever had." Dr.  Sheldon, former Strathcona Professor of Pathology in the Faculty of Medicine, passed away on December 29, 2017, at his home in Vermont, leaving an impressive heritage of achievement at McGill in teaching, research, and philanthropy.
"For a long time he ran optional Saturday morning pathology sessions for medical students," Dr Cruess notes. "They were always crowded, and were sheer magic because he brought science and medicine alive. In research he worked at the forefront in several fields of study, never repeating what other people did. He was a brilliant man."
Dr. Sheldon, who was born in New York City on January 14, 1930, came to McGill for his undergraduate studies, completing his degree as a Markle Scholar. He earned his medical degree at Johns Hopkins University. While still a medical resident, he carried out groundbreaking research at the Karolinska Institute in Sweden, becoming the first person to use electron microscopy to examine articular cartilage in joints. Dr. Sheldon joined McGill in 1958 and quickly established his reputation as an outstanding teacher and researcher, furthering his work in electron microscopy and histochemistry, and eventually exploring the secretory biomechanisms of the silkworm.
He also went on to become a very generous benefactor to the University. At a time when the facilities required for biotech research were enormously expensive, he provided the funds to create the Sheldon Biotechnology Centre, launched in 1989. "This wonderful gift had an enormous impact," says Cruess, who notes that it operated around the clock to serve researchers in Medicine and Science. Dr. Sheldon was also committed to the preservation and understanding of medical history. He supported the Osler Library of the History of Medicine and provided a gift to build a permanent infrastructure for the university's Maude Abbott Medical Museum, named after the pioneering physician and researcher (and, eventually, McGill lecturer in pathology) who served as the museum's curator from 1898 through the early decades of the twentieth century.
McGill's music program was another beneficiary of Dr. Sheldon's generosity. He made an anonymous gift to fund the construction and installation of the University Organ in Redpath Hall – his gift being made public only in 1996, when he was receiving a McGill honorary doctorate.  Since its 1981 inauguration, the organ has proven a boon not just to McGill's but also to Montreal's musical community, especially through McGill's Summer Organ Academy. This was the first "historic copy" of a French organ in North America and that Dr. Sheldon found that idea especially appealing. In 1992, Dr. Sheldon made a $5 million gift that served as the keystone in the campaign to build what is now the Elizabeth Wirth Music Building at the Schulich School of Music. "Without Skip's support, we wouldn't have our organ program, one of the top programs in North America, and we wouldn't have the Wirth Music Building. Skip's gift initiated that project," says John Grew, Dean of Music from 1991-1996. Dr. Sheldon also served for many years on Music's Faculty Advisory Board.
Dr. Sheldon also established scholarships that supported international students, and, as with the University Organ in Redpath Hall, the scholarships were funded anonymously. He was as well a consistent donor to McGill Athletics.
After taking early retirement in 1985, Dr. Sheldon moved to Vermont, where he raised award-winning purebred Suffolk sheep; he was declared a "Master Shepherd" by Vermont in 1989. He also continued his life-long pursuit of competitive cross-country skiing and open-sea yacht racing. "He was a brilliant and very charismatic guy," says Cruess. "Everything he did was at the cutting edge."
A memorial to celebrate the life and legacy of Dr. Huntington (Skip) Sheldon will be held on Wednesday, September 26, from 3 p.m. to 4 p.m. at McGill's Redpath Hall (3461 McTavish Street, H3A 1X9).