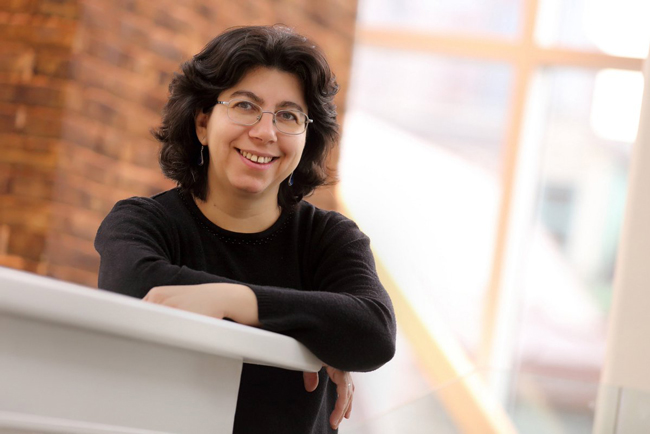 By McGill Reporter Staff
DeepMind, the AI company famous for its Go-playing AlphaGo program, announced today that it is opening a new research lab to be headed by Doina Precup, a professor at McGill's School of Computer Science.
Based in the UK, DeepMind is owned by Google's parent company, Alphabet. The Montreal lab will be DeepMind's second AI lab in Canada, opening just three months after the first international DeepMind AI lab in Edmonton
Precup a pioneer in the area known as reinforcement learning, which involves applying computer programs to solving problems by encouraging desired behaviour through rewards, says the DeepMind appointment is an excellent fit for her.
"DeepMind's exceptional research accomplishments have helped focus the world's attention on AI and to propel new scientific discoveries. The mission of DeepMind, solving intelligence, is perfectly aligned with my own research work and goals," she says. "I am really excited to join forces with DeepMind and to help build the new Montreal team. At the same time, I look forward to continue training the next generations of machine learning researchers at McGill, fostering diversity and inclusion in the research community, through AI projects for social good, and building further the Montreal AI eco-system."
In 2016 DeepMind made an international splash when its AlphaGo program defeated one of the best Go players in the world, Lee Sedol, for the first time ever. A 2,5000-year-old strategy board game, Go is considered more complex than chess.
DeepMind created a neural network that learns how to play games like a human. It also created a neural network that can access external memory, mimicking the short term memory of the human brain.
For Principal Suzanne Fortier, the opening of DeepMind's Montreal lab solidifies Montreal growing reputation as an international AI hub.
"Prof. Precup's groundbreaking exploration of how AI can navigate complexity and uncertainty is driving a transformation of unparalleled speed and magnitude," says Principal Fortier. "Montreal's dynamic AI research ecosystem is one of the ways that Canada nurtures and encourages vital collaborations between our research universities and the private sector – collaborations that position Canadians at the forefront of a revolution that is reimagining our physical, digital and even biological worlds."
Demis Hassabis is one of the founders of DeepMind. A former child chess prodigy and a giant in the video-game industry, Hassabis has a PhD in neuroscience and is known for his research on memory and imagination.
"DeepMind has huge admiration and respect for the Canadian AI research community, and the work of talented academics like Doina Precup at McGill University. Establishing a new DeepMind office in Montreal, our second international research lab in Canada, is a sign of our continued commitment to the Canadian AI community and our confidence in its future," says Hassabis. "Montreal is already a world centre for outstanding AI research and we are excited about further nurturing local talent and attracting more gifted researchers to the city."