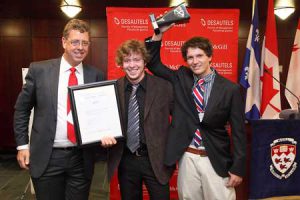 By Chris Chipello
Attention would-be Mark Zuckerbergs.
The organizers of the Dobson Cup business-plan competition are once again trolling for entrepreneurs at McGill.
The contest, hosted by the Dobson Centre for Entrepreneurial Studies at the Desautels Faculty of Management, offers a rare opportunity for budding entrepreneurs to compete for prize money – a total of $50,000 this year – and to present their ideas to a panel of experienced entrepreneurs.
The competition not only provides winners with start-up cash, it also provides mentorship for participants throughout the process – professional advice that can help their business plan succeed.
The competition is open to new business ideas and not-for-profit start-ups that are less than two years old. Judging will focus on innovativeness, growth potential and feasibility of the ideas for business or non-profit startups.
Teams entering the competition may include one to five individuals; at least one member must be a McGill student, employee or alumnus.
Entrants must submit their business or non-profit startup ideas by email, in two pages or less, on March 27.
"Students should just go for it and send in a two-pager on March 27 (the only day you can enter)," says Prof. Gregory Vit, director of the Dobson Centre. "A competition actually brings out the best, and encourages people to take the time to think through some of the important issues related to their start-ups…Where else can your idea for a start-up be given serious consideration, possible advice and funding, and maybe, even actually make it happen?"
Participation in the contest has risen sharply since it was launched three years ago. Some 58 teams submitted plans last year – up from 18 in 2009. The 2011 winners included an apparel-retailing startup that aims to help lift developing-world artists out of poverty, and a not-for-profit laundry service designed as a transitional employment program for Montreal's homeless.
For details on this year's competition, visit: www.mcgill.ca/desautels/research/centres/dces  To see a video on the Dobson Cup, go to:  www.youtube.com/watch?v=67jS8F5eoEA