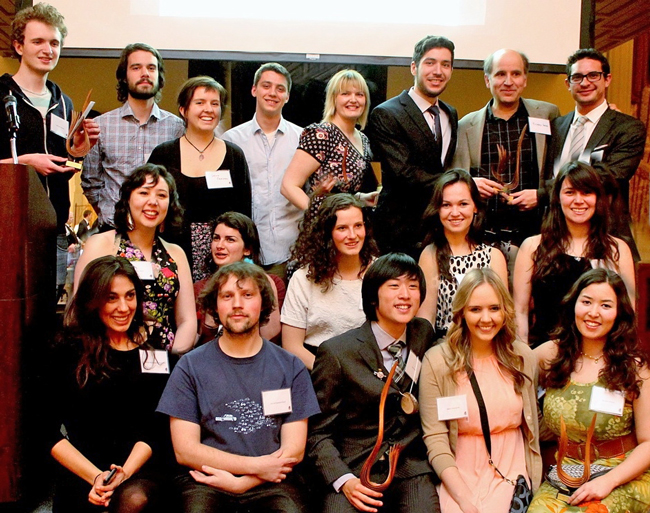 By McGill Reporter Staff
The Divest McGill group, which is conducting a campaign to persuade the University to divest from companies associated with the production of fossil fuels, was one of the winners of the Catalyst Awards handed out on April 13, at the fifth annual Office of Sustainability event held at the Faculty Club.
The event was also an opportunity to introduce McGill's new Sustainability Manager, François Miller, who comes to McGill from the City of Montreal.
The awards recognize students, staff, and faculty who have made meaningful and enduring contributions to the sustainability movement at McGill, working to integrate sustainability into McGill's academics, operations and culture.
Six awards were presented:
Four student awards in the categories Collaboration, Lessons Learned, Applied Student Research, and Emerald Key (outstanding achievement);
Two staff awards (faculty and administrative staff).
The student awards include modest cash prizes ($1,000 for the Emerald Key; $500 for the others) and may be presented to individuals or teams. A review committee composed of the following individuals or their delegates selects winners: AVP Human Resources, AVP University Services, Dean of Students, and presidents of the three students' societies.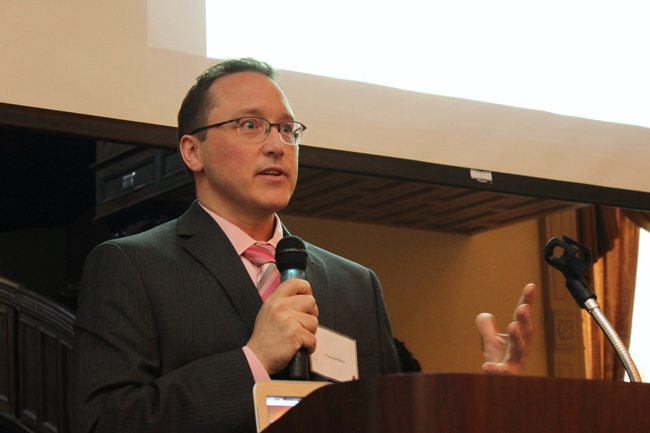 Principal Suzanne Fortier opened the event by noting that in the fairly recent past, "sustainability wasn't a word we used in our daily vocabulary…. To be concerned about it is one thing, but to do something about it is another. It's not easy.
"If we're going to take this seriously, then we will need to change…. That is why we need catalysts."
About 100 people attended the event, which Miller, who has been at McGill for all of two weeks, emceed.
"I'm very glad to be here; I've learned so many things," he said. "Including the meaning of the word 'catalyst'."
Emily Clare and Ria Rombough, who are involved in residence life programming, shared the award for administrative staff. Clare, a recent McGill grad, is one of the developers and co-ordinators of the Residences Anti-Oppression Programme. Rombough, also a McGill grad, is Senior Advisor, Residence Life Programs. Together, they have contributed to furthering equity and community engagement on campus.
Elena Bennett, an Associate Professor in the department of Natural Resource Sciences and the McGill School of Environment, who won for academic staff, has been pushing for a centre for sustainability on campus – a "hub" for all sustainability activities – research, teaching, and action.
"It's really a pleasure to be recognized as a catalyst, creating reactions," she said, in accepting the award "on behalf of the people I work with."
Fourth-year Environmental Science student Kristen Perry, who won the student collaboration award, was described as, "A pillar of sustainability at McGill, and in the wider community. A truly incredible individual." An organizer with Divest McGill and a member of the ECOLE living collective, she truly practices what she preaches by immersing herself in environmental causes, events and lifestyles.
"We need to be more connected to work toward a common vision," she said. "Slowly, but surely, we're building that at McGill."
Darin Barney, a professor in Art History and Communication Studies, presented the Lessons Learned award to Divest McGill.
Formed in 2012 to persuade McGill to get rid of its investments in companies associated with the extraction of fossil fuels, the group has presented petitions to the Board of Governors, conducted substantial research, had an important media presence and held high-impact meetings, Barney said. "They've mobilized and galvanized staff, students and faculty. They want us to put our money where our mouth is."
Divest McGill has pressed for change in the terms of reference governing a key board committee – the Committee to Advise on Matters of Social Responsibility – and has been affiliated with similar organizations on university campuses in other parts of Canada, the United States and the rest of the world.
Student developers of Myko, an iOS and web-based application that scores everyday choices based on their impacts upon environmental and social sustainability, won the award for Applied Student Research. The app uses a lifecycle impact algorithm developed at McGill, which enables users to commit to change, track their footprint, and share their progress. Their goal is to shift behaviour toward sustainability.
Alan Chen, Director of the McGill Spaces Project, captured the Emerald Key award. He has played a critical role in driving a long-term vision for better connected campus spaces while shaping the nascent group into McGill's "go-to" organization for better understanding and transforming spaces on campus.
The current MSP projects include a situational analysis of downtown campus spaces to inform administrative decision-making, pop-up placemaking initiatives like (Park)ing day and James' Walks, and redesign recommendations for the Brown Student Services Building generated through public consultation and the formation of an applied student research class in the Faculty of Architecture.
Chen also acts as a member of the Sustainability Projects Fund Working Group and is one of eight live-in facilitators & researchers-in-residence at the ECOLE Project.