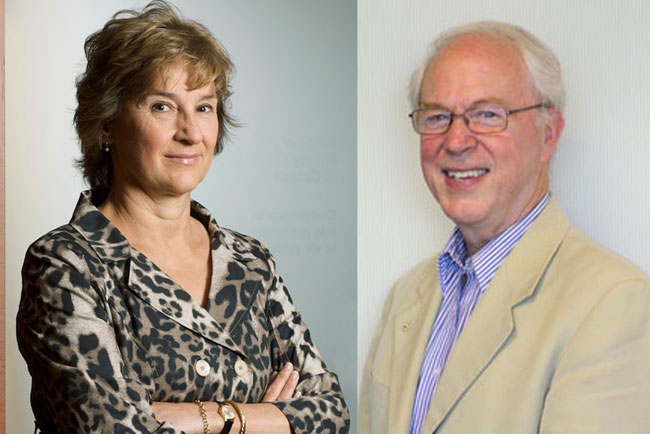 Brodhead, Stoddart to be recognized for contributions in fields of international development, human rights
Jennifer Stoddart, former Privacy Commissioner of Canada, and Timothy Brodhead, whose work in the non-profit sector has had a profound impact in Canada and overseas, will receive honorary degrees at the University's fall convocation ceremonies.
Stoddart and Brodhead, both of whom earned Bachelor's degrees at McGill, will share the stage with graduating students on Tuesday, Nov. 10, at Place des Arts. The ceremonies will be livecast on the McGill website.
Jennifer Anne Stoddart, Doctor of Laws, honoris causa
Jennifer Stoddart's career in public service is testament to her dedication and commitment to human rights. After earning a Bachelor in Civil Law degree from McGill, she became director and then vice-president, from 1987 to 2000, at the Commission des droits de la personne et des droits de la jeunesse du Québec. During that time, together with three others, she co-authored L'histoire des femmes au Québec depuis quatre siècles, a seminal book that has become a reference for women's studies in Canada.
In 1996, Stoddart was appointed president of l'Association canadienne-française pour l'avancement des sciences. Four years later, she became president of the Commission d'accès à l'information du Québec, where she promoted greater transparency for information held by the government.
In 2003, Stoddart was appointed Privacy Commissioner of Canada. During her term, she worked to ensure compliance with Canada's privacy laws in an age where personal information is in constant global transit. Stoddart was recognized by the Quebec Bar in 2011, with the Mérite Christine-Tourigny Award of Merit and she was named Avocat Émérite.
Timothy Richard Brodhead, O.C., Doctor of Laws, honoris causa
Timothy Brodhead enjoyed a celebrated 25-year career in the field of international development as a volunteer in Africa with CUSO (Canadian University Service Overseas) and then as founding director of several non-governmental organizations. This work culminated with his appointment as Executive Director of the Canadian Council for International Co-operation, a national organization representing over 120 non-profit Canadian international development agencies.
In 1995, he was appointed President and Chief Executive Officer of the J.W. McConnell Family Foundation, a family foundation based in Montreal whose mission is to create a more resilient society by enhancing inclusion, sustainability and social innovation.
He is co-author of a book entitled Bridges of Hope? : Canadian Voluntary Agencies and the Third World, which analyzes the contributions of Canadian non-governmental actors to global development. Appointed an Officer of the Order of Canada, Brodhead is recognized as a man of integrity, vision and creativity whose life mission is to strive for social justice.