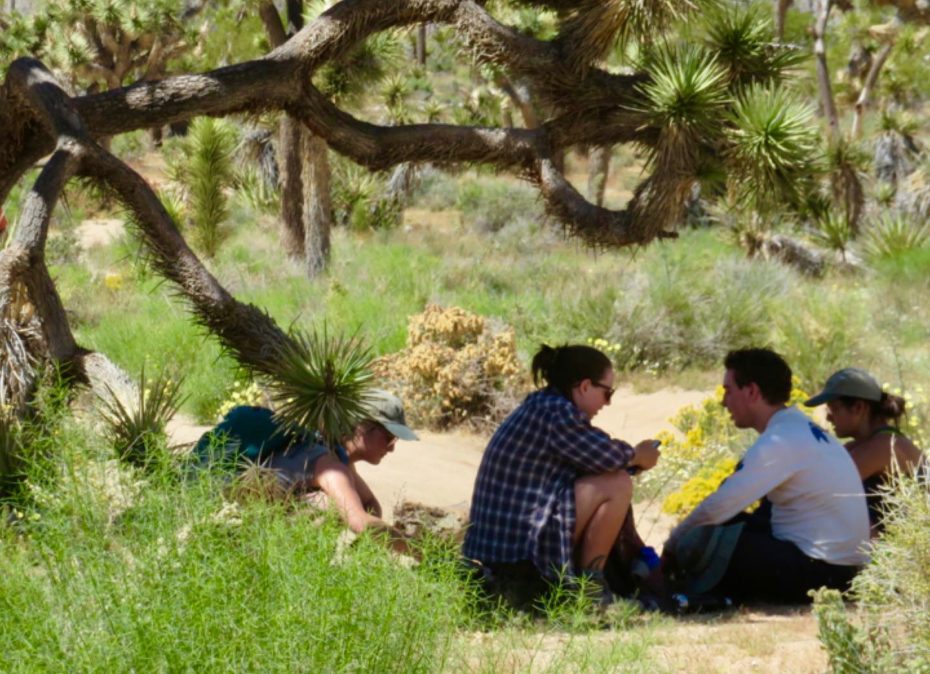 Say the word "desert" and many people picture an endless horizon of wind-swept sand dunes that is foreboding and barren.
But for 24 students taking the Desert Ecology field course down in Arizona, deserts are taking on a whole new meaning.
"There are so many plants and animals, which I found surprising," says Catherine Choquette, in her third year at the McGill School of Environment. "Cacti, bushes and flowers, and so many insects and birds."
"And snakes," someone yells from the background. "Don't forget the snakes!"
Arizona adventure
The group is doing the interview via cellphone from their Dodge Caravan rental. They are en route to the Arizona-Sonora Desert Museum near Tucson, Ariz. Later, they will pitch their tents in Catalina State Park for the next three days to explore, and write about, the region.
Even over the phone, they sound happy and excited. And why wouldn't they be? They are in the middle of their two-week adventure to explore relationships between climate, geology, landforms, biodiversity, biotic adaptations and ecosystem conditions in the arid regions of the American Southwest. Traveling, camping and working as a group, they are learning much more than desert ecology.
"You know, camping with 30 people, cooking for 30 people, doing dishes for 30 people – it's a whole learning experience in teamwork that you don't find in a textbook," says Chris Buddle, Professor of Entomology, Dean of Students and one of the instructors making the trip. "But we're eating very well. This morning we had a team make crepes. They got up very early to get the grills warm enough on the Coleman stoves to make perfect crepes with fruit and good, old Canadian maple syrup over top.
"We're doing all right," says Buddle with a laugh. "I think we're actually gaining weight."
Feed the Facebook page
Offered every second year, the Desert Ecology course has been running for decades. This year, organizers added a new twist by creating a Facebook page to which each student is required to contribute.
Using their observations and experiences, students create short narratives for a general audience. The posts are accompanied by pictures of everything from stunning desert landscapes and flora and fauna, to team shopping excursions and campsites.
For Quentin Laverne, an Environmental Biology student specializing in plant biology, the writing component was a leap of faith – especially knowing that their posts are being followed.
"I must say, knowing there are 500 people reading our posts, makes it a bit more difficult. It forces you to go through a real editorial process because you really want to put out good material that people can learn from. I had three or four people read it beforehand," he says.
Inspired by a visit to the cliff dwellings of the Salado people in Tonto National Monument, Laverne wrote about surviving in a desert, comparing how, while the Salado's lifestyle was more simple than modern trekkers, it also was more harmonious with their surroundings.
Poetry of the desert
Written in the distinctive voice of each author, the posts are part travelogue, part editorial and part research journal – and proof that the desert is more than a home for a myriad of plants and animals. It also serves as a muse.
"The desert occurs at multiple scales, like a packrat midden to its surrounding world, to be excavated by future archaeologists. Of course, it is not a time capsule, and living there feels a lot like war reporting, with the oddly peaceful bits between the shrapnel explosions," writes Victor Dagenais-Martin, a student in Agro-Environmental Sciences at Mac in his post titled The Desert Laughs with Father Time. "Under silk bags, the captive flames of propane summon each night enough insects to disperse my fears of generalized insect extinction. The windshield of our 7-passenger van is speckled enough, too."
In a piece titled The Desert: Who is it for? Adriele Benedetto, another student in Agro-Environmental Sciences at Mac, writes "As we were climbing up the Usery wind cave, we stumbled across some young folks running up and down like gazelles and accompanied by their small rat-shaped chihuahuas. We were stopping for every granite and lizard that crossed our path while they seemed to be quite determined to continue their workout, jumping over lingering rattlesnakes and circumventing spiky cacti."
Get daily updates of  the Desert Ecology adventure on Facebook