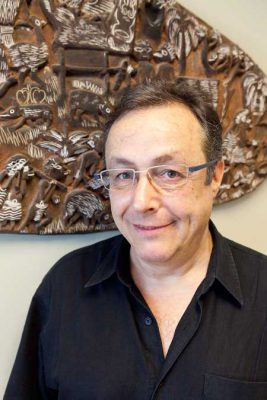 Professor of mining engineering creates better mine-management models
By Katherine Gombay
One of the pieces of art that hangs in Roussos Dimitrakopoulos' office is a large, sculpted wooden panel, more than a metre long. It depicts many little figures, busily engaged in their daily lives. It's a piece that Dimitrakopoulos picked up in Papua New Guinea, while he was there working, and it's an appropriate decoration for the office of this very busy man.
Dimitrakopoulos is the Canada Research Chair in Mining Engineering, and the recent recipient of one of the largest awards ever given by the Natural Sciences and Engineering Research Council of Canada (NSERC). The grant Dimitrakopoulos received from NSERC is co-funded by six major global mining companies, Anglo Gold Ashanti, Barrick Gold, BHP Billiton,
De Beers, Newmont and Vale, which together represent about
75 per cent of all mining activity on the globe. Dimitrikapoulos will receive $2.7 million over five years.
From industry to academia
Dimitrakopoulos worked first as a consultant in petroleum, and then for Newmont Gold in Denver before becoming a professor at the University of Queensland, and eventually moving to McGill. "I really like the research," he said with a laugh, explaining his choice to move into a university setting.
Dimitrakopoulos' research is designed to solve a very concrete problem. Mining companies need to make long-term strategic plans about how and when to produce raw materials and metals from the ground, despite uncertainty about the mineral deposits to be found there.
Accessible and applicable research
Thanks to computational advances over the last decade, Dimitrakopoulos has developed new mathematical modeling techniques for mine planning and production forecasting that are able take into account uncertainty in the supply of minerals. The result of this research has been both a much higher return on investment for the mining companies but also more metal production from the same asset.
Now, Dimitrakopoulos' new research will build upon his earlier work to factor in uncertainty not only in the supply, but also in the demand, and hence in the commodity prices for minerals. Dimitrakopoulos' work is designed to create models for mine management that take into account multiple mines and material types; multiple ore/waste processing streams; and both stockpiles and products in order to determine the best production schedules.
One of the conditions of the NSERC award, to which all the partners have agreed, is  that the developments will be placed in the public domain without restrictions within a year. This means that the outcomes of  Dimitrakopoulos'  research will become accessible to both academics and practitioners around the world.
And that is something that is likely to make more people than just this one very busy man, smile.