McGill's Archaeology Lab is a window into humanity's past, present and future
By Mark Shainblum
The great British archaeologist Sir John Grahame Clarke (1907-95) once said that archaeology  "seeks to discover how we became human beings endowed with minds and souls before we had learned to write." Renowned American journalist Jim Bishop (1907-87) defined the field somewhat more cynically as "the Peeping Tom of the sciences. It is the sandbox of men who care not where they are going; they merely want to know where everyone else has been."
McGill archaeology professor Andre Costopoulos knows where both men were coming from, but his 2009 understanding of the field is necessarily somewhat more expansive than theirs. The young Clarke or Bishop could probably never have imagined archaeology broad enough to encompass the study of everything from three-century-old ivory fishhooks from the Arctic, to parasitic infections affecting African Red Colubus monkeys to cheap coffee mugs sold in Montreal dollar stores (See Web Gems on page 2).
"In this lab we adopt an evolutionary approach to human questions," Costopoulos said. "We ask ourselves how certain traits evolve. How did certain situations emerge out of the dynamics of human society?"
It's that broadly inclusive, highly interdisciplinary form of archaeology – one which gives and takes freely from anthropology, biology, computer science and other disciplines closely and distantly related – that takes centre-stage at the McGill Archaeology Lab.
"Single fields are impediments to research, I find," Costopoulos said. "What you need to do is ask good questions, and then use the tools you need to answer them, wherever the tools may reside."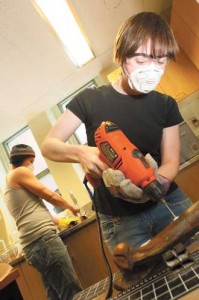 Located in the basement of Peterson Hall, the facility encompasses Costopoulos' Computational Archaeology Laboratory, the Andean Research Laboratory led by Dr. Nicole Couture, Dr. Colin Chapman's Primate Research Laboratory, the Zooarchaeological Research Laboratory led by Dr. James Savelle, a teaching lab and the Bruce Trigger Memorial Collection, the collected works of the great McGill archaeologist who passed away in 2007.
The teaching lab is a study in jarring contrasts, as standard-issue Ikea conference tables and chairs jostle for space with the reconstructed skeleton of a watusi – a huge, long-horned African cow. The skull of a partially reconstructed zebra sits on a side table, and the shelves lining the walls are crowded with the earthly remains of hundreds of reptiles, mammals and birds of species living and extinct.
The watusi and the zebra skeleton both came from expeditions to Parc Safari in Hemmingford, where Costopoulos and his students undertook the backbreaking, incredibly dirty task of exhuming the beasts from gravesites . A couple of years earlier, reported Michael Bourguignon in the Oct. 11, 2007 issue of the Reporter, the exotic zoo approached Costopoulos with a novel proposal: help locate the remains of a rhinoceros, an elephant and perhaps a macaque or two so that the skeletons could be reassembled and put on display for educational purposes. The benefit to McGill would be a unique opportunity for 17 students to gain field experience in the excavation of species they never expected to find on this continent.
When Costopoulos and his colleagues Couture and Chapman  joined the McGill faculty in 2003-04, one of the first things they did was push to improve the archaeology department's lab facilities, at the time located in a tiny space in the Lady Meredith Building that Christopoulos describes frankly as "inadequate."
"When we added two active fieldworking archaeologists to the work Jim Savelle was already doing, it became very necessary to add some facilities," said Christopoulos. "Also, we teach archaeology here, and it's difficult to convincingly send your undergrads into graduate programs elsewhere without field or lab experience."
Surprisingly, it was elementary students from Kahnawake who really inspired the move to new headquarters.
"The Kateri School phoned the department to tell us that the kids were pulling archaeological material out of the schoolyard during recess," Costopoulos said. "So we got our students together and went down there for a whole semester and excavated with the kids. It was wonderful! But then we had all this material, and nowhere to handle it. So we put a row of tables in my tiny Leacock office, and created stations where my students were passing the artifacts down the line, washing and drying and cataloguing them.
"I took a photo of this, and I took it to the dean's office with a report that explained why we needed archaeology labs. The following week, the associate dean of facilities called and said, 'Okay, where can we put you?'"
Related Links