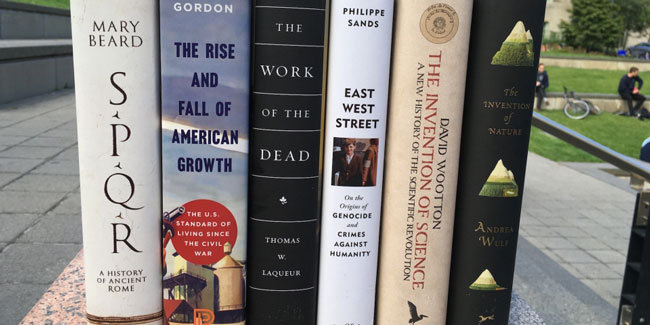 Six ouvrages en lice pour le grand prix de 75 000 $ US
La Pre Antonia Maioni, doyenne de la Faculté des arts de l'Université McGill, a dévoilé aujourd'hui les six ouvrages en lice pour le Prix de littérature historique Cundill 2016. « La liste de cette année s'inscrit parfaitement dans la tradition du prix Cundill, créé dans le but de faire connaître des ouvrages de littérature historique exceptionnels susceptibles de captiver à la fois les spécialistes et les profanes », affirme la Pre Maioni, présidente du prix Cundill. Créé il y a neuf ans, le prix Cundill est le prix le plus lucratif à l'échelle mondiale récompensant un ouvrage documentaire, puisqu'il est assorti d'un grand prix de 75 000 $ US et de deux prix « Reconnaissance de l'excellence » de 10 000 $ US chacun.
Les trois finalistes seront annoncés au cours de la semaine du 3 octobre 2016. Le nom du lauréat du grand prix 2016 sera dévoilé lors de la cérémonie du prix Cundill qui se tiendra le jeudi 17 novembre 2016 à l'Hôtel Shangri-La, à Toronto.
Les six ouvrages présélectionnés sont :
Ces ouvrages ont été retenus par le jury Cundill 2016, composé de Timothy Brook, titulaire de la chaire sur la République de Chine à l'Université de la Colombie-Britannique; de John Darwin, professeur d'histoire mondiale et impériale et directeur de l'Oxford Centre for Global History, à l'Université d'Oxford; de David Frum, rédacteur principal de The Atlantic; et d'Anna Porter, cofondatrice de Key Porter Books et auteure des titres Buying a Better World: George Soros and Billionaire Philanthropy et The Ghosts of Europe.
À propos du prix Cundill : Le prix Cundill est la plus importante récompense au monde décernée à l'auteur d'un ouvrage de littérature historique non romanesque. Créé en 2008 par le diplômé mcgillois F. Peter Cundill, décédé en janvier 2011, le prix est administré par le décanat de la Faculté des arts, de concert avec l'Institut d'études canadiennes de McGill. Il est décerné chaque année à un auteur dont l'ouvrage a eu un réel impact littéraire, social et académique dans le domaine de l'histoire.