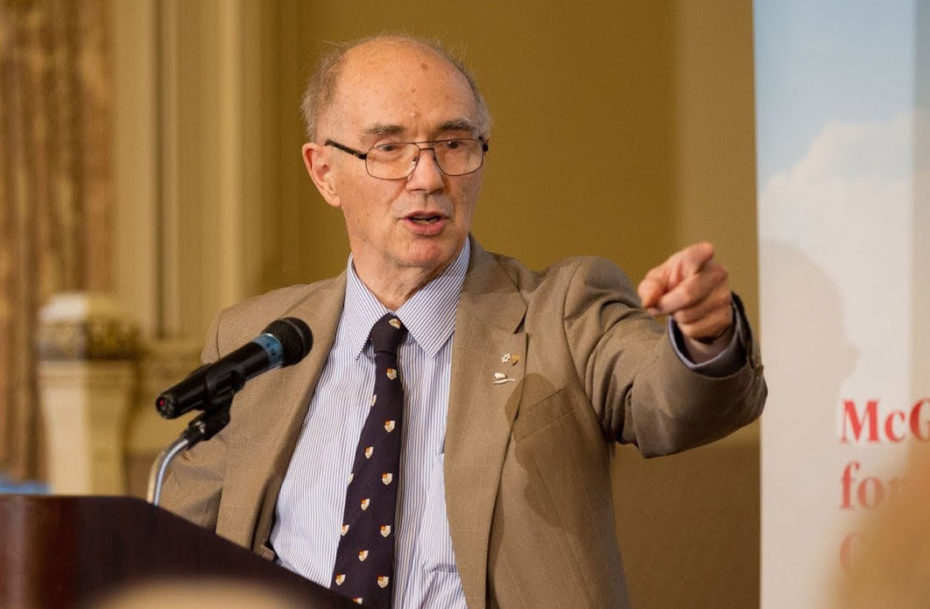 The McGill community is mourning the passing of Desmond Morton, the Hiram Mills Professor Emeritus in the Department of History and Classical Studies, and one of Canada's renowned historians.
Morton passed away on Sept. 4 at the age of 81.
The author of more than 40 books, Morton was a rare historian who was drawn more to the lives of ordinary people than those of famous leaders.
At the celebration of Morton's 80th birthday in 2017, Ed Broadbent, former leader of the federal NDP praised Morton for being "intellectually honest."
"Des is one of the best writers in Canada, bar none. His writing is a model of intelligence and clarity," Broadbent told the Reporter at the time. "He was never interested in the so called 'great men' of history, but rather the working people, the soldiers and their families, always including the women. Inclusive and unpredictable, he always reached out to people with whom he personally disagreed."
Self-proclaimed "army brat"
The son of a brigadier-general, Morton was a self-proclaimed "army brat" who followed his father to military postings around the world. Born in Calgary in 1937, Morton's schooling began in Canada, but he graduated from high school in Kobe, Japan, where his father was head of Canada's Far East Military Mission.
Even as a young boy, Morton had an eye for detail that would serve him well throughout his career. Speaking on the 100th anniversary of the end of the First World War in 2018, Morton told the Reporter about his first memory of Remembrance Day, as a 10-year-old boy.
"I remember standing outside with my sister and mum in the bitter prairie cold on Remembrance Day, in Regina, where our Dad was stationed," he said. "It was 1947 and WWII was still very real in people's minds. The tears froze on the faces of the veterans and families."
Not surprisingly, Morton served in the military himself, beginning as officer cadet and rising to the rank of captain 10 years later. He was an honorary colonel of 8 Wing Trenton of the Royal Canadian Air Force, and held the Canadian Forces Decoration. He was also a graduate of the Collége Militaire Royal de St-Jean, the Royal Military College of Canada, Oxford University (where he was a Rhodes Scholar) and the London School of Economics.
Morton was principal of Erindale College (University of Toronto – Mississauga) from 1986 to 1994, and Professor of History at McGill from 1998 to 2006. In 1985, he was appointed a fellow of the Royal Society of Canada, and in 1996 an Officer in the Order of Canada.
Lifelong love of learning
In a 2017 interview with the Reporter, Elsbeth Heaman a professor of History and Classical Studies, said Morton was one of the great historians of the age.
"I've leaned heavily on Morton's work for my own research," she said, noting that she frequently invited him to lecture to her Canadian history and Canadian studies students. "He's told enthralling stories about the Battles of the Plains of Abraham and the War of 1812 that seem to peer beyond the veil of time," said Heaman. "His work is always original, with his impatience with orthodoxy and his abiding love of his subject, Canada and Canadians. We've been lucky to have him as a historian of Canada, and luckier still to have him at McGill, where he set an aspirational standard for Canadian Studies and public outreach."
Curious and engaged, Morton had a lifelong love of learning. In an autobiographical essay he wrote in 2011, Morton looked back at his life and career. "Over my lifetime, I have been called many things, most of them overly generous and some of them unprintable," he wrote. "Like most of my readers, I have been quite happy to be called a student…"
In that same essay, Morton reflected upon the nature of experience and, most specifically, how his own experiences shaped his work and, ultimately, his life.
"Experience is another word for history and, I would claim, my versions of history have been powerfully influenced by my own experiences as a student, a soldier, a writer, and especially as an unashamed political activist and an academic administrator," he wrote Morton. "I am also confident that I am not alone in reflecting my experiences and I wish, when it is almost too late, that I had sought out more of them."