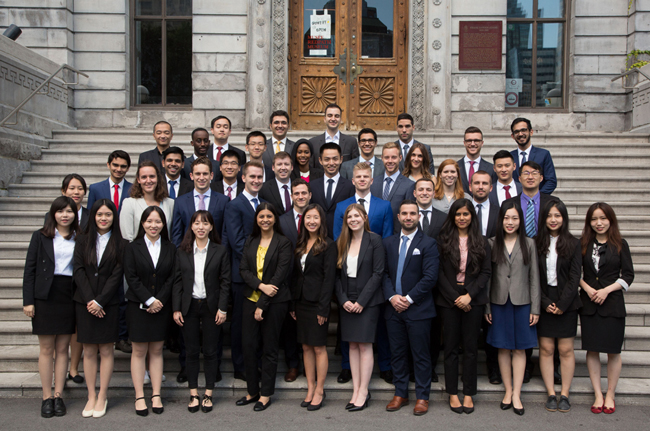 The Desautels Faculty of Management welcomed its second cohort of Masters of Management in Finance (MMF) students in July, which was selected from among 576 applicants. The incoming MMF class, 42 in total (16 female, 26 male), speak 19 different languages among them and hail from 11 nations across the world, namely: Canada, China, France, India, Indonesia, Iran, Norway, Rwanda, Senegal, United States and Vietnam. Their academic background is equally diverse, with students holding degrees in accounting, business, economics, engineering, law and medicine, to name a few, from universities around the world.
The newest MMF students are entering the program with a CGPA of 3.64 and 14 months of work experience, on average. Beyond their academic and professional experience, they have also realised many personal feats and have given back to their communities. From soccer, hockey and swimming, to foil fencing, figure skating and volleyball, many of this year's MMF students have achieved successes in local and international sports competitions. Their community involvement also ranges from giving motivational talks to students, to fundraising for children's charities, and filing taxes for underprivileged households, to name a few.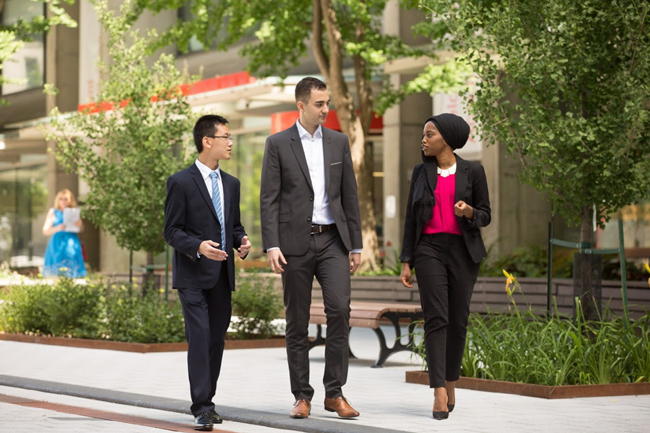 Almost one month into the MMF program, Alex Hua is enjoying it so far, citing the support of Desautels' Career Services and the diversity among his classmates as contributing factors. In addition to pursuing his studies, Hua continues to serve as the President and CEO of the non-profit Asia-Pacific Youth Entrepreneurship Foundation, an organization that he founded, which connects Canadian entrepreneurs with Asian markets through engaging events and programming.
MMF student Nika Fall says that she appreciates the small class sizes, as well as her course on trading, which "unlike undergraduate classes, really allows you to get into it in a practical, hands-on way." In between classes, Fall hopes to find time to get involved with the Desautels Graduate Student Society (DGSS) and the Consulting Club to pursue her passion for university life and to make the very most of her time at Desautels.
The McGill Masters of Management in Finance (MMF) degree is a pre-experience, twelve-month specialized program in finance. Students gain real-life experience by learning from the best and managing millions as a Desautels Capital Management analyst.
Learn more about the Masters of Management in Finance program.