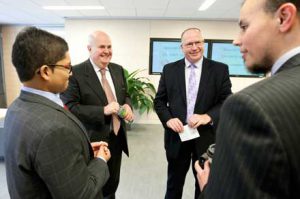 By McGill Reporter Staff
Students at the Desautels Faculty of Management will have access to state-of-the-art software used by financial professionals, thanks to a new agreement between the Faculty and Thomson Reuters.
Under the five-year pact, Thomson Reuters will provide software licenses for Eikon, its flagship financial-markets platform, and will supply training and support for the desktop system. The Eikon desktops give Desautels finance students and professors access to essential news, data, analytics and trading tools.
"This is the first time that we have been in a position to offer our students access to state-of-the-art software, which will provide real-world experience that is an integral component of our academic programs," said Peter Todd, Dean of the Desautels Faculty of Management. "We're very grateful to Thomson Reuters for its commitment to our Faculty and our students."
"This agreement with the Desautels Faculty of Management fits with Thomson Reuters' commitment to provide the financial professionals of the future with the latest and most innovative tools," said Mark Davidson, the company's Managing Director, Canada. "Our Eikon platform drew inspiration from the way young people use technology; it places the most comprehensive market information, news, analytics and trading tools onto a desktop that's as simple to use and as collaborative as the Internet."
Jan Ericsson, Academic Director for the Investment Management Program at Desautels, said the Eikon platform "will enable our finance students to benefit all the more from the Alphonse-Desjardins Trading Room," a learning facility opened earlier this year thanks to a contribution from Desjardins Group.
Finance student Mohammad Awada said, "We're excited to be able to get hands-on experience with a first-rate system used by fund managers and traders. It will be a great complement to our classwork, and being Eikon-certified will be a valuable asset for students going out into the job market."