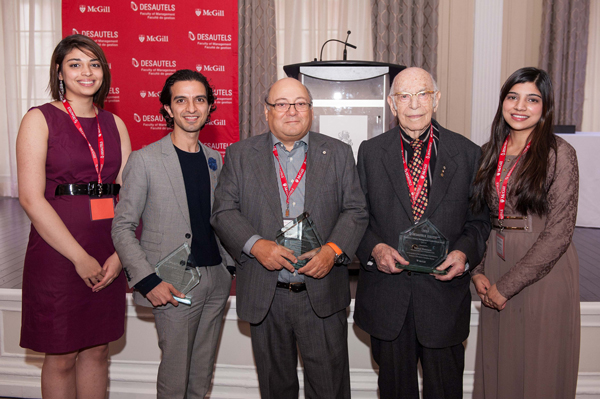 Distinguished leaders honoured in annual award ceremony
By Leilani Ku
Laughs were shared, tears were shed and business cards were swapped at the annual Desautels Management Achievement Awards held Feb. 7 at the Ritz Carlton Hotel.
Created by Bachelor of Commerce students at the Desautels Faculty of Management in 1979, this prestigious event honours leaders who have made remarkable contributions to the community – not only in the business world, but in all areas of our society. Past recipients have come from all walks of life, and have included the likes of René Angélil, Ken Dryden, Sheila Frasier, among many others.
Three successful entrepreneurs received this year's Management Achievement Awards, including Imran Amed (BCom'97), founder of the popular blog, "The Business of Fashion" and Dr. Francesco Bellini (CM, OQ, DSc'04) Chairman of Picchio International, a privately owned company investing mainly in healthcare, and Chairman of Bellus Health, an industry leader in the development of therapeutic drugs. Receiving the Lifetime Achievement Award was Michal Hornstein (CM, GOQ), President and CEO of Balmore Ltd.
In accepting his award, Amed recounted his journey from his early days as an undergraduate student at McGill to being recently named one of GQ's 100 Most Influential Men in Britain. "This is where I came from – from Canada, from McGill, from Montreal. I really had the time of my life here, I made lifelong friends, I discovered myself, and I even caught the fashion bug here in Montreal – the most stylish city in Canada."
A successful scientific researcher, Bellini emphasized the importance of innovation. In the 80s, he co-founded BioChem Pharma, a biopharmaceutical company that went on to commercialize the antiviral drug Epivir (3TC) in 1996, which to this day remains the foundation for AIDS therapy.
Born in Krakow, Poland in 1920, Hornstein moved the audience with an emotional retelling of his days during World War II working for Oscar Schindler and surviving a dramatic escape from a moving train bound for Auschwitz. "Throughout the difficult years of World War II, my entrepreneurial skills helped to financially sustain [my family's] growth…Adversity teaches you to work harder and smarter," he said.
Hornstein went on to build a real estate venture in Montreal and thanks to his success, has been able to generously support a wide array of organizations over the years in the arts, health care, and education. Maintaining a humble spirit, he noted, "I could never have imagined after graduating from a business school in Poland that I would one day be honoured by Canada's most prestigious university."
According to Shonezi Noor, BCom student and co-executive director of the event, "that is the magic of the Desautels Management Achievement Awards: being a part of the legacy of these great leaders, and its impact on us, the leaders of the future."