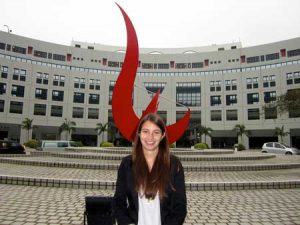 McGill one of eight Canadian universities to receive funding from HSBC
By McGill Reporter staff
Mia Morisset, a BCom student at the Desautels Faculty of Management, has been named as a recipient of an HSBC Women in Business Leadership Award – a new, $20,000 scholarship established at Desautels and designed to encourage emerging female Canadian business leaders.
The initiative serves as a reminder that women remain surprisingly underrepresented in the top ranks of the Canadian corporate world. In 2010, women made up 47.3 per cent of the Canadian workforce, but held only 17.7 per cent of senior officer positions at Financial Post 500 companies, according to a survey by Catalyst, a non-profit organization that conducts research on women at work. More than 30 per cent of companies in the study had no women senior officers.
The HSBC Awards will be granted to four female students at Desautels over a five-year period beginning in the current academic year. Selection is based on academic achievement and leadership potential, and each recipient will receive $10,000 per year for the final two years of their degree.
Morisset grew up in Montreal, attending Villa Sainte-Marcelline high school in Westmount and Jean-de-Brébeuf for CEGEP. "For my bachelor's degree, I chose to study at McGill not only for its international exposure and Desautels' academic excellence, but also in order to become fully bilingual," she told the Reporter.
Now a U2 student, she is spending the current semester at Hong Kong University of Science and Technology as part of a Desautels exchange program. "It has been an extraordinary experience so far," she said by email.
After graduation, Morisset plans to pursue a career in management consulting.
Peter Todd, Dean of Desautels, noted that more than half of the Faculty's undergraduates are women. "We are very gratified that the HSBC Women in Business Leadership Awards will support some of Canada's most promising management students as they complete their studies and prepare to make their way in the business world."
HSBC Bank Canada has established the HSBC Women in Business Leadership Awards at eight top universities across Canada: McGill, Simon Fraser University, the University of British Columbia, the University of Alberta, Queen's University, the University of Toronto, the University of Western Ontario, and York University. Each school will receive an $80,000 donation from HSBC to fund the Awards over a five-year period.
"HSBC believes that education is a fundamental building block for communities," said Lindsay Gordon, President and Chief Executive Officer, HSBC Bank Canada. "Our success is built on our ability to attract and develop a diverse range of talent, and we are delighted that the HSBC Women in Business Leadership Awards will recognize future business leaders, encouraging them to achieve their full potential and forge a path towards becoming some of Canada's top executives."