By Leilani Ku
After 2,000 votes, a trio of distinguished alumni took home the title of Top MBA Impact Maker at the MBA 50th Anniversary Gala Dinner on May 23: Seymour Schulich, MBA'65, entrepreneur, philanthropist and author; Bertrand Cesvet, MBA'88, Executive Chairman and Senior Partner, Sid Lee; and the 2013 Hult Prize team.
"I'm very humbled and proud to be here. McGill changed my life; it made me a citizen of the world and a proud Canadian," said Cesvet during his acceptance speech to a crowd of 250 alumni.
The MBA Impact Makers campaign, developed by the Desautels Faculty of Management, began earlier this year when the Faculty began organizing its MBA 50th celebration. They invited alumni to submit nominations for MBA alumni who have inspired positive change in their community, organization, industry or government. Nearly 100 nominations were received, which were narrowed down to 20 finalists by a committee of alumni, students, faculty and staff.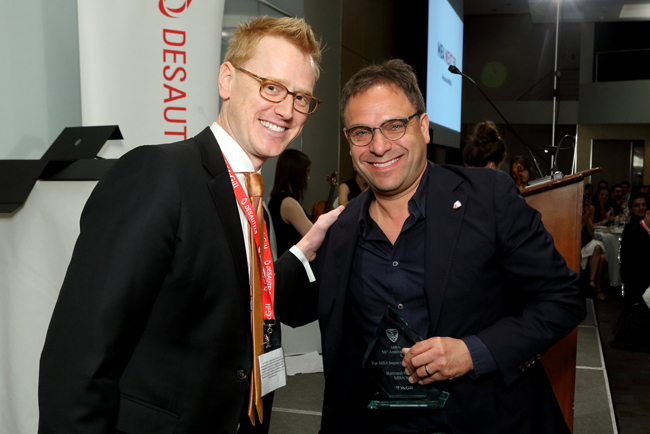 In addition to overseeing Sid Lee's international operations, Cesvet serves as the head strategist for the agency's impressive portfolio of clients, including adidas, Red Bull, Cirque du Soleil, Dom Perignon, Carlsberg Brewery, Volkswagen and Dell.
"The confines of the McGill campus represent my ideal vision of Canada, a pluralistic Canada, an open Canada, a bilingual Canada, an excellent Canada," continued Cesvet. "I am so pleased to be associated with this great institution and this amazing MBA program. It's really inspiring."
Accepting the award on behalf of the 2013 Hult Prize team was Shobhita Soor (MBA/BCL/LLB'15), who extended her gratitude for alumni support: "Aspire Group started out as five MBA students who entered into a competition and today, we are a real social enterprise operating in three countries and producing hundreds of kilos of insects per week. This is only possible because of many people sitting in this room today."
Taking the last award to a standing ovation was Seymour Schulich — a Canadian, self-made billionaire whose career has spanned stock brokerage, investment counselling, mining and the oil industry. He is among Canada's greatest philanthropists having donated or pledged in excess of $400 million to numerous Canadian and foreign universities.
Closing out his remarks to the MBA alumni, he recounted his favourite quote: "A hundred years from now, it won't matter what your bank account was or what sort of house you lived in or what car you drove. But the world may be a different place, if you were important in the life of a young person."