By Leilani Ku
In a historic vote on Feb. 5, the Desautels Faculty Management's Undergraduate Society (MUS) successfully passed a motion at a student referendum to levy a $40 fee per semester over the next three years towards a new Bachelor of Commerce (BCom) Student Space Improvement Fund. As a result, BCom students will have contributed over $500,000 by 2018 towards enhancement and construction of undergraduate space in the Bronfman Building.
"We decided to create this fund as it will provide a vehicle to directly improve the space where we study, work, think and interact with each other every day," explains Sean Finnell, President of the MUS. "We want to invest in the future quality of the BCom program and ensure our growing space maximizes how we, as Desautels students, uniquely work – creatively thinking in a highly collaborative and energetic environment."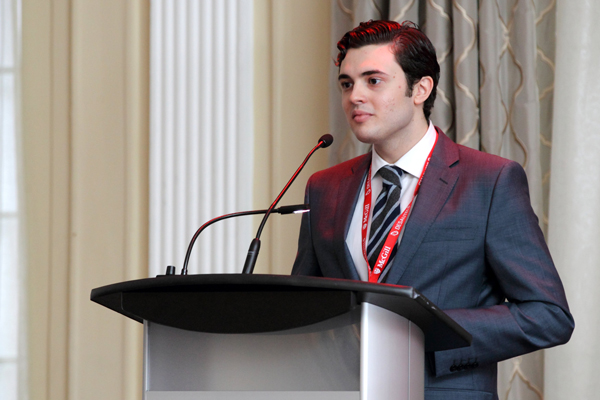 The decision follows a semester-long discussion and student survey on how to improve undergraduate facilities in Bronfman after the Faculty's MBA program moves into the McGill bookstore space in 2017.
First-year BCom student Mackenzie Chisholm sees the benefit to the new fund. "I voted 'yes' because this fund will help us maximize our future at Desautels. I will be spending a substantial amount of time studying and working in Bronfman over the next few years."
Interim Dean of Desautels, Morty Yalovsky, is overjoyed by the enthusiasm of the students: "I'm constantly impressed and moved by the enormous sense of pride and community within our BCom student body," he said. "Their show of support through this fund is inspiring to the entire Faculty and our alumni community. It will undoubtedly serve as a catalyst for our ambitious multi-million dollar fundraising campaign over the next years to support renovations to both the new building and to Bronfman."
Over $20 million has been spent in the last decade to transform teaching and learning spaces in Bronfman, including the BCom second floor. Among the upcoming renovation projects will be a planned expansion of the current BCom Concourse into the new building and a third floor redesign to accommodate BCom students.
The Student Space Improvement Fund will be jointly managed by the MUS and the Desautels Faculty of Management. As a government accredited student association, membership in the MUS is mandatory for all undergraduates enrolled in Desautels.