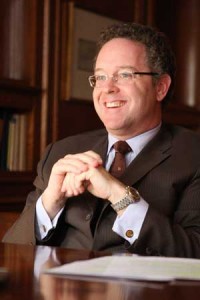 By Neale McDevitt
Facing a world economy throwing nothing but curve balls and spitters, the University's supporters stepped up to the plate during the recently completed McGill Annual Fund and smashed a home run.
For the first time in the Fund's 61-year history, donations topped the $9 million mark, a feat Marc Weinstein, Vice-Principal, Development and Alumni Relations (DAR), called "a truly a momentous achievement.
"It is a testament to the loyalty and generosity of McGill's graduates and friends."
Overseen by the Donor Engagement and Stewardship group of DAR, the Annual Fund is McGill's yearly appeal to alumni, parents, faculty and staff, and friends to help support the University's most pressing needs and promising opportunities. Annual giving has an immediate impact on students, and provides flexible funding for teaching and research initiatives, as well as for student aid, library resources, athletics, and individual faculties and schools.
To continue to raise funds during such trying economic times is a challenge, to say the least, but to break records is nothing short of miraculous. Or is it? According to Weinstein, the record-breaking results are more a result of planning and dedication than divine intervention.
"The Fund has been going since 1948, so the groundwork has been laid – and people understand the importance of annual gifts year-in and year-out," said Weinstein. "This spirit of giving has been part of the McGill culture for a long time."
Weinstein credits a number of factors for the Fund's success, not the least of which is the momentum created by Campaign McGill.
"Giving is up across seven of our nine annual funds. The strategies we put into place from the time we conceptualized the Campaign in 2004 to its implementation in 2007 are paying off," said Weinstein. "Now we're seeing the fruits of our hard labour."
Some of those strategies include broadening the donor base in key international markets such as New York, Boston and London; emphasizing programs such as McGill on the Move (a speaker series that has some of the University's most engaging scholars deliver lectures around the world); and forging long-lasting bonds with donors. "We used to be more transactional," said Weinstein, "but now we're more relational. We aren't one-off. And we've connected with people in some way, shape or form."
That connection has resulted in McGill enjoying a donor retention rate of some 70 per cent, better than the 62 per cent average of other North American universities. As well, the 2008-2009 fiscal year saw more lapsed donors come back into the fold to renew their support than ever before. "Because of the recession, some donors weren't able to give the amount they had hoped to give and so they made a more moderate gesture. "The key," said Weinstein, "is that people still believe in McGill – believe in us enough to want to be a part of what we do."