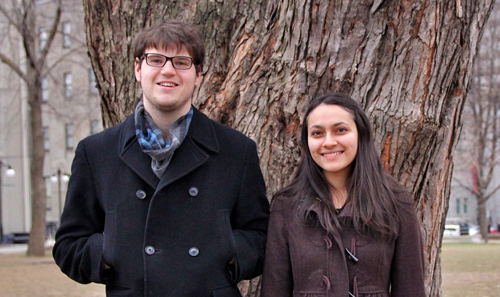 By Katherine McNamara
At first glance, Cole Bricker (U2 Arts) and Sarah Balakrishnan (U3 Arts) seem like typical McGill undergrads. They're friendly and intelligent, if a bit stressed out with term papers and exam preparations. However, there is something atypical about them: the pair recently took first place at the North American British Parliamentary Championships – one of the most competitive debating tournaments on the continent, and one which draws close to 100 teams from across the United States and Canada.
Representing the McGill Debating Union (MDU), Balakrishnan and Bricker beat out teams from Harvard, Yale, and the University of Vermont to claim the title. Going into the event, hosted by the University of Toronto, Balakrishnan says she and her teammate were confident they would do well, but after their performance in the Finals, that confidence soared. "Before the winner was announced the team from Yale came over and said 'You know, it's between us [Yale and McGill] for the title.' And then a few minutes later, the team from Harvard came over and said 'You know, it's between us [Harvard and McGill] for the title.' So Cole and I knew we had done well," says Balakrishnan.
The pair's victory at the North American Championships is all the more impressive because of the impromptu nature of Parliamentary debate in which students are given a resolution just 15 minutes in advance of the competition and are scored based on the persuasiveness of their arguments.
The duo followed up that victory with a win at the National championships and qualified for the World Championships to be held in India at the end of December.
But while the pair is an important part of McGill's debate team, they are just one part of a stellar program. This year for instance, the MDU has been drawing a lot of its strength from its novice team; freshmen Jamie Sherwin and Amber Zhao landed first place in the novice division at the North American tournament. Of almost 900 teams ranked worldwide each year by the International Debate Education Association, MDU is ranked fourth and, based on recent success, could move up to third.
A large part of the MDU's success is based on its team mentality. Upper-year students like Balakrishnan and Bricker take a proactive leadership role in their interactions with first- and second-year debaters. The team hosts regular practice rounds where novices are paired with upper-year student to facilitate the passing along of the tricks of the trade, and to interact with students they might not otherwise get the chance to meet.
In university-level tournaments, there's less emphasis on style than on substance, and judges aren't parent volunteers but experienced debaters in their own right. Both Balakrishnan and Bricker have faced off against upper-year Law school students and they admit to feeling intimidated at first, but they're quick to caution younger students about letting their opponents gain a mental edge on them due to their age.
But at this level, everyone reads the news, everyone is smart, so the playing field is fairly level. The key difference, according to Lewis Fainer, the president of the MDU is a debater's ability to draw on a host of diverse examples to support their case. "Most debaters are able to talk at length about their home country," says Fainer. "The best, however, are comfortable discussing cases from across the world." Fainer notes that Balakrishnan's study of African History has helped her in this regard, since "she has a particular knack for drawing on examples from Ghana."
Finding loopholes in an opponent's argument is key component of debating. "One of the factors that sets great debaters apart from good debaters is their ability to ask strong Points of Information, in which you rise during an opposing debater's speech to ask a brief question," says Fainer. "Usually, Points of Information point out a flaw in the debater's speech or show why your team's material is being unfairly represented. Of all the debaters I know, Cole asks some of the most devastating Points of Information. I think this certainly contributes to his standing as one of the best debaters in North America."
Of that there can be no debate.