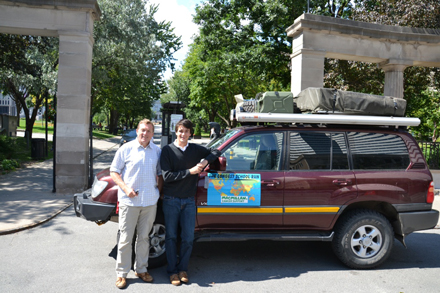 Intrepid father/son team drive around the globe to get to McGill 
By Neale McDevitt
It was a road trip that seemed doomed at the outset. There was no way – no way – 19-year-old Edward Durgan and his father Graham could drive from their home in Littlewick Green, in the English county of Berkshire, all the way around the world to McGill in time for Ed's first semester as a Political Science undergrad. Not in that short a time frame (a little more than three months), not with their lack of mechanical expertise, not with their inability to speak the languages of most of the countries they would be passing through.
"Even before we left, people were saying it was impossible," said Ed. "And throughout the trip people kept telling us we'd never make it."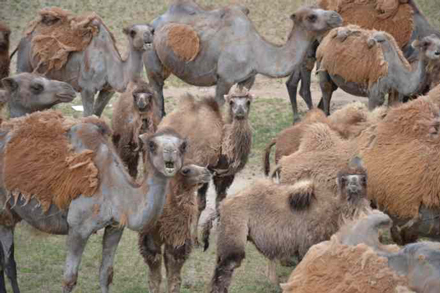 "But here we are," said a smiling Graham in the McGill Reporter's James Building offices late last week, having pulled up to the Roddick Gates on Aug. 18, after logging more than 18,000 kilometres and watching 14 countries and 42 cities disappear in the rearview mirror of their Toyota Land Cruiser. Around the world in 105 days.
But how was it possible? Neither Durgan can do much more than fix a flat ("To say we aren't mechanically inclined is the polite way of saying we're useless," said Graham.) How could they drive around the globe across some of the most rugged and desolate terrain in the world and not have it end with them being stranded thousands of kilometres from home in the middle of Siberia?
"We planned," said Graham. "We knew there were going to be a lot of things beyond our control so we did our best to prepare for as many eventualities as we could.
"Someone once said an adventure is something that happens when you don't plan," he continued. "We weren't looking to have that type of adventure."
This meant kitting up their trusty vehicle, dubbed Tonka, with extra armour, or bash plates, along the undercarriage to mitigate the chance of breakdown. It meant taking an off-road driving course before they had travelled even one kilometre so that they were aware of what Tonka was capable of doing.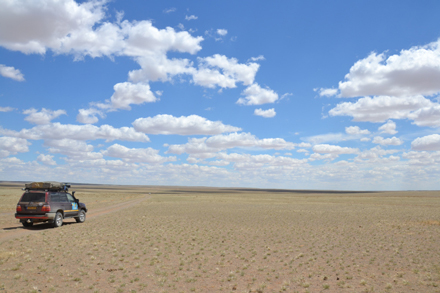 The planning paid off. Remarkably, the Durgans drove around the planet without a single mechanical problem, save for having to change an air filter clogged with Gobi Desert sand and their one and only flat tire in Chicago, "after 9,000 miles of dodgy roads," said Ed.
But it also meant planning for the worst, which meant taking First Aid training ("if you lose an arm we know how to tourniquet it and stop the bleeding") beforehand and equipping their vehicle with everything from a defibrillator and a trauma kit to a satellite phone that "either goes straight to mom or some central database," said Ed. "We were never really sure."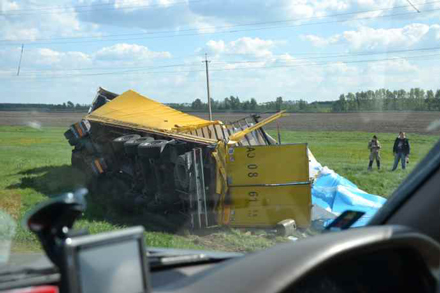 As they carefully navigated the various obstacles found along the infamous Russian roads ("We saw accidents every day and bodies strewn all over the place," said Graham), so too did the Durgans try to circumvent potential problems before they even arose. They avoided sleeping at notoriously cutthroat Russian truck stops. They wore plastic watches and old clothes and showed as little cash as possible. And they even enlisted the help of a Russian student who they could reach by mobile phone day or night should a situation arise in which they needed emergency translation services.
105 days, 18,000 kms, 1 fight
It is clear, watching the father and son interact during the interview, that Ed and Graham enjoy each other's company immensely, playing off each other like a well-oiled comedy duo. Crosby and Hope in the "Road to McGill," if you will.
"I didn't spend as much time with my kids when they were growing up as I would have liked. To be able to spend three months with my 19-year-old son was a great privilege" said Graham when asked what was the most memorable part of the trip was for him.
"Great. Now I feel like I have to say my highlight was hanging out with him," said Ed, taking a playful dig at his dad.
A testament to the strength of their relationship lies in the remarkable fact that the Durgans spent 105 straight days together, many of them cooped up in a small vehicle, and didn't have a single fight… well, not until they were mere minutes away from pulling up to the Roddick Gates. "I wanted to go left and he wanted to go right," said Graham with a chuckle.
"I don't know if it's that big a deal that we didn't fight," said the senior Durgan. "If you know you're going to have to spend three months with someone, there's no point in having an argument, so both sides become tolerant."
"Yes, but now that we're here in Montreal we've definitely lost that tolerance," said Ed laughing.
Bigger fears to fry
Jane Durgan wasn't too concerned about bickering between her son and her husband. She had bigger fears to entertain. "Mum – along with both my grandmothers – thought we'd get robbed or shot or killed in an accident," said Ed. It was a reasonable worry, considering at the same time the Durgans were driving from England to China (where they would ship their Land Cruiser to California via container ship) another Brit was killed in an accident while attempting to drive from Beijing to London.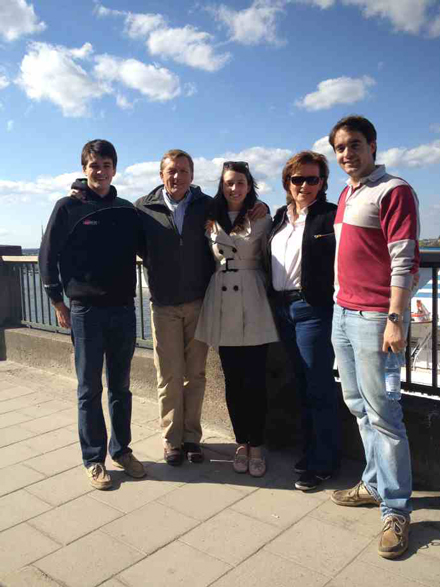 The Durgan women believed Ed and Graham faced any number of potential pitfalls: aggressive border guards, corrupt officials, hell-bent truck drivers, marauding gangs of bandits – not to mention Mongolian death worms. Ah yes, the death worms.
"If Mum sees it on the Internet, she believes it," said Ed about the aforementioned worm. The legendary, five-foot long, blood-red creature is said to live only in Mongolia's Gobi Desert and purportedly can discharge a lethal electrical shock while spewing a highly corrosive yellow acid.
As luck would have it, the death worms proved to be as elusive as Sasquatch, although the Gobi Desert wasn't without its native creepy crawlies, including vipers. This was a tad disconcerting considering the Durgans were camping in the desert. "I woke up one morning, knocked my shoe and out crawled this thumping great spider," said Ed with a shudder. "It was dreadful."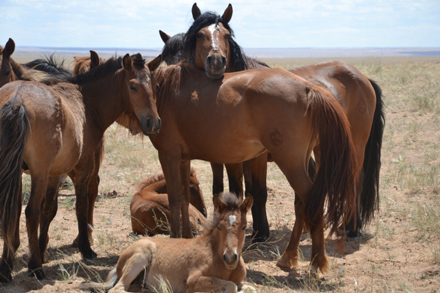 To protect themselves against two-legged trouble, the Durgans also brought along 400 cigarettes and a dozen or so fake copies of their driver's licenses, the former to smooth things over with troublesome border guards and the latter to help with Russian police, some of whom are said to ask for your license only to withhold it unless you pay $100.
To both men's surprise, neither cigarettes nor disposable documents were needed. "Nobody in the world smokes any more," said Graham shaking his head. "And we only paid one bribe the whole way and that was to get out of Kazakhstan. The guy wanted some sweets, so we gave him a bag of sweets."
The Durgans maintain that people, even people whose language they couldn't speak, warmed up to them as soon as they understood that the men were raising money for Macmillan Cancer Support, a charitable organization that provides terminally ill cancer patients with in-home nursing and support through the finals stages of their lives.
"Everyone around the world has been affected by cancer," said Graham. "It was touching to see these big, tough Russian border guards react to the word cancer. They would pat us on the back and say 'Well done.' "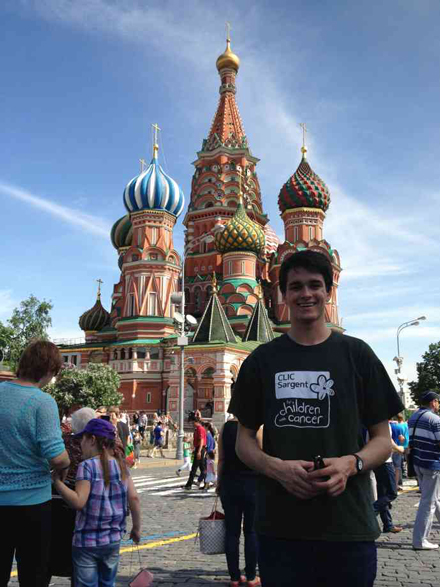 To date, the Durgans have raised more than $15,000 and are closing in on their target of $20,000 – enough money to pay for a Macmillan nurse to care for a terminally ill person in their own home. "There are a lot of people raising money to find a cure for cancer in the future but we want to help the people who are dealing with it now," said Graham. "Macmillan is a charity, not a business, and they rely on donations. We're just trying to do our part."
So who really knows how Ed and Graham Durgan managed to pull off this improbable journey? Maybe it was luck. Maybe it was careful planning. But maybe, if you believe in such things, it was just good karma.
Postscript: Deciding he had spent enough time behind the wheel of Tonka, Graham Durgan flew back to England last Monday after helping Ed move into residence. Tonka will be shipped back to England to "have some post-trip checks" in order to be ready for the Travelling Durgans' next road trip, which Ed says will take them either to India or the southernmost tip of Africa.
To read Ed Durgan's blog and to find out how to donate to Macmillan Cancer Support click here.