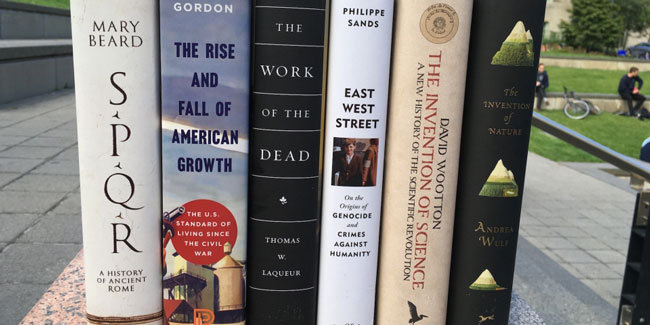 Six books to compete for $75,000 (US) grand prize
The six books vying for the 2016 Cundill Prize in Historical Literature were announced today by Antonia Maioni, Dean of McGill's Faculty of Arts. "This year's long list continues the Cundill Prize tradition of identifying outstanding works of historical writing that combine scholarship and wide appeal," said Maioni, who serves as the Chair of the Cundill Prize. Now in its ninth year, the Cundill Prize is the world's most lucrative international award for a non-fiction book, featuring a grand prize of $75,000 (US) and two Recognition of Excellence prizes of $10,000 (US) each.
The three finalists will be announced the week of Oct. 3. The winner of the grand prize will be announced at a gala awards ceremony in Toronto on Thursday, Nov. 17, at the Shangri-La Hotel.
The six long-listed titles are:
This year's long list was chosen by the Cundill jury, which included Timothy Brook, Republic of China Chair, University of British Columbia; John Darwin, Professor of Global and Imperial History and Director, Oxford Centre for Global History, University of Oxford; David Frum, Senior Editor, The Atlantic; and Anna Porter, Co-founder, Key Porter Books and author (Buying a Better World: George Soros and Billionaire Philanthropy, The Ghosts of Europe).
About the Prize: The Cundill Prize is the world's most important international prize for non-fiction historical literature. It was established in 2008 by McGill alumnus F. Peter Cundill, who passed away in January 2011. The prize is administered by McGill's Dean of Arts, with assistance from the McGill Institute for the Study of Canada (MISC), and is awarded annually to an individual who has published a book that has made a profound literary, social, and academic impact in the area of history.