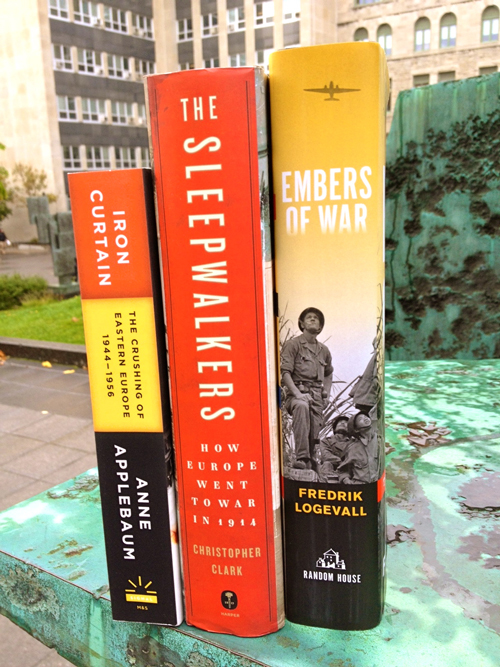 By Elisabeth Faure
The Cundill Prize in Historical Literature (named for McGill alumnus Peter Cundill), is set to be awarded at a private awards ceremony tonight, Nov. 20. The winner, chosen from amongst 116 submissions, will walk away with $75,000 US – the world's richest prize in historical non-fiction. The prize is administered by McGill's Faculty of Arts, with help from the McGill Institute for the Study of Canada (MISC).
"Every year, it gives me enormous pleasure to see the calibre of submissions that pass before the Cundill selection committee," said Faculty of Arts Dean Christopher Manfredi.
In its sixth year, the award is given to a book determined to have had (or likely to have) a "profound literary, social and academic impact in the area of history."
This year's nominees are (in alphabetical order); Anne Applebaum's Iron Curtain: The Crushing of Eastern Europe 1944-1956 (Allen Lane – Penguin Books / McClelland & Stewart), which chronicles the raising of the Iron Curtain in post-WWII Europe; Cristopher Clark's The Sleepwalkers: How Europe Went To War In 1914 (HarperCollins / Allen Lane – Penguin Books), which examines the chain of events that led to WWI; and Fredrik Logevall's Embers of War: The Fall of an Empire and the Making of America's Vietnam (Random House), which looks at America's 40-year path to war in Vietnam.
The three finalists will be introduced by Jeffrey Simpson, The Globe and Mail's national affairs columnist, who will be the evening's Master of Ceremonies.
No author will walk away empty-handed, as the two runners up each receive a prize of $10,000 US, respectively.
The Cundill shortlist, finalists, and winner are selected each year by an independent jury. This year's Cundill Jury included Garvin Brown, Brown-Forman Board Chairman, Anthony Cary, Executive Director of the Queen's-Blyth Educational Programs, Sergio Luzzatto, Modern History Professor, University of Turin and 2011 Cundill Prize winner, Marla R. Miller, Professor & Director, Public History Program and Graduate Program Director, University of Massachusetts, and Thomas H. B. Symons, Founding President of Trent University and Vanier Professor Emeritus.
To read more about the Cundill Prize, visit www.cundillprize.com.
For more information, go here.