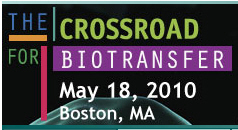 By McGill Reporter Staff
The Crossroad for BioTransfer is back, with a new twist.
The third edition of this made-in-Montreal event – which brings together business people and leading scientific researchers – will be held May 18 in Boston.
For this special edition, the Massachusetts Technology Transfer Center (MTTC) is partnering with McGill University and the Research Institute of the McGill University Health Centre, the National Research Council Canada (NRC), and Gestion Univalor / Université de Montréal to showcase licensing opportunities in life sciences and health.
The Crossroad for BioTransfer provides a unique one-stop venue for biotechnology and pharmaceutical companies, entrepreneurs and the venture capital community to gain access to intellectual property emerging from research-intensive universities and research institutes. Together, McGill University and the Research Institute of the McGill University Health Centre will be presenting seven high-impact marketable innovations.
Last year's event, held at NRC's sprawling Biotechnology Research Institute near Montreal's Hippodrome racetrack, was oversubscribed, with nearly 300 executives, venture capitalists and industry consultants applying for 200 available spots. More than a dozen prominent scientists from McGill and the MUHC were there.
This year's gathering, to be held at the Joseph B. Martin Conference Center at Harvard Medical School, also promises to foster relationships and commercial endeavours between research centers in Montreal and the private sector in the Boston area. "Massachusetts is a vibrant entrepreneurial hub in biotechnology and we are pleased to be part of this event once again to showcase McGill's innovations" said Dr. Michele Beaulieu of McGill's Office of Sponsored Research and member of The Crossroad for BioTransfer steering committee.
The four co-organizers of The Crossroad for BioTransfer are premier organizations with a solid track record of research and marketable innovation. Together they represent over 8,000 investigators engaged in cutting edge research in life sciences and a research budget totalling $5.5 billion.
The Massachusetts Technology Transfer Center is new to this event. Its mandate is to assist any inventor from non-profit research institutions to commercialize their technologies through an array of programs and resources.
For more information on the 2010 edition of Crossroad for BioTransfer, visit: www.biotransfer.ca/index_e.html