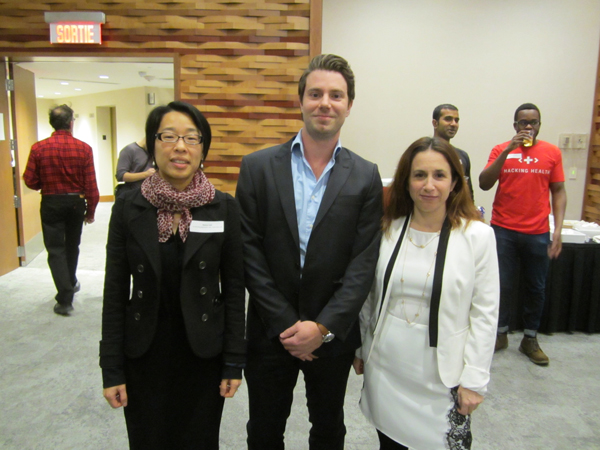 By MUHC Public Affairs (Gilda Salomone)
Imagine dreaming up a practical solution to a common healthcare problem, such as a game that eases anxiety in kids as they go through an MRI exam or a guided self-help app for patients with depression. Now imagine being in a room full of talented web designers, video game experts and programmers, eager to help bring your idea to life. Well, the dream became a reality in November during Design Challenge Montreal, which was part of the Montreal Summit on Innovation.
Design Challenge Montreal was organized by Hacking Health – a group that fosters collaboration between front-line clinicians, healthcare workers and technology experts to produce innovative and realistic solutions to healthcare problems. On Dec. 10, the group held its Hacking Health Challenge Grand Finale. After three weeks of intense work, eight teams had a chance to pitch their prototypes to investors and more than 200 health technology entrepreneurs, healthcare professionals and industry leaders. Four MUHC health practitioners were among the finalists. These are their stories:
Helping patients keep on track with depression treatment
When she conceived an app to help students facing depression, RI-MUHC researcher Dr. Nancy Low, a psychiatrist in the Mood Disorders Program at the Royal Victoria Hospital and clinical director of the McGill Mental Health Service, was eager to find a solution to a very concrete problem. "Our clinics are overburdened, with long wait times," she says. "I wanted to improve service to our patients and help them adhere to treatment between appointments."
Dr. Low and her team created OnTrack, an app that gives patients timely access to guidance on three types of treatment for mild to moderate depression: mood monitoring, medication and talk therapy homework, which includes doing suggested pleasurable activities. Although the combination of those treatments is very effective, patients have a hard time following them, so they fall off their plan and can even get worse.
From a business point of view, the whole process was a revelation to Dr. Low. "It was a steep learning curve for me, but the whole process is so interesting and stimulating," she says. "The resulting app is super cute and I'm amazed that we already have a prototype. The whole team put their heart and soul into the effort which made this whirlwind of weeks extremely rewarding."
Dr. Low's team struck gold several times during the competition. Their app received an award from the Anges Quebec Network, a prize from FounderFuel, as well as The Pitch Most Likely to Succeed award from the Development Bank of Canada. Dr. Low and her team also received positive responses from the many attendees of the events.
"They told me the app touched them because they knew people who had been affected in some way by depression," she said "They are eagerly waiting for it to come online."
A mission to the moon: using role-play to help kids go through MRI exams
"Hacking Health is a wonderful occasion for people like me to see the business side of innovation," says Sylvia Papazian, an administrative agent in the Radiology Department of the Royal Victoria Hospital. "They helped me realize that I can be a leader as well as an idealist."
With the help of her team of experts, Papazian developed an app to help reduce stress in children going through MRI exams. "When my son was two years old, he had a traumatizing experience during an MRI for a suspected brain tumour," she says. "As parents, we were so anxious about the results that we didn't think of preparing our kids for the exam itself. The MRI involves lying in a dark and loud tunnel for 15 minutes without moving or talking."
The app involves a game about a secret mission to the moon and astronauts disguised as nurses and doctors. It trains kids to get used to the sounds of the MRI machine and not move or talk during the exam. Papazian was very touched by the support she got from her department. "It's nice to see that there's space for innovation within the MUHC," she says.
Even before the finale, her app, The Children's Empowerment Story, had already attracted attention from pediatric clinics and imaging innovation companies. "This competition feels like a dream to me," says Papazian. "As a team we've already decided we're going through with this project and we're going to make it work."
Papazian will get some help in her enterprise. She won a prize from Cossette Lab during the Challenge as well as support from the Anges Quebec Network.
"It was fantastic to be recognized by industry leaders and to be surrounded by people who dream of bringing quality healthcare solutions to the beautiful city of Montreal."
A neat organizer for resident doctors' case logs
As an orthopaedic surgery resident operating at six different hospitals, Dr. Hans Van Lancker knows how hard it is to keep his case logs organized. "It's our responsibility to keep personal logs of all our cases," he says, "This information is required by health institutions and government bodies, but there is currently no standardized system for entering and storing the data, so it ends up scattered on scraps of paper or in Excel documents."
Dr. Van Lancker and his team of designers and programmers created Pearl, an app that helps physicians to keep the data of their cases clearly and concisely organized. Although case logs do not contain information that can be linked to specific patients, they should nevertheless be secure. "An added advantage of Pearl is that the app will be password protected for added security beyond what is currently available."
Pearl piqued the interest of many investors and Dr. Van Lancker is confident it will be adopted and used on a daily basis. "Our app is designed specifically for doctors and provides the efficiency and security necessary for the field," he says.
Intelligence to predict "invisible" breast cancer
Less than a year ago, Dr. Jonathan Kanevsky, a resident in Plastic Surgery at the Montreal General Hospital, had the idea of applying the principles of machine learning to early breast cancer detection. With the help of mathematicians and programmers, he created Envisionary, a software system that helps radiologists prevent misdiagnosis and predict breast cancer.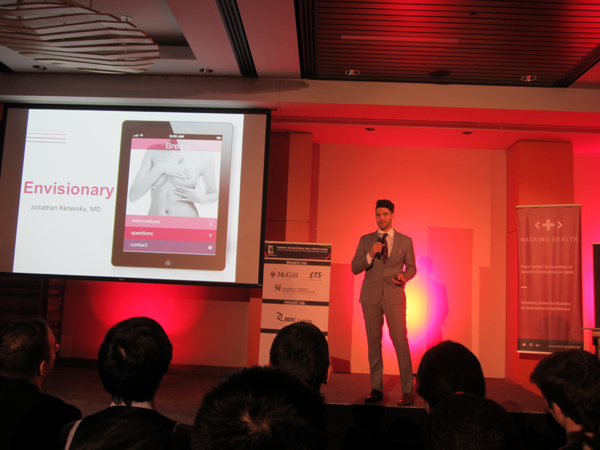 "Artificial Intelligence is already used in many contexts in our everyday lives," he explains. "Our email, for example, has a spam filter with an algorithm trained to detect words and patterns that resemble spam. That same idea can be applied to series of images in mammograms."
According to Dr. Kanevsky, patterns that lead to breast-cancer aren't always visible to the human eye.
"I once had a patient who had a mammogram that was benign, but when she came back a year later, it showed extensive disease," he says. "Something had happened within that year that wasn't detectable."
Envisionary was one of the winners at the Hacking Health Challenge, attracting the attention of start-up accelerator FounderFuel.
"This is a very big undertaking. The founding principles have been laid. I hope that we'll develop a solid team that can make this idea a reality," says Dr. Kanevsky, who is happy to see that there's an infrastructure in Montreal that supports technological innovation in health care.