Behind the grey stone façades of four late-Victorian rowhouses that cling to the steep slope of Peel Street, one of McGill's most cherished educational facilities is celebrating 50 years of continuous operation. Starting out as the McGill Family Community Centre in 1973, the Centre de petite enfance de McGill (CPE McGill) has cared for the infants and preschool-aged children of hundreds of the University's families over its lifetime.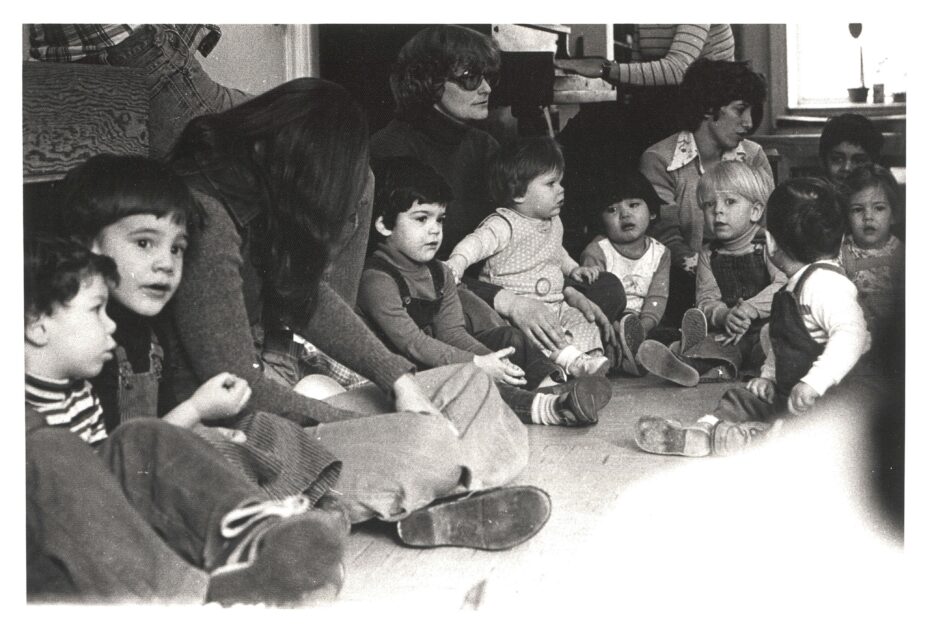 Serving a growing need through changing times
Demand for daycare has been high throughout CPE McGill's history. In 1985, barely a decade after the original centre started at 3491-3495 Peel Street, a second facility opened next door at 3483-3487 Peel. In 1999, not long after the introduction of the CPE system, which aimed to provide subsidized daycare across the province, the two entities merged to form CPE McGill. Today, a total of 110 children attend the daycare, ranging in age from four months to just under five years.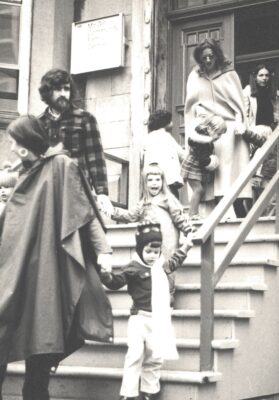 CPE McGill's executive director, Lisa Gallagher, who has worked in early childhood education since 1986, remembers the advent of the CPE era well. On the one hand, the changes brought welcome relief to boards of directors – made up mostly of parent volunteers – who until then had spent much of their time preoccupied with the management of operating costs and fee structures.
But a less-obvious consequence of the reforms was the change in atmosphere at the lunch table brought about by the introduction of standardized meal provision. Gallagher says she and her colleagues soon came to miss the days when children brought their own food to daycare.
"There was so much conversation amongst the children, opening their lunchbox and seeing what their parents had packed for them. You could see so many family and cultural traditions through their lunchboxes.
"And, as educators, we used to put little notes in the children's lunchboxes, whether it was an anecdote from the morning or something about how their face lit up when they had their favorite thing for lunch – it created a daily connection between home and daycare."
Great location, imperfect vocation
Over the years, CPE McGill's 19th century infrastructure has also posed challenges for its occupants. Brian Karasick, who was on the board of directors during the transition to the CPE era, says the venerable buildings, originally constructed as private residences in the 1880s, were never designed for the high-intensity use they see today.
"The Centre did not fit into the typical government mould, with rooms that were not sized to meet the exacting child-to-educator ratios imposed by the government regulations, and could not be adapted," says Karasick, whose son attended the daycare from 1996 to 2000. "[But] the government inspectors were always sympathetic to the physical limitations imposed by the buildings."
An urban planner who works in McGill's Campus Planning and Development Office, Karasick has continued his association with CPE McGill long after his son's time there, lending his expertise on issues related to the buildings and the use of space, and even helping out with the planning of the backyard play area.
"The Centre's strength was and continues to be its staff and its approach to daycare as education," he says.
The community that makes CPE McGill
Throughout its history, building connections between home and daycare has been a guiding principle for CPE McGill. In founder Wally Wang-Garrety's words, the daycare aims to be "a home away from home".
"Parent involvement is still at the heart of things," Gallagher says. "We work a lot by committee – right now we have six committees that parents can participate in."
While the COVID-19 pandemic put many in-person events on hold, the daycare has been busy re-establishing community-building traditions such as coffee socials, potluck lunches and an annual summer barbecue for the families of children who attend. Parents are also welcome to drop in and spend time with their children during the day.
A university daycare in more ways than one
Since its earliest days, the McGill daycare's stated mission has been not only to provide educational childcare but also to facilitate research and training in early childhood education and other disciplines.
"We have students from education, elementary education, music, psychology, speech language pathology, occupational therapy, physical therapy, medical students, nursing students – anybody who would at some point interact with children and/or their families," Gallagher explains.
CPE McGill's location and connections to the McGill community also creates opportunities to expose the children to a wide range of experiences. Gallagher recalls the day a parent who was a political science professor invited a group of children to attend an undergraduate class.
"The McGill students were just floored to have these little four- and five-year-olds in the front, talking about voting and democracy," she says. "It was amazing to see those kinds of concepts being taught to young children in a university classroom."
On other memorable outings, children have made recordings of themselves singing in a studio at the Schulich School of Music, gone skating at McConnell Arena, taken a dip in the Memorial Pool, and seen the dinosaur bones at the Redpath Museum.
Kudos to the educators
To mark the semicentennial, Gallagher invited parents to nominate their children's educators for the Prime Minister's Awards for Excellence in Early Childhood Education. The response was so strong that nominations have now been submitted for every single one of the nine classes that make up the CPE.
In the feedback she received, Gallagher, herself a recipient of a Prime Minister's Award in 2012, saw how much parents welcomed the opportunity to express their appreciation for the educators who cared for their children. By exchanging experiences with other parents whose children were or had been in the same class, parents came to learn even more about the depth of talent on staff.
"Parents were saying things like, 'I knew the educators were special, but this is really highlighting their individual talents, how long they have been here, and what have they brought,'" Gallagher explains.
"It was a really nice community exercise that was inspired by the 50th anniversary, to pay tribute to our educators, some of whom have been here for over 30 of those years."