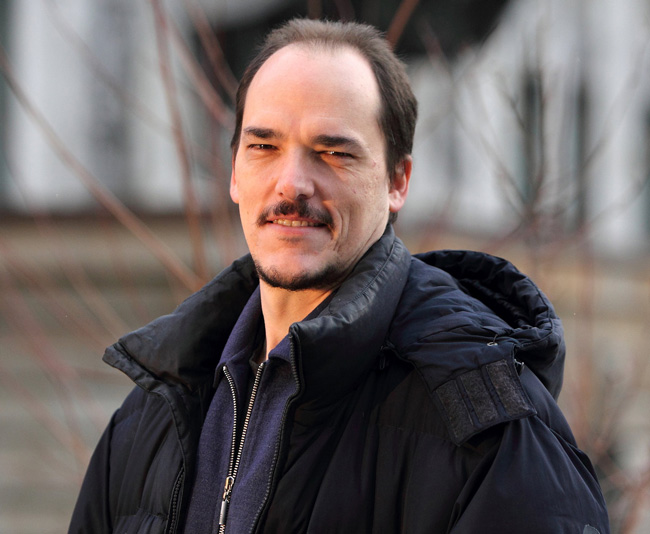 By McGill Reporter Staff
Dean of Students Andre Costopoulos is leaving McGill in June to take up duties as Vice-Provost and Dean of Students at the University of Alberta in Edmonton.
Costopoulos, who has been Dean of Students at McGill since November 15, 2012, and whose first term was coming to an end in June, has been a member of McGill's Department of Anthropology since 2003. He graduated from McGill in 1992.
"I am very happy for Andre," said Ollivier Dyens, Deputy Provost (Student Life and Learning), "but at the same time, this is a huge loss for McGill. Andre has been a wonderful Dean of Students; he has worked hard to help students work with the administration and has been instrumental in seeing the draft sexual assault policy progress through the system. He was also instrumental in developing the Ask and Advisor program.
"Andre has been of immense help to me in the last three years and I have appreciated his counsel and guidance. His relationship with our students has been extraordinary and he leaves very large shoes to fill.
"I wish to congratulate him on his new appointment and look forward to working with him as a colleague from another of Canada's leading universities."
Dyens said a search for a new Dean will begin immediately.
"I've been fortunate to work with some wonderful people at McGill and our students are really an exceptional group," Costopoulos said. "I'm looking forward to taking on a more senior role in student affairs at UofA. Their Anthropology department is very strong, it's a great university with a very stimulating intellectual environment, and Edmonton is an interesting city."
When he took on the Deanship after spending time as Associate Dean of Arts, Costopoulos said the Dean of Students has a key role to play at a university, primarily responsible for protecting student rights, fostering academic integrity, and providing oversight of the Code of Student Conduct and Disciplinary Procedures.
"It's an important moment in student affairs in general in the University," he said upon the announcement of his appointment in 2012. "We need to build and maintain communication between faculty and students and the administration."
A native Montrealer, who graduated from McGill in 1992 and then went on to do graduate work at the Université de Montréal and the University of Finland, Costopoulos's research has focused on studying human adaptation to environmental change in the North over the past 6,000 years. His fieldwork has taken him from Northern Finland to the James Bay area of Northern Quebec, and he led a major international research project during the International Polar Year.
"I study human evolution," he told the McGill Reporter in an interview a few years ago. "I wonder how society came to be the way it is, which is why I'm interested in all this policy stuff, I guess. I ask myself how did we get to be us, and it's a fairly compelling question, because some of the ways we are don't immediately intuitively make sense – some of the ways in which we behave toward each other, for example, or some of the ways that we organize ourselves. So I'm interested in how that happened, over time, and how we deal with environmental challenges over time, and by environment I include other people, so the social environment as well."
As for studying people who live where it's cold, he'll soon find himself right at home.