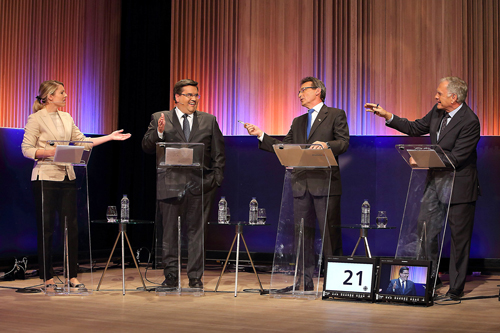 Candidates unanimous in panning PQ's Charter of Values
By Neale McDevitt
Tuesday evening, Montreal's four mayoral hopefuls squared off in an English-language debate hosted by McGill and CBC. The hour-long faceoff at Tanna Schulich Hall was a more lively affair than its earlier French-language counterpart, probably because the format allowed for some one-on-one exchanges between candidates.
"Old habits are hard to break and old parties, despite their best efforts, don't reinvent themselves overnight," said Mélanie Joly in her opening remarks, clearly referencing the well-documented corruption at City Hall. The youngest candidate, and leader of the Vrai changement pour Montréal party, presented herself as being best positioned to bring change and transparency to municipal government.
But later in the debate, as Joly outlined her plans for an extensive bus rapid transit system, Projet Montréal candidate Richard Bergeron told her that, while she may be new to municipal politics, she talks the talk of a veteran. "Madame Joly, you have only been in politics for a few months and you are already using tactics of an old politician like Mr. [Denis] Coderre, saying 'don't be ideological, be pragmatic,'" Bergeron said. "You learn very fast."
Sticking with the theme of corruption, Marcel Côté emphasized that his extensive business background has given him the experience needed to turn the tide on City Hall scandals. "Corruption has taken hold in Montreal because Montreal is badly managed," he said in his opening remarks.
Highlighting his managerial experience was a familiar theme for Côté throughout the debate. When asked what was needed to revitalize the City's economy, the Coalition Montréal leader said, "I've invested in quite a few businesses in Montreal. What they want is the mayor to properly run City Hall. They can do the rest. Montreal has the highest business tax in Canada."
In her rejoinder, Joly told Côté, "It's great you've made the analysis that taxes are too high, but we need solutions, not analysis."
Coderre, leader of Équipe Denis Coderre pour Montréal, and leading in opinion polls thus far, said his 16 years in politics as Liberal Member of Parliament for the Montreal riding of Bourassa makes him the right person to lead the City. "[I'm the person] who's got leadership, who's got credentials, who's got a tremendous team," he said.
But, at several points in the debate, Bergeron took Coderre to task for amassing a team that included 25 former members of former mayor Gérald Tremblay's Union Montréal party – a party that was rocked by scandal in the past year before being dissolved in May.
In one exchange, Bergeron criticized Côté for also having some prominent ex-members of Union Montréal as part of his team, but still took the opportunity to take a shot at Coderre "How can you change the situation with the same people?" he asked Côté, adding "But it's not as [bad] with you as it is with Mr. Coderre…"
"If a house has a leaky roof, you don't throw the house down," said Coderre. "The vast majority of employees and politicians are honest."
Joly drew laughs when she responded that not only is Montreal's roof leaking, but so is the foundation.
Although there were some moments of heated argument, the evening was marked by decidedly less rancour than what has often been the norm in recent debates on both sides of the border. For the most part, the candidates respectfully agreed to disagree on some central issues, including, corruption, public transit and the economy.
One issue the candidates did achieve consensus on was the Parti Québécois's proposed Charter of Values, calling it divisive. "The charter is not a matter of culture. It's a matter of rights," said Coderre. "There's no hierarchy of rights."
"This is a very divisive fight. We have to be careful not to stoke the fire," said Côté. "Montreal is always on the losing side of nationalist politics. Let them play their game."