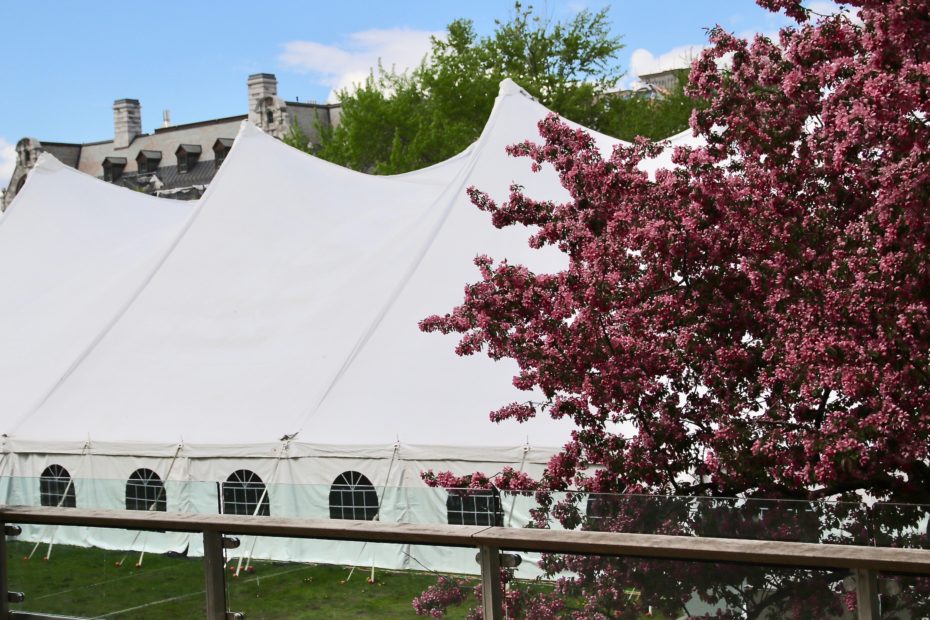 As McGill's most recent crop of graduates cross the stage at their Convocation ceremonies, diplomas in hand, they prepare to embark on their next adventure.
The 14 ceremonies, taking place from May 28 to June 5, will see anywhere between 15,000 and 20,000 guests descend upon the downtown and Macdonald campuses to partake in the milestone, celebrating their friends' and families' achievement.
Despite the scale of the events, organizers have gone beyond the status quo, attaining a Gold-level Sustainable Event certification.
"We're all about improving our processes," said Heidi Emami, Associate Registrar with Enrolment Services, whose team organizes convocation.
Sustainability was already on their minds when the McGill Office of Sustainability first approached them to take part in the event certification program in 2017, Emami explained. In the years since, she said they have taken stock of their processes, from web registration to gown distribution to program printing, to see how they can do better.
"We're always looking at how we can improve."
Approaching sustainability from all fronts
While the terms "green" and "sustainability" might have been synonymous in the past, McGill has long embraced the three pillars approach, which encompasses environment, economic and social sustainability.
As such, ensuring accessibility is crucial for hosting a sustainable event. By working with the Office for Students with Disabilities, Emami said they added a webform that allows graduating students and guests to submit accessibility needs, such as accessible seating arrangements, accessible washrooms and the need for an ASL interpreter.
What they have found, Emami said, is that in addition to making Convocation a better experience for all, "It's making our work easier, as well."
Emami explained that prior to using the webform, accessibility requests would come in from all over. Having a centralized system facilitated the event organization process, Emami said, helping the team ensure that everyone's needs were met.
The bathroom trailers located near the tent where the ceremonies take place also include wheelchair-accessible and gender neutral stalls. The presence of outdoor water carts and kiosks where guests can purchase affordable reusable water bottles also reduces the reliance on single-use plastic.
To further reduce the amount of unnecessary waste created by such a large-scale event, Emami said she worked with the regalia company that supplies the gowns and hoods for the ceremonies to eliminate the distribution of plastic dry-cleaning bags. Instead, graduates were instructed to bring their own bags to pick up their gowns. It was a simple change, Emami said, but it makes a big difference.
Similarly, Emami explained that her team counts the programs not distributed at the end of the ceremonies so that they can adjust their ordering with the goal of printing less, preventing waste and cutting costs.
Big or small, there many ways to get involved
More than 100 events have received a sustainable certification since the program began in Spring 2017.  Depending on the commitments made by event organizers, the events can attain Bronze, Silver or Gold certifications. Those certified vary in size, from big, such as the McGill Management Frosh, to small, like the Post-Graduate Students' Society BBQ Orientation.
In addition to ensuring accessibility and committing to reduce waste, organizers can attain points by offering vegetarian and vegan options when serving food, holding their event at a location that is accessible by public transit, or allowing participation via teleconference.
In years to come, Emami has identified more ways that the Convocation team can continue to grow their commitment to sustainability. Eventually, she said, they would like to transition to offering digital programs rather than printed copies. Emami also explained they plan on working with IT Services to implement a system that would allow graduates to communicate their preferred first name to be read aloud during the ceremony, promoting greater inclusion.
They are also looking at how they can provide more sustainable travel options for honorary degree recipients, said Emami. In 2017, air travel accounted for approximately 14 per cent of McGill's total greenhouse gas emissions, equivalent to just over 8,000 tons of CO2e.
"It's such an important and big event," Emami said of the Convocation ceremonies. "I'm hoping that some of the changes we've made will inspire others to follow suit."
Learn more about the Sustainable Event Certification program by visiting the McGill Office of Sustainability's website.
Watch the video below to learn more about the Green Labs Initiative