Hailing from around the world, McGill's valedictorians are a diverse, multitalented group. When they came to the University, they brought with them their unique backgrounds, passions and ambitions. While they all praise the education they received at McGill, one thing is certain, the University has benefitted just as much for having them as valuable, contributing members of our community.
These outstanding students have earned the respect of the peers who they represent through their strong academic performance, leadership and commitment to making the University – and the world – a better place.
While COVID-19 made it impossible for them to deliver their respective addresses in in-person ceremonies, they still have important messages to deliver. The Reporter has conducted a series of interviews with this year's valedictorians.
In this, our fifth instalment, we feature Jessica Adamczyk, valedictorian for the Faculty of Dentistry. Adamczyk graduated from the undergraduate dentistry program with a Doctor of Medicine in Dentistry.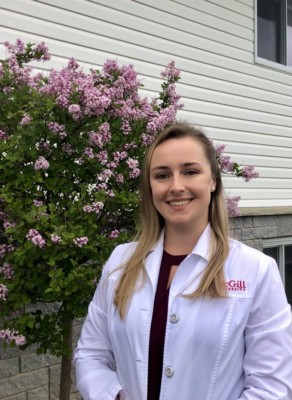 What is your hometown?
Oshawa, ON
Why did you choose McGill?
They chose me!
What were some of your impressions when walking onto campus for the first time?
I had my first encounter with McGill and the McGill Dental Clinic about five years ago, when they offered a tour of the faculty after application interviews. The campus was much larger than the campus I was used to (the Royal Military College of Canada) and the dental faculty is housed within an intimidating high-rise across from the Roddick Gates. The dental clinic is almost brand-new, and I was awestruck by the sleek, modern appearance and the rush of busy students at work. It was both daunting and exhilarating, and I struggled to picture what it would be like to live and work in Montreal for the next four years.
What are some of the highlights of your time as a McGill student?
The White Coat Ceremony that marks the transition from pre-clinic to clinical practice was one of the highlights of my time as a McGill student. Being asked to be the Valedictorian was an especially humbling moment amongst the chaos of 4th year/studying for the national board exam. Lastly, I can't help but think of the friendships I made when I reflect on the last four years I spent at McGill.
Three favourite places on McGill/Mac campus?
The McLennan Library: I spent more time here than I would like to admit. I learned a lot here, met some really great people from other faculties, and bonded with friends over the magnitude of material we had to review.
The Dentistry building: this place became like a second home when we started pre-clinic in 2nd year. I often wondered why I bothered paying rent for an apartment when I barely spent any time there and considered setting up a cot in the pre-clinic some nights.
Café Depot: although the prices were a little steep, this place kept me well caffeinated for long lectures and the giant cookies fuelled many long pre-clinic/study sessions.
What were some of the biggest challenges you faced during your time here and how did you overcome them?
I would say a consistent challenge I faced during my time at McGill was impostor syndrome. I wondered if I was smart enough to handle the academic load, if I was ready to begin a career as a medical professional, and whether or not I would be good at it. This made me extremely nervous at the beginning of my program, but it ultimately fuelled me to excel. I was determined to be smart enough, to embrace a career as a dentist, and to be the best clinician possible for my patients. This kept me motivated me during long study sessions and hours in the pre-clinic. I was able to embrace this doubt and allow it to inspire me to accomplish more than I thought possible.
What's next for you?
I was in the Canadian Armed Forces Dental Officer Training Plan during dental school and I am now posted to 1 Dental Unit – Detachment Petawawa as a Dental Officer. I work as a dentist in a military setting within a dental team that ensures members are dentally fit and prepared to deploy.
Who will you miss the most?
I will (and already do) miss seeing my classmates every day and treating patients alongside them. The constant guidance and availability of the clinical instructors and specialists was extremely valuable and was something that I took for granted over the last two years. The faculty at the dental clinic and my fellow classmates became my mentors and even some of my closest friends. They helped me during the times that I struggled, celebrated my achievements, and shaped me into the person I am today.
What are your long-term goals and plans?
I plan on working as a dentist in the military for as long as possible. I'm not sure yet if I would like to specialize or remain a general dentist. I look forward to increasing my experience as a general dentist over the next few years and I plan on keeping an open mind to opportunities in the future.
Tell me about your Faculty and your classmates. What does it mean for you to be representing them as valedictorian?
The Faculty of Dentistry at McGill houses some of the brightest minds and kindest hearts in Canada. The devout professionalism of the educators, support staff, administrators, and clinical instructors moulds generations of students into excellent clinicians and sets them up for both professional and personal success. I can't count the number of times faculty members stayed late to help students, working overtime to ensure we had what we needed. It's hard to put into words what it means to be representing my class and the Faculty of Dentistry as valedictorian. It is an honour and extremely humbling to be asked to represent a group of people composed of your mentors, idols, and dearest friends. My sincerest thanks to everyone at the Faculty of Dentistry for your unwavering support and hard work. A big congratulations to the graduating class! I will (and already do) miss working alongside all of you and wish you all success and happiness in the future.
What advice do you have for new students starting at McGill this fall?
The café in Redpath might be shamelessly overpriced, but nothing beats a good study snack (chocolate pecan cookie) at 11 pm. In all seriousness, my best piece of advice would be to attend every lecture you can (whether virtual or in-person) and don't ever be afraid to ask questions if you don't understand something.
Did you "attend" your virtual convocation?
I was let off of work to attend the ceremony and watched from my house. I was with my husband and we celebrated with some champagne later that evening. I was also cheered on by my unit, 1 Dental Unit – Detachment Petawawa, who watched the Faculty of Dentistry ceremony the following day. Their support and words of congratulations embodied the camaraderie found in the military and was a very warm welcome to my new workplace.
What was your experience with the pandemic?
I spent my time during the pandemic in Petawawa, ON with my husband. During this time, we worked from home, I finished up my courses online and wrote final assignments and exams. I coordinated a move from Montreal to Petawawa so that I could start working at the dental clinic as soon as possible. It was challenging to work from home, but I enjoyed the chance to finally be at home with my husband after being apart for school for almost 5 years.
Given that the winter semester's on-campus activities came to an abrupt end, do you have any special "last" memories (last lecture, last study session, last hang-out with friends, etc.)?
My last memories on campus are from Friday, March 13. We have orthodontic clinic on Friday mornings and multidisciplinary clinic on Friday afternoons. It was a memorable day as we finished the orthodontic treatment for 2 patients I had been working with over the last two years and in the afternoon I was able to deliver a crown after a long and complex treatment. Those moments have stayed with me over these last few months because I began feeling like a true clinician. Our class wrote our national licensing exam March 7-8, a week before clinic was closed for the rest of the year. For a lot of people in the class, including myself, that was the hardest we had studied our whole academic careers. I cherish the memories of the long study sessions, the tears shed, the teamwork, and the laughs we had preparing for that exam.
Were you able to say goodbye to your classmates and professors, or maintain contact?
Some, yes! We returned to the faculty two students at a time to collect our belongings and dental equipment. I was able to say goodbye to some classmates and members of the faculty during that time. Our class has also had a few Zoom boardgame nights and a "So you think you know your class?" trivia game hosted by our class president. I think graduating this year was especially bittersweet for this reason. There were a lot of people I didn't have the chance to thank or say goodbye to, but I'm hoping our paths cross again in the future.
What was your experience with remote learning, and having to finish your semester (and degree) from a distance?
Luckily most of the didactic material for our degree had already been covered and there were very few remaining courses to finish online. Our professors were very accommodating and worked with the class to determine the most appropriate way to conduct the final exams/assignments. My strategy for "remote" studying was to mimic my normal study habits as much as possible. Have a designated study space (preferably separate from areas of sleeping and eating so you have a chance to take a proper break), set a schedule and try to stick to it, go to class, and don't be afraid to ask questions when you don't understand something.
Is there anything you'd like to add?
Canada is a country of dreamers; it is a place of opportunity. We are told from a young age to believe in ourselves and to dream big. Education is empowering, and it allows people to strive for excellence. I would like to thank everyone at McGill University for creating an environment where bright minds are strengthened and the passion to learn is continually fuelled. My deepest appreciation goes out to the Faculty of Dentistry, the clinical instructors, and support staff for mentoring and shaping us into the dentists we are today. I would like to give a shout out to my family and my husband for their relentless support throughout my academic journey and for encouraging me to pursue my dreams. I would also like to acknowledge the Canadian Armed Forces for giving me the opportunity to do so.
Congratulations to the class of 2020! For many of us it has been years since we started our academic journey, but WE DID IT!