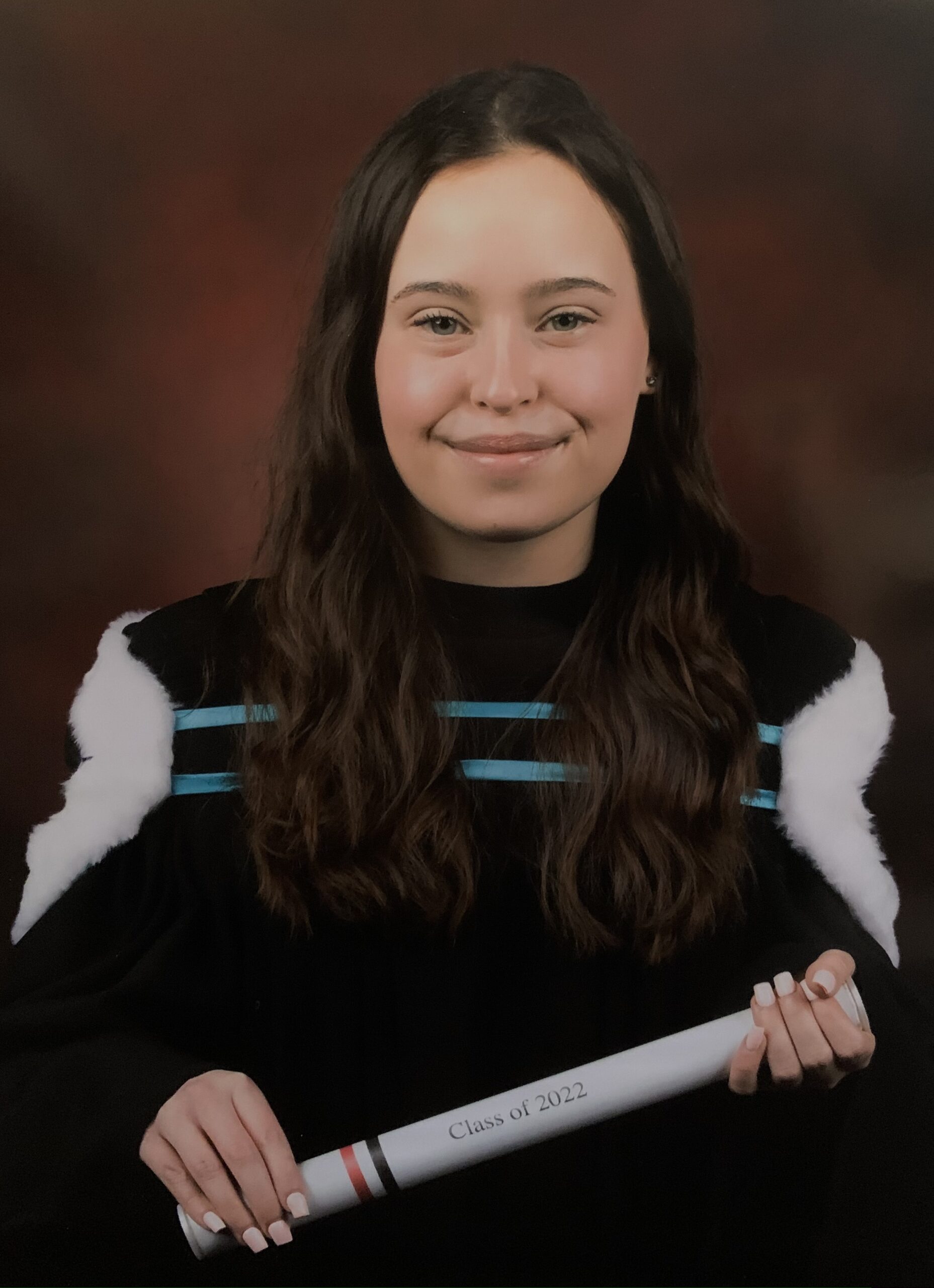 A diverse, multitalented group, the Spring 2022 valedictorians are citizens of the world with remarkably varied backgrounds. Some hail from distant places – Quito, Ecuador; Dhahran, Saudi Arabia; and Rakh Bharoke Dhaki, Pakistan. Others were born nearby – Johnson, Vermont and Bolton Ontario. And some valedictorians come from right next door – Chambly, Quebec and Montreal's West Island.
This year's cohort, while coming from vastly different backgrounds, share enthusiasm, ambition and a well-rounded philosophy of life. These outstanding students have also earned the respect of the peers who they represent through their strong academic performance, leadership and commitment to making the University – and the world – a better place.
As part of our Spring 2022 Convocation coverage, the Reporter is conducting a series of Q&A interviews with some of our valedictorians.
In this instalment, we feature Emily Marie Gilcher, who delivered the valedictorian address for the Faculty of Education ceremony on June 1.
What is your hometown?
My hometown is in Chambly, Quebec. I was born on the South Shore and that is where I have lived my whole life.
Why did you choose McGill?
I chose McGill because I knew that it had a good reputation academically and it offered the program I was specifically looking for. I also loved the campus and how much greenery there was, so the decision was very easy.
What is your degree?
My degree is a Bachelor of Education in Secondary Science and Technology.
What were some of your impressions when walking onto campus for the first time?
When walking onto campus for the first time, I was definitely nervous but also very excited. I was excited to meet new people and to be in a completely new environment. On a beautiful sunny day, McGill Campus is one of the most inviting places to be.
What are some of the highlights of your time as a McGill student?
Some of my highlights of my time as a McGill student was meeting new people and going to McGill events. Events such as detention den, Faco, and being on council helped make my experience memorable and kept me involved within my faculty/community.
Three favourite places on campus?
Education building, Lower Field, & Redpath Library.
What were some of the biggest challenges you faced during your time here and how did you overcome them?
One of the biggest challenges I faced during my time at McGill was imposter syndrome and feeling like I didn't choose the right program. I think it was intimidating to start somewhere new and not really knowing anyone, so I started to doubt myself and what I thought I wanted.
I overcame this challenge by surrounding myself with good and like-minded people who supported me and were there to remind me that I was more than capable of anything I put my mind to.
What's next for you, both short and long term?
I am hoping to start teaching full time this upcoming fall and to have my own classroom where I can instill an appreciation of science in all my students. I am also planning on completing a master's degree sometime in the future when the time feels right, but for now I look forward to starting my career and growing as an individual.
Tell me about your Faculty and your classmates. How important have they been to your overall McGill experience?
Since I'm in the Science and Technology program, most of my classes were science courses so sometimes it was tough to meet people in my specific program. In my education classes, it was nice to be surrounded by people who were pursuing similar paths. I learned a lot from everyone I encountered within the Faculty, once you find your group of people it makes the experience so much better.
Who or what will you miss most?
I will definitely miss the spontaneous outings and detention den with friends. Those evenings hold good memories with the people who made the last four years fun. I will also miss the campus; I didn't get to spend nearly enough time on campus because of COVID and I'll surprisingly miss hiking up McTavish.
What advice do you have for new students to McGill?
The best advice I can give for new students coming to McGill is to embrace the process and go outside of your comfort zone. There are so many opportunities to get involved and become a part of this community, so do things you wouldn't normally do and be willing to take chances. School is so important, but the 3 or 4 years goes by faster than you expect so enjoy it all as much as you can. Also find a good group of friends to surround yourself with, a good support system makes all the difference!
What are your plans for Convocation?
I actually teach the morning of the convocation, so it will definitely be a rushed day. Nonetheless, I am excited to attend with my family and celebrate with them after the ceremony. I will definitely be sharing this moment with my students and colleagues after the convocation as well.
What was your experience with the pandemic?
My experience with the pandemic was both positive and negative. The positive aspect was that I got to spend more time doing things that I enjoy and finding new ways to connect with the people I love.
It was also really challenging because everything that I was used to had changed drastically and it was a very tough adjustment. Teaching online was really different but it allowed me to adapt my teaching practices to what the new reality was. The pandemic helped me realize what truly is important, and how much I value spending time with the people I love.
Do you have anything to add?
To all the graduates, a huge congrats to everything you have accomplished. Take the time to celebrate your achievements and continue to pursue what makes you truly happy. Wishing everyone the best!
Below is the video of the Faculty of Education. You can view Emily Marie Gilcher's address at 2:02:30.