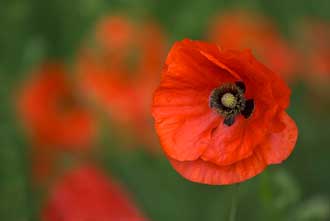 Montreal's Remembrance Day ceremonies, held at McGill on November 11 since 2009, will be moved back to Place du Canada this year because of the City of Montreal's major road construction project on Sherbrooke St.
Norman Shelton, President of the Quebec Provincial Command of the Royal Canadian Legion, which organizes the ceremony, informed McGill that owing to road work and the noise level on Sherbrooke St., the parade that concludes the ceremony could not be guaranteed access or security leaving the Roddick Gates.
Montreal's official Cenotaph is at Place du Canada, a park on the south side of René Lévesque Blvd., between Peel and de la Cathédrale streets. The ceremony had been moved to McGill in 2009 because the park was undergoing a massive renovation. The larger space afforded the many regiments and military bands on the University's lower field was welcomed by the Legion and it arranged to continue the ceremony at McGill.
This year's ceremony will take place on Friday, Nov. 11, 2016, beginning at 10:30 a.m. The event, which originally commemorated the end of the First World War at 11 a.m. on Nov. 11, 1918, was later expanded to honour veterans and those who lost their lives in the Second World War, the Korean War, Afghanistan and other conflicts.
The annual Remembrance Day ceremonies held at Macdonald Campus will take place as scheduled on Nov. 10, beginning at 10:15 a.m.