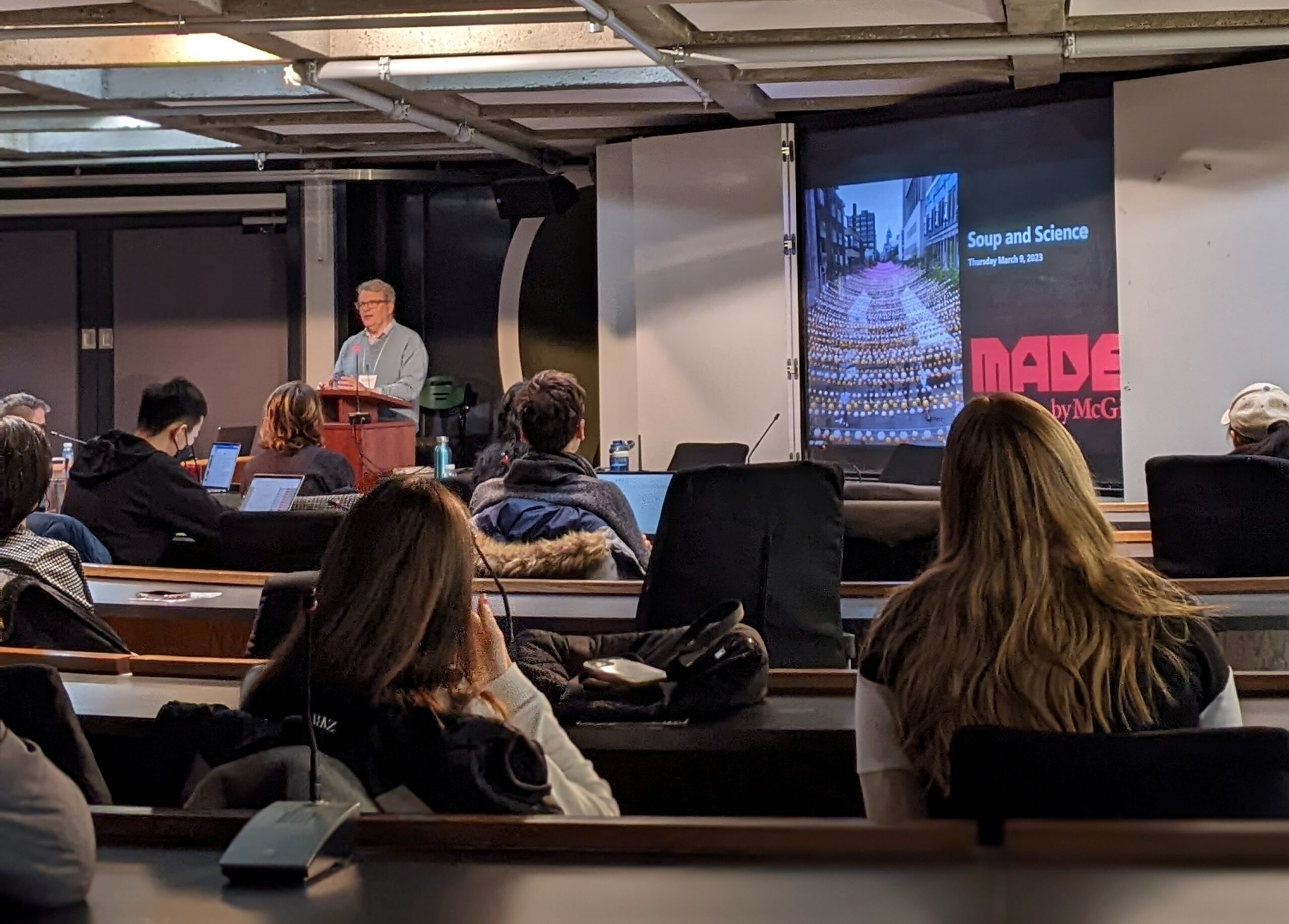 Although approaching professors to discuss research opportunities might seem daunting for undergraduate students, there's an ingredient for success: soup!
The 35th edition of Soup & Science, a week-long event held in the Fall and Winter semesters, took place the week of March 6. Students and McGill community members had the opportunity to hear brief research pitches by professors and student speakers from the McGill Faculty of Science and affiliated departments, such as Physiology and Pharmacology and Therapeutics. The bi-annual event, which has been held since 2006, showcases the diversity of scientific research conducted at McGill and provides students the opportunity to discuss directly with professors from different disciplines.
Lightning talks
Dozens of individuals, mainly undergraduate students, attended each session, which were followed by optional skill-testing questions, prizes, and, for the first time since January 2020, soup.
"Being back on campus to deliver these events in person for a full week has had a very positive impact on the student experience," said Preeti Purba-Singh, Research and Grants Officer for the Faculty of Science. "It was great to see so many students engaged in conversation with speakers after the event, and many were encouraged to follow up later with professors regarding potential summer research opportunities."
Professors from departments across the Faculty presented their current research projects in brief talks, five-minutes long at most. The short presentations gave students insight into each professor's current research projects, shedding light on how students might get involved in ongoing research on campus to complement what they're learning in the classroom.
The student experience
Sascha Woolcott, U2 student in Chemistry, presented on Wednesday, March 8. Touching on research completed last summer as part of a Science Undergraduate Research Award (SURA), Woolcott expressed how "working on one research project leads to many more opportunities." She continued: "I enjoyed doing research because I found my experiments had a purpose and were leading towards things beneficial for people."
As an extension of the presentations, in-person mingling is perhaps the most popular aspect of the event, drawing students from within and beyond the Faculty.
Maëlys Boudier, a U3 student in the Desautels Faculty of Management, attended Soup & Science for the first time. "I have done research in the Faculty of Management under a few professors and was interested in learning more about research opportunities outside of my faculty. I was intrigued by the wide range of topics being presented, the diversity of speakers, and the appeal of a free lunch!
"Soup & Science was well organized, and I wish I had learned about it earlier," Boudier continued. "I would recommend attending whether you have done research, are interested in research, or just curious by what McGill has to offer. And the soup makes the event feel very friendly, warm, and homey."
Overview of the 35th edition
Presenters at this edition of Soup & Science included professors Audrey Moores and Youla Tsantrizos of Chemistry; Courtney Paquette, Linan Chen, and Brent Pym of Mathematics and Statistics; Tami Pereg Barnea and Alex Maloney of Physics; Darius Scott, Sarah Moser, and Brian Robinson of Geography; Peter Douglas, Nagissa Mahmoudi, and William Minarik of Earth and Planetary Sciences; Ivy Tan of Atmospheric and Oceanic Sciences; Jérôme Waldispühl and Yue Li of the School of Computer Science; Alvin Shrier and John White of Physiology; Brendan Johns of Psychology; and Joe Schwarz of Chemistry and the Office for Science and Society.
Student presenters included Woolcott, Sally Yao (Chemistry), Sloane Sirota (Physics), Sativa Kawakami (Biology), and Antoine Moitessier (Pharmacology and Therapeutics).
Purba-Singh was satisfied with student participation at Soup & Science, especially considering the timing of midterms, and was pleased to see many students make new connections at the event. "I saw several students and presenters exchange contact information, which will hopefully lead to research opportunities for this summer and the fall semester."