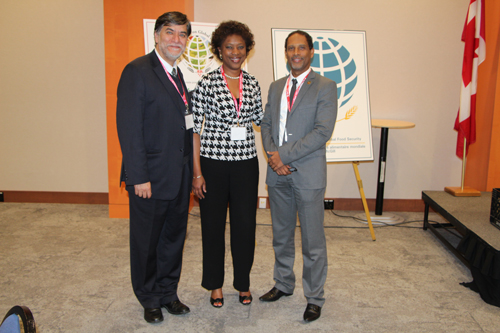 By Katherine Gombay
Hugo Melgar-Quiñonez, the Director of the McGill Institute for Global Food Security has barely finished this year's McGill Global Food Security Conference and he is already planning next year's event. He's not facing it with dread or exhaustion, as you might imagine could be the case with a conference that brings together dozens of participants from around the world, but rather with a lot of excitement and energy. He's interested in finding new ways to reach even more people working in the area across the globe.
"One of the speakers, who is well-known in the field, came up to me after the conference and said that the discussions going on here are so important that we need to figure out how to make this a worldwide event next year,' says Melgar-Quiñonez. " He is suggesting we look into live streaming it, so that people around the world can take part."
The conference, which took place from Oct. 8-9, brought together participants from as far afield as Haiti, Kenya, England, Ethiopia and Guatemala. With representatives from government, academia, the private sector, national and international non-governmental agencies, the talk was wide-ranging, but a single overarching theme emerged: the importance of an integrated, multidisciplinary, and inter-sectorial approach to dealing with food insecurity.
"We've been talking about a coordinated approach as the solution to food insecurity for the past twenty years at least, but we need to work better together across disciplines and sectors to make this a reality, and do more research into how integrated approaches impact the food security status of people" says Melgar-Quiñonez. "What came out very clearly from the presentations here was that it simply isn't possible to think of a single magic solution to the problem. There is no silver bullet. Without solutions that bring together health workers, people working in education, environmental sciences, agriculture, policy-makers, as well as the communities themselves, we will continue struggling in the search for solutions to hunger."
Already, by bringing together the participants, the conference has helped to foster conversations that may lead to new food security projects in different parts of the world. But Melgar-Quiñonez is equally excited by the student participation and presentations he witnessed. "There were around two hundred fifty people in the room, and probably a third of them were students and young professionals, not just from McGill, but from Laval and UQAM as well. It was great to see them, and to hear them talk about how important it is to have this kind of conference where they can all meet and talk and learn," says Melgar-Quiñonez. "The student presentations were very strong too. All in all, the conference was excellent. I'm very happy with it and ready to start talking with my colleagues about next year's event."