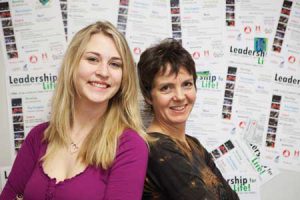 By Pascal Zamprelli
"There are no exams after this, and there are no papers to write; it's a day to just enjoy," said Joan Butterworth, Leadership Training Facilitator in McGill's First-Year Office. "It's educational, but it allows for self-directed learning. The aim of the day is really to help students develop leadership skills and life skills."
The day in question is Leadership for Life, a free one-day conference for students, taking place on Saturday, Jan. 15. The event will feature workshops and panel discussions designed to help participants build leadership skills, meet other students and discover the various resources on campus and the volunteer opportunities they, and other Montreal organizations, offer. Simply put, it will give all those students who want to make a positive difference in their communities a great place to start looking.
"They need the tools, because McGill is a big place," Butterworth said. "There's a lot of information out there, so it's to give people very clear ideas of: if you want to get involved, here's how."
The workshops, many of which are developed and presented by McGill staff, cover a wide range of topics, from conflict resolution and time management to accessibility issues, physical fitness and mental health. The lunch hour will feature a leadership fair during which local clubs and organizations will showcase a wide variety of volunteer opportunities across Montreal, and the afternoon will offer students an opportunity to attend panel discussions featuring many of the Montreal organizations where volunteer opportunities abound, including Sun Youth, the Montreal Alouettes Outreach Program, Santropol Roulant, 60 Million Girls, The Yellow Door, the Volunteer Bureau of Montreal and Catholic Community Services.
Furthermore, students will hear from two great speakers with much insight to offer. The morning keynote address will be delivered by Jason Friedman, a Montreal doctor who spent months working with Doctors Without Borders in southern Sudan, while Gerald Butts, President and CEO of World Wildlife Fund-Canada, has been invited to give the closing speech.
Between the organizations on hand, the 400-500 students expected to attend, the speakers, and the 40 or so volunteers involved, "the networking is just great," Butterworth added.
Now in its fourth year, the idea for Leadership for Life initially came from the results of a survey asking students what would have been helpful to them as first-year students.
"Students wanted to have had an opportunity to figure out how to get involved and engaged in the McGill and Montreal communities in a more meaningful way earlier," explained Butterworth. "We decided to give a few workshops around the theme of developing leadership skills and, really, life skills."
And that's what Leadership for Life is all about: leadership skills are life skills, and being a leader on campus is a big step towards being a leader throughout one's life.
It is worth noting that both keynote speakers are McGill graduates, as is panelist Wanda Bedard, who founded 60 Million Girls, an organization that supports major education projects in developing countries with the greatest gender disparity in school enrolment.
"It starts with one step," said Butterworth. "We try to get that message across." For her, a fulfilling and satisfying path to leadership in life begins with the difficult decision to step out of one's comfort zone, find the possibilities that are out there, and do something about it. Paradoxically, the goal of the conference is to make stepping out of your comfort zone as comfortable as possible.
With all the resources here at McGill brought together, including the many volunteers without whom Butterworth emphasizes this event could not happen, students are given a real chance to learn, grow, and find their own path. "And there are so many opportunities out there," she said.
While first-year students were its initial target, the success of Leadership for Life prompted older students to ask if they could attend as well, and it is now open to all McGill students.
To register, visit www.mcgill.ca/firstyear/leadertraining/summit/ or call 514-398-6913.