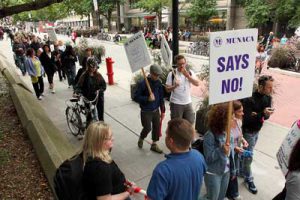 By McGill Reporter Staff
As the strike by MUNACA workers stretches into its second week, the two sides are talking with the help of a provincially appointed conciliator. The negotiations are proving productive so far, with a couple of dozen smaller issues resolved after the first two sessions.
The conciliator decided that the parties have to address all outstanding smaller issues before tackling major issues, particularly those around salaries, pensions and benefits. Both sides agreed on these groupings at Monday's meeting. The next conciliation session is set for Sept. 21 and dates have now been confirmed for Sept. 26 and 30, Oct. 13, 14, 18 and 26.
Meanwhile, the union, in messages to picketers and on its Facebook page, has implied that the University has been prolonging the process by not being ready to negotiate. It is the second time since the dispute began that MUNACA has suggested the University is dragging its feet in the negotiation process.
A message on the union's blog and Facebook page reads: "As we've said to the university since the outset of the strike, we will be prepared to meet day or night when McGill is ready to resolve our core issues with respect to parity in such areas as wage scales and protections for our pensions and benefits.
"Our objective is to get back to work as soon as possible. But we are determined to continue our strike until such time as the university is finally prepared to resolve our core issues," the union's message reads.
MUNACA President Kevin Whittaker said he hadn't put those messages up, but said the University had refused to deal with the major issues until the conciliation process began. "Now that we are in conciliation, we are dealing with them."
But the implication that McGill isn't prepared to negotiate is false, said McGill's Vice-Principal (Administration and Finance) Michael Di Grappa, who noted that the University had agreed to several dates in September and October suggested by the conciliator that MUNACA then rejected.
"McGill is ready to negotiate," Di Grappa said. "The conciliator has laid out a plan for these negotiations that has us tackling the huge number of unresolved issues before getting to the tougher monetary matters. This is normal in a negotiation process.
"We agreed to meet on every date the conciliator suggested. Unfortunately, the union said it would not be available on two proposed dates in September and four in October, although it did propose an additional date, Oct. 13, which, while problematic for us because of other negotiations scheduled for that day, we have accepted.
"We want to get this over with as quickly as possible. We really don't want to see it drag on into the winter."
Whittaker said MUNACA, too, hopes for a quick end to the dispute. "I certainly hope so," he said, in answer to a question about whether a settlement can be reached before the end of October. "But if it takes that long, that's what it takes."
At Monday's session, the union withdrew its demand for a sixth week of vacation after 15 years of service. The two sides managed to agree on 25 unresolved issues, but dozens remain, including the monetary issues where the union and the University remain far apart.
MUNACA, which had already reduced its monetary demands, is seeking a 28.9-per-cent pay increase over three years for its members (including scale progression), while McGill is offering a 1.2-per-cent per year increase (3.6 per cent over three years). Also at issue are changes to pension and benefit plans (the union wants more say in how those are implemented and the University argues that no one group can dictate how changes take place to plans that affect all employees at the University).
MUNACA represents 1,700 support staff, including lab technicians, administrative staff and others. Since the strike began on Sept. 1, picket lines have been established at the Roddick Gates, McTavish Street, the McIntyre medical building, the Genome building and at Macdonald Campus. From time to time, pickets are also active at the Milton Gates and in front of 688 Sherbrooke St.