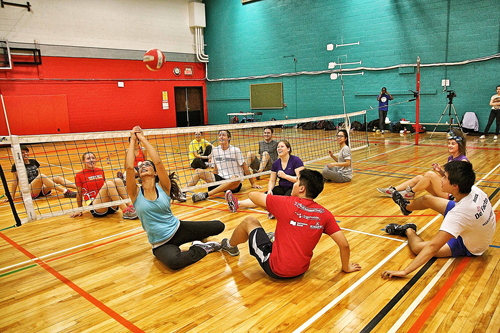 More than 600 McGillians volunteer their time
By Neale McDevitt
"The funny thing about sitting volleyball is you stand up when you want to rest," says Ollivier Dyens with a chuckle. "Less funny were the blisters I got on my hands from using them to move around on the floor."
Dyens, the Deputy Provost (Student Life and Learning) was one of about 25 people who took part in a sitting volleyball clinic on Oct. 4 as part of McGill's second annual Community Engagement Day (CED). The session, a joint production between the University's Physical and Occupational Therapy Undergraduate Society and the Association Sportif de la Centre-Sud, gave participants the opportunity to learn the basics of sitting volleyball – a popular Paralympics sport.
"It was a fantastic experience because it makes you realize that there are other ways to play sports. And even though we were all real amateurs, things got very competitive," said Dyens. "It was a real eye-opener."
Sitting volleyball was just one of the 44 programs that were held over the course of CED, a collaboration between a host of partners that include the Social Equity and Diversity Education Office (SEDE), the Students' Society of McGill University, the Sustainability Projects Fund, the Quartier d'Innovation, and Student Housing and Hospitality Services.
CED promotes existing initiatives which connect McGill with Montreal community organizations by giving students, staff, faculty and alumni the opportunity to volunteer their time and learn about the social issues that these organizations address.
The range of activities offered by CED 2013 included everything from learning American Sign Language and performing a piece of theatre using only signs, to pitching in to sort and carry antique wood panels of the historic Griffintown Horse Palace in an effort to preserve the city's oldest urban stable.
While most activities took place on Friday, Oct. 4, organizers spread out CED over four days at venues across McGill and Montreal in order to make it more accessible to people.
And, boy, did it work. In all, some 609 people registering for CED – more than double last year's total.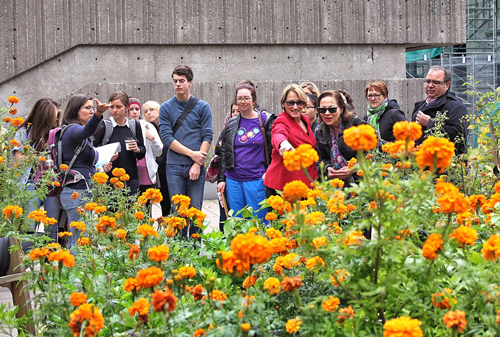 But as impressive as the numbers were, Anurag Dhir, Community Engagement Coordinator at SEDE, says the importance of CED goes beyond a mere head count. "We hope that any new relationships that have been established with community groups will continue. The whole point of this event was not to be a one-off but to be a catalyst for further engagement," he says. "Ideally people's eyes have been opened not just to the organizations but also to the systemic issues that make these organizations necessary."
Which means the work has just begun for the folks at SEDE, who plan to follow up with CED participants and the various community organizations to see what other projects are in need of support. An "appreciation event" is also slated for early November so that volunteers and community leaders can reflect upon CED and discuss how to perpetuate this level of engagement throughout the year.
Reflection is a key component to CED, as each session was designed to allow for participants and group leaders to get together at the end and talk about the experience. "This kind of reflection moves this kind of volunteerism away from pure service into something deeper," says Dhir. "There is something about sharing your reasons for [volunteering] that makes your sense of engagement more profound. And that's the whole point, isn't it?"
Dhir attributes much of the success to the spirit of collaboration within the McGill community and between different portions of that community. "CED is a joint student/administration collaboration and it really adds a lot of innovation to the day," he says.
"Along with students, we also had a lot more participation from graduate students, staff, faculty, administration and alumni – people who don't always have a lot of opportunities to get together," says Dhir. "One of SEDE's objectives is to foster empathy and when you actually spend time with people who are considered part of a different community within McGill it helps create a lot more links and understanding.
Along with Dyens, other notables who participated in CED included Principal Suzanne Fortier and Michael Di Grappa, VP, Administration and Finance, who both got a tour of McGill's Edible Campus Garden surrounding Burnside Hall.
"The whole day was very exciting because it shows real commitment on the part of the entire McGill community," says Dyens. "To see so many McGill people pull together to help others from the surrounding community is very special. I think this is the beginning of a great period in McGill history."
The following short videos highlight some of McGill in the community initiatives currently underway.