WADE DAVIS (Doctor of Science), School of Continuing Studies – Tuesday, May 27, at 6 p.m.
Canadian ethnographer, writer, photographer, filmmaker and scholar Wade Davis has lived with and studied a rich variety of indigenous groups and published many books, including One River, a finalist for the Governor General's Award, and Into the Silence which captured the prestigious 2012 Samuel Johnson Prize. He is the recipient of numerous awards, including the Explorer's Medal, the Gold Medal of the Royal Canadian Geographic Society, the David Fairchild Medal for Plant Exploration, and the Lannan Foundation Literary Award for Nonfiction. From 2000 to 2013, Wade Davis was Explorer-in-Residence at the National Geographical Society. He currently serves on the National Geographic Council of Explorers. A graduate of Harvard University, he is a professor of anthropology at the University of British Columbia, where he holds the Leading Edge Endowment Fund (LEEF) Chair in Cultures and Ecosystems at Risk.
MARY ELLEN TURPEL-LAFOND (Doctor of Laws), Faculty of Law – Wednesday, May 28, at 10 a.m.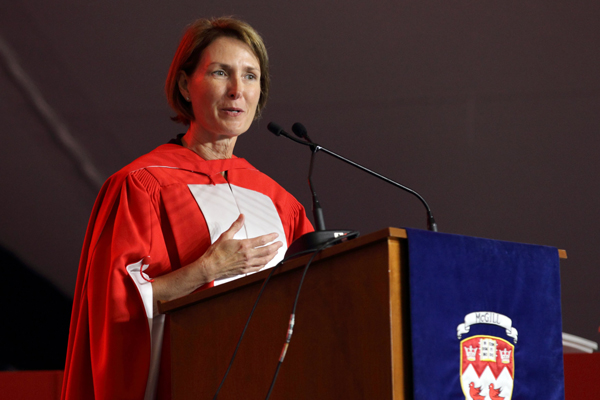 One of Canada's most distinguished jurists of aboriginal descent, Mary Ellen Turpel-Lafond is British Columbia's first Representative for Children and Youth, an independent office of the Legislative Assembly of British Columbia, with a mandate to advocate for children and youth and protect their rights. She is currently on leave from the Provincial Court of Saskatchewan, where she was appointed in 1998, at the age of 35, the first Treaty Indian to be named to the bench in that province. As an aboriginal rights lawyer, she worked on land claims with the Indian Law Resource Center in Washington D.C. and served as a key legal and constitutional advisor to aboriginal leaders. A graduate of Carleton University, York University and Cambridge University, Judge Turpel-Lafond also holds a doctorate from Harvard Law School.
WAYNE RIDDELL (Doctor of Music), Schulich School of Music – Wednesday, May 28, at 2 p.m.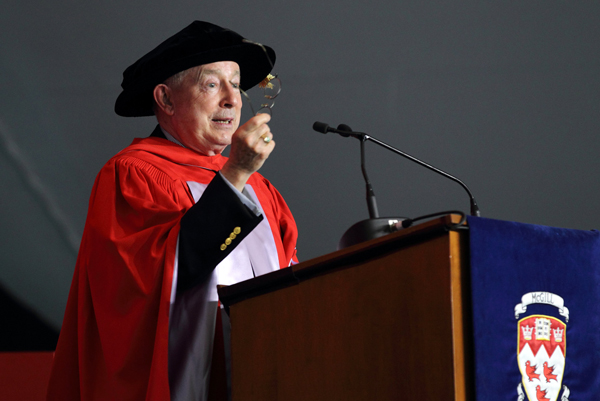 Considered one of Canada's most accomplished choral conductors, Wayne Riddell is credited with having raised the profile of church and chamber choirs in Canada to a new level while exploring a range of musical styles that vary from the standard repertoire to new music by Canadian composers. Founder and former director of the Tudor Singers, Mr. Riddell and the Singers toured Canada from coast to coast; their performances were frequently broadcast on the CBC. He is also known as a great pedagogue, "a choral trainer of genius." Organist-choirmaster at Westmount Park United, Erskine and American United, and the Church of St. Andrew and St. Paul, Wayne Riddell is a graduate of McGill, where he has also taught. He is the recipient of many awards, including the first Healey Willan Prize from the Canada Council for the Arts, as well as the Order of Canada.
KRISTINA M. JOHNSON (Doctor of Science), Faculty of Engineering – Thursday, May 29, at 10 a.m.
Recognized internationally for her contributions to engineering, Kristina M. Johnson is probably best known for her pioneering research in the field of smart pixel arrays, which has applications in displays, pattern recognition and high resolution sensors. She holds some 130 U.S. and international patents, has authored more than 140 articles, managed more than $40-million (US) in grants and played a key role in start-up companies such as ColorLink, Inc., which makes components for color projection televisions and stereographic glasses (used to watch 3D films). A graduate of Stanford University, Kristina M. Johnson has held senior administrative posts at Johns Hopkins University and Duke University's Pratt School of Engineering. More recently, she served as Under Secretary of Energy for U.S. President Barack Obama, where she spearheaded an aggressive national plan to reduce her country's greenhouse emissions and promote clean energy.
CAROL L. PRIVES (Doctor of Science), Health Sciences (Faculty of Medicine and Faculty of Dentistry) – Thursday, May 29, at 2 p.m.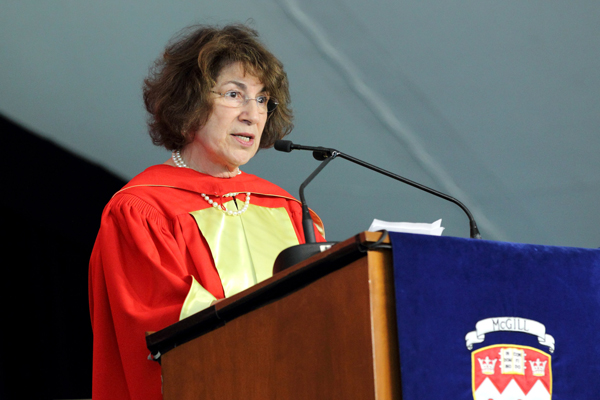 A native Montrealer, Carol Prives earned a BSc and a PhD from McGill. After postdoctoral training at the Albert Einstein College of Medicine, she spent several years at the Weizmann Institute before joining the Biological Sciences Department at Columbia University. Since the late 1980s, her work has focused on the p53 tumour suppressor protein, the product of the most frequently mutated gene in human cancers. Her work illuminated how p53 regulates normal cell growth and malignancy. Carol Prives is an American Cancer Society Research Professor and a member of the American Academy of Arts and Sciences, the Institute of Medicine and the National Academy of Sciences. She has received, among other distinctions, the Rosalind E Franklin Award for Women in Science, the Paul Jansen Prize in Advanced Biotechnology and Medicine, and the AACR-Women in Cancer Research Charlotte Friend Memorial Lectureship Award.
JOHN WOOD (Doctor of Letters), Faculty of Education – Friday, May 30, at 10 a.m.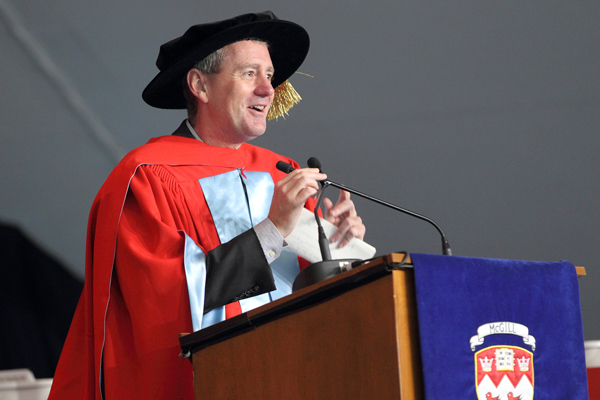 After having worked for Microsoft throughout the 1990s, John Wood chose to leave his executive job to create in 2001 what would become the award-winning non-for profit organization Room to Read. Room to Read has raised over $300 million, recruited a fundraising army of over 12,000 volunteers in 57 cities and has developed into one of the 10 most followed charities on social media. It has helped more than eight million children in the world by providing increased access to high-quality educational opportunities. To date, the organization has established over 1,750 schools, 16,000 libraries, distributed 13 million books in over 10 developing countries and funded long-term scholarships for over 25,000 girls. Room to Read will reach their 10-millionth student by the end of year 2015. John Wood is a three-term member of the Clinton Global Initiative's Advisory Board. He also teaches at the Harvard Graduate School of Education and New York University's Stern School of Business. He is a graduate of the University of Colorado and Northwestern University.
JOHN MCCALL MACBAIN (Doctor of Laws), Desautels Faculty of Management – Friday, May 30, at 2 p.m.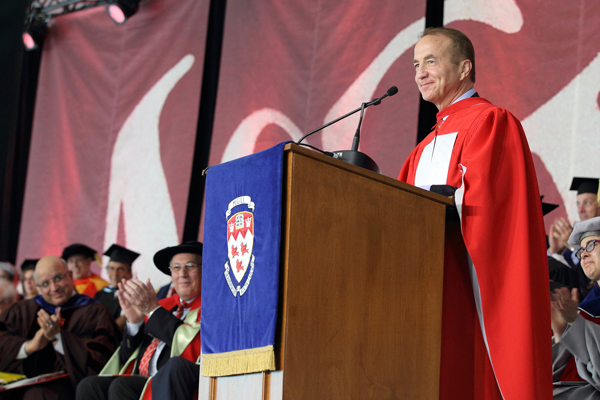 After a distinguished international business career in classified advertising with Trader Classified Media, John McCall MacBain established in 2006, with his wife Marcy, the McCall MacBain Foundation, which has since awarded $200 million to strengthen meaningful global initiatives. A graduate of McGill (and former student leader), John McCall MacBain has been a strong supporter of McGill students over the years, through the creation of fellowships, scholarships and student aid initiatives, in particular, the McCall MacBain Fellowships in the Faculty of Arts and the McCall MacBain Prestige Entrance Scholarships. In 2013, John McCall MacBain provided the largest single gift to the Rhodes Trust in its 110-year history to strengthen the existing Rhodes scholarships and to expand the program to reach students in China, Brazil and Russia. He became the Second Century Founder of the Rhodes Trust after Cecil Rhodes. Mr. McCall, himself a Rhodes Scholar, also holds a Master's of Arts from Oxford University and an MBA from Harvard.
RANDALL S. PRATHER (Doctor of Science), Faculty of Agricultural and Environmental Sciences – Monday, June 2 at 10 a.m.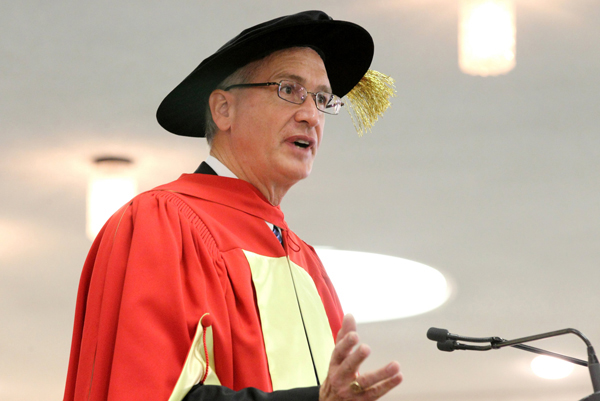 A professor of reproductive biotechnology at the University of Missouri and co-director of its National Swine Resource and Research Center, Randall Prather is internationally renowned for his studies into female germ cells, fertilization, and early embryonic development. He is considered to be an international authority in the application of biotechnologies to the study of early embryonic development and the genetic modification of swine embryos. His transgenic work with swine embryos led to the first cloned pigs in the late 1980s and formed a basis for much of the animal-model work that is now considered fundamental to human health and fertility. In 2011 he received the Distinguished Agroscience Scientist Award from the Christopher Columbus Fellowship Foundation in Washington D.C. He is a graduate of Kansas State University and the University of Wisconsin in Madison.
GURDEV S. KHUSH (Doctor of Science), Faculty of Agricultural and Environmental Sciences – Monday, June 2 at 2:30 p.m.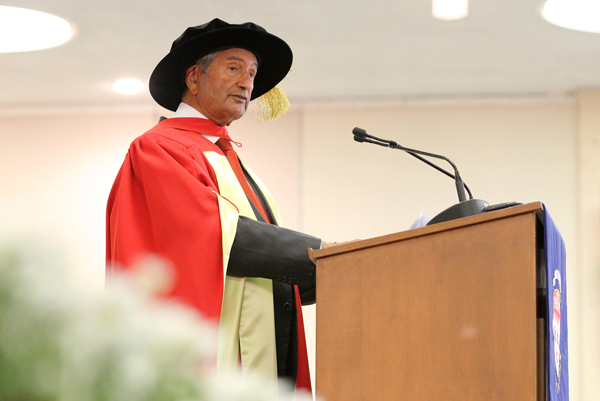 World-renowned agronomist Gurdev Singh Khush joined the International Rice Research Institute (IRRI) in 1967 and was appointed head of the Plant Breeding Division a few years later. During his career at the IRRI, Dr. Khush spearheaded the program for developing improved rice varieties which ushered in the green revolution. He conceptualized and developed a new type of rice, popularly known as super rice, with a 20 per cent higher yield potential. Time Magazine highlighted super rice as one of the best environmental stories of 1994. The adoption of these modern varieties has helped double the world's rice supply and enabled self-sufficiency in most of the major rice-producing countries in the world. For his contribution to world food security, Dr. Khush has been the recipient of many worldwide awards and recognitions, including the 1996 World Food Prize and the Wolf Prize in 2000. Ronald P. Cantrell, former director general of the IRRI, summed up Dr. Khush's contributions by saying: "While his name may have passed the lips of many, his life's work passed the lips of almost half mankind." Gurdev Singh Khush is a graduate of Punjab Agricultural University and the University of California.
KAREN ARMSTRONG (Doctor of Divinity), Faculty of Arts and Faculty of Religious Studies – Tuesday, June 3, at 10 a.m.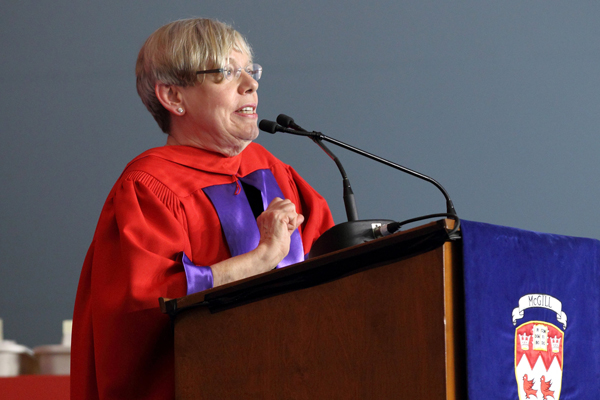 A devoted student of comparative religion and one of the world's leading commentators on religious affairs, Karen Armstrong is dedicated to bringing the various religious groups around the globe to a better understanding of each other. In her recent Charter for Compassion, she brings together the voices of people from all religions; she reminds the world that all different faiths, while distinct, share the core principle of compassion and emphasizes that compassion entails putting oneself in the position of the other. An ambassador for the United Nations Alliance of Civilizations, she is the recipient of many awards including the Roosevelt Institute's Freedom of Worship Award, the Swedish Nationalencyklopedin's International Knowledge Award, the TED Prize, the Jack P. Blaney Award for Dialogue, The British Academy Al-Rodhan Prize for improving Transcultural relations and the Morehouse College Gandhi/King/Ikeda Prize for Community Builders. Karen Armstrong is a graduate of Oxford University.
DENISE CHONG (Doctor of Letters), Faculty of Arts – Tuesday, June 3, at 2 p.m.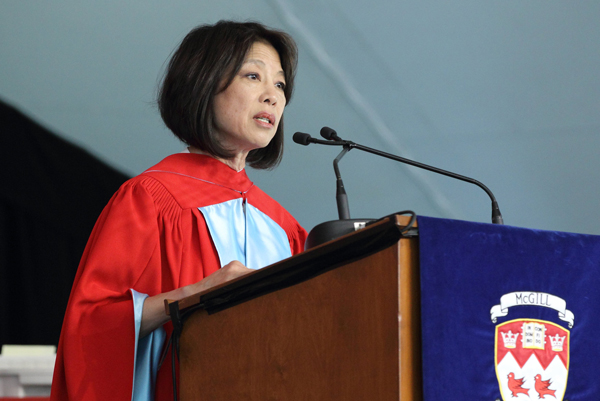 Economist and author Denise Chong is a third-generation Canadian of Chinese descent whose books evoke everyday happenings and relationships amidst extraordinary times. Two of her books chronicle the immigrant experience by tracing the lives of Canada's early Chinese families, including her own; two others, set against times of war and of social tumult, about individuals who ultimately are granted asylum in Canada, are a portrayal of courage and a paean to freedom of expression and human rights. In a 1994 speech on "Being Canadian", she wrote: "My own sense of being Canadian is one of belonging. I belong to a family. I belong to a community of values," and that has led her to give back to her country. She is noted for her civic engagement in social causes, most notably as a supporter of human rights and the arts. Denise Chong is a graduate of the University of British Columbia and the University of Toronto.
RUBIN GRUBER (Doctor of Science), Faculty of Science – Wednesday, June 4, at 10 a.m.
Rubin Gruber has been a successful entrepreneur in the telecommunications and data communication world for more than 40 years. He founded many companies and now serves on the boards of several others. Mr. Gruber earned his Bachelor of Science degree from McGill in 1965. Having benefited from the McConnell Scholarships, he later established the Rubin Gruber Scholarships for McGill students. "Giving deserving students the ability to receive a quality education to ensure a better future for themselves and their families is the fundamental objective of establishing the McGill Scholarship." In addition to the scholarship, Mr. Gruber has lectured to McGill science students on entrepreneurial fundamentals and start-up development strategies. Rubin Gruber also holds a graduate degree from Wayne State University.
FABIOLA GIANOTTI (Doctor of Science), Faculty of Science – Wednesday, June 4, at 2 p.m.
Fabiola Gianotti's scientific accomplishments and exceptional leadership have led to seminal advances in the field of subatomic particle physics. As the leader of the ATLAS experiment at the Large Hadron Collider at CERN in Switzerland – a collaboration of more than 3,000 scientists from 169 institutions and 37 countries and considered one of the world's biggest scientific experiments – she played a determinant role in the recent discovery of the subatomic particle known as the Higgs boson. Fabiola Gianotti's remarkable career achievements have been acknowledged beyond the scientific community: she was named as one of Forbes' Magazine Top 100 World's Most Powerful Women and in 2012 was a finalist as Time Magazines' Person of the Year. Fabiola Gianotti is a graduate of the University of Milan.