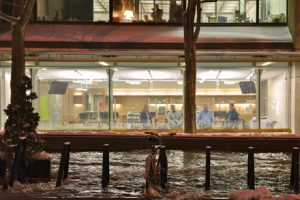 By McGill Reporter Staff
While not quite of biblical proportions, the Great Flood of 2013 sent many McGillians scurrying to seek higher – and dryer – ground yesterday afternoon and continues to wreak havoc today.
Montreal officials said the flood was caused when a 120-centimetre water main at a construction site near a construction site on Dr. Penfield near Peel St. ruptured. The break, which occurred at approximately 4:15 p.m., sent a violent torrent of water cascading down the slope of Mount Royal into the downtown core.
McGill's downtown campus was hit hard, forcing the cancellation of some classes Monday afternoon and the evacuation of a number of buildings caught in the floodwater's path. A video on Youtube shows one young woman being knocked off her feet and swept down McTavish St. while she tried to cross the street near the University Centre. She was reported on social media sites to be unharmed.
Despite cleanup crews working around the clock, the University is heavily affected by yesterday's flood. While the original broken water main has been capped, a smaller leak that developed in another pipe near the site of the original break continues to send water flowing into the downtown campus, but city officials hope to have it fixed later today.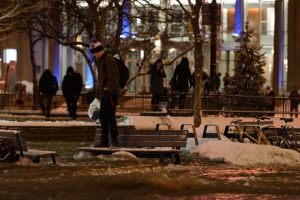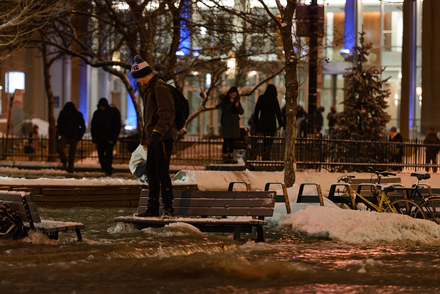 Building closures and class cancellations
Today, classes are cancelled in Wilson Hall and the Birks Building, and are being relocated from the Wong Building. Physics labs are closed in Wong and that building is unlikely to be reopened before the end of the week. Students who have been affected by the relocations have received additional information regarding these classes via email.
The James Administration Building is also closed at least for today as cleanup on the first and second floors continues.
The north entrance to the McConnell Engineering Building is closed, except for emergencies. Classes will continue in McConnell.
The Service Point and Welcome Centre in the basement of the McLennan Library Building, are closed today.
In a press conference yesterday, Montreal Mayor Michael Applebaum confirmed that the break occurred while workers were repairing an almost century-old water main at the intersection of Pine and Dr. Penfield Avenues. The work, which has been ongoing since Oct. 2012, is part of the $1.3-billion project to upgrade Montreal's much-maligned water-distribution system.
Yesterday's broken main paralyzed traffic during the afternoon rush hour, leaving Sherbrooke St. and a several busy downtown intersections knee-deep in water. A number of bus routes had to be rerouted and commuter train service from Central Station to Deux-Montagnes was halted temporarily.
Readers are invited to tell us their stories and to send their videos and pictures to neale.mcdevitt@mcgill.ca