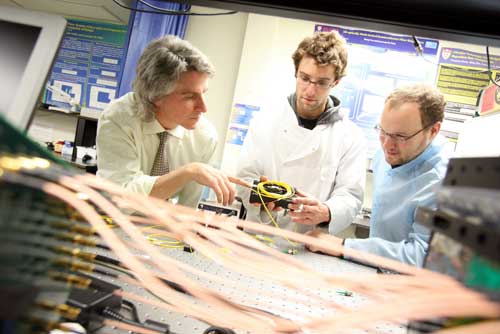 By McGill Reporter Staff
In a bid to boost Montreal's reputation as a major centre devoted to knowledge and creativity, the City of Montreal announced Sunday it will provide $600,000 over the next three years to the Société du Quartier de l'innovation de Montréal, while the Quebec government is kicking in an additional $200,000 in 2015-16.
McGill, a major participant in the project, was delighted with the news, Vice-Principal (Research and International Relations) Rosie Goldstein said at the event announcing the financial contributions.
"The Quartier de l'innovation will make Montreal known as one of the major cities dedicated to knowledge and creativity," Montreal Mayor Denis Coderre in a statement.
The development, largely located in the South West district south and southwest of downtown Montreal, has already brought change to the once working-class Irish neighborhood that had evolved in recent decades into a somewhat desolate industrial area.
QI, a project in which McGill and the École Technique Supérieur (ETS) are joining to encourage opportunities for business and technology startups, research hubs and neighborhood development and urban planning projects involving culture and the arts, was launched in 2013. Concordia University joined the project in January 2015. QI is modeled on a number of similar, but different development districts in cities around the world, including Boston, Barcelona, New York and London.
"For the past few years, we have worked very hard with our partner ETS to mobilize the community and make the Quartier a real showcase of innovation for Montreal," Goldstein said, thanking Coderre and Robert Poëti, Quebec's Minister of Transport and Minister responsible for the region of Montreal, for their contributions.
"McGill has a proud history of collaboration, we are committed to encouraging innovation and fostering entrepreneurship on campuses and in our community. Since beginning our engagement with QI, we have more than 20 initiatives led by our professors and students in this district. These projects are not only related to the technological sector, they are also linked to social, cultural and urban planning needs."
"Our goal is to work with the social sector, the cultural and entrepreneurship sectors to represent all the strengths of this area and to do something concrete," QI Executive Director Damien Siles told CTV News.
"The QI is a unique initiative with strong impact as it offers students, researchers and professors opportunities to explore solutions to expressed-needs, with the goal of improving the quality of life for the community," Goldstein said.