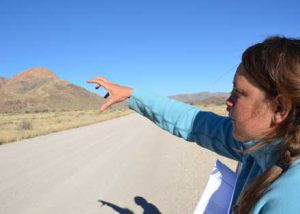 By Jim Hynes
You might say Christie Rowe was born to study earthquakes.
The Northern California native was 11 years old when the Loma Pietra earthquake that killed 57 people in October 1989 literally shook her world.
"That experience made me realize the earth is a dynamic place, with so much going on under our feet that we rarely get to see," Rowe says. "I think there is an inherent human curiosity about the natural world, wanting to understand our place in the universe. We all get a feeling of awe at those moments when we feel very small, but not necessarily insignificant – looking at the night sky, a chance meeting with a wild animal, or experiencing an earthquake or a storm. Loma Prieta was like that for me. It started me on the path of wanting to understand how things really work."
Rowe, an Assistant Professor in the Department of Earth and Planetary Sciences who came to McGill a little more than a year ago from UC Santa Cruz, will share her vast knowledge about all things ground-shaking with her fellow McGillians on Thursday, Sept. 13, when she delivers the Cutting Edge Lecture in Science: In Search of the Source of Earthquakes, at the Redpath Museum. The lecture gets underway at 6 p.m.
Last spring, Rowe joined 27 other scientists aboard the world's largest scientific drilling vessel to study the fault that generated the 3/11/11 Tohoku Earthquake and Tsunami that devastated parts of Japan.
Rowe will share her experiences during that expedition with lecture-goers, and also address more basic concepts, like what an earthquake is, where its energy comes from and where it goes, and how it can be recorded in the rock record. She'll also give some examples of "fossilized earthquakes" and more recent ones, and finally bring it all home and show how earthquakes are responsible for creating temporary conditions that help ore deposits form in the crust, with some examples from Quebec and Canadian mines.
 For more about this and other Cutting Edge Lectures in Science, visit: www.mcgill.ca/redpath/whatson/cuttingedge