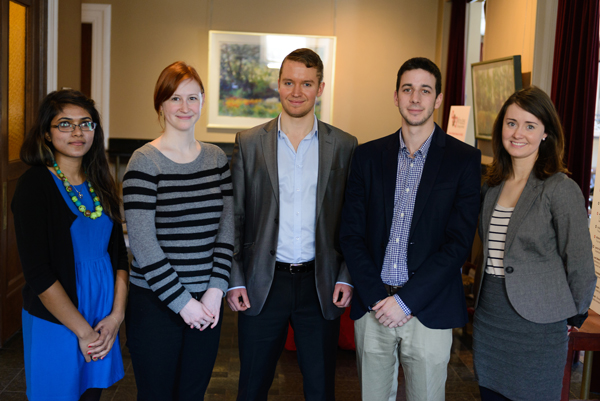 By Jennifer Johnson
"What's your thesis about?" is a question familiar to almost every grad student. It is a simple question often posed by friends and family, but one that typically elicits long and sometimes confusing responses that only colleagues would care to understand. However, it is an important question and one whose answer is the result of countless hours spent in labs and libraries passionately searching for creative solutions, new modes of thought and novel approaches to existing methodologies. Teaching the next generation of scholars how to concisely and succinctly share the significance of their research is the purpose of 3 Minutes to Change the World – an annual event showcasing the breadth and calibre of graduate research at McGill.
The third edition of 3 Minutes to Change the World was held on March 31, and hosted by the Office of Graduate and Postdoctoral Studies (GPS). It featured 12 graduate students from diverse disciplines describing their research and its significance to a non-specialist audience. This was the first year presentations were bilingual and competitive.
Participating students were selected by a blind jury to showcase their research based on clarity, coherence and potential impact. A presenter in English and French were selected from the twelve presenters to represent McGill at the national Canadian Association for Graduate Studies (CAGS) Three Minute Thesis (3MT) competition and Association francophone pour le savoir (ACFAS) concours Ma thèse en 180 secondes (MT180).
Alexandra Blair, a MSc. Psychiatry student, was selected as the English winner. She will present her thesis on how neighbourhoods affect mental health at the Eastern regionals in Halifax on April 24. Blair analyses the social, physical and economic factors affecting the general health of community members and looks at how local infrastructure can be used to improve citizen health.
The French winner was Nilmini Mendis, a PhD candidate in Microbiology, who will present "À la chasse des bactéries cachées: L'histoire de Legionella" at the 82e Congrès de l'Acfas on May 14. Mendis is developing a means to track the bacteria responsible for Legionnaires' disease, which becomes dormant and undetectable at low temperatures, in order to improve water testing facilities and minimize outbreaks.
The three minute thesis presentation model, largely inspired by TED Talks, has been gaining popularity since the University of Queensland in Australia developed the 3MT competition in 2008. In previous years, McGill's iteration of the event had been non-competitive, focusing primarily on the professional development of the presenters and promoting the social impacts of their research.
Building presentation skills is a key aspect of the 3 Minutes to Change the world experience. To foment these skills, participants attend a mandatory training session in which they practice their presentations for peer review. The presenters, with facilitators from Teaching and Learning Services (TLS) and Graduate and Postdoctoral Studies (GPS), provide feedback on all aspects of the presentation from tone and delivery, to visual communication and script organization. The session is recorded for the presenters' reference.
For many presenters this is the first time that they have interacted with students outside their disciplines. Through interacting with a more diverse peer-base, the students learn that key terms and starting points that seem obvious and straightforward within their field can be loaded with assumptions that are easily misunderstood by an external audience. In this way, 3 Minutes to Change the World breaks down the often insular experience of academic disciplines.
Presenter and honourable mention recipient, Jay Olson in the Department of Psychiatry, agrees that the training was invaluable. "A few of us who competed at 3MT presented at an interdisciplinary conference the next day which had prizes for the best speakers," says Olson. "They announced the winners, and all three winners had also competed at the 3MT. I guess the training paid off." Olson received first place for his presentation "Using magic to influence choice" at the 10th annual Interdisciplinary Grad Student Research Symposium.
Changing the world in three minutes may seem like a lofty goal, but the presenters are working to develop innovative solutions to complex problems with extremely positive results. Research subjects ranged from developing interventions in cyberbullying; reducing instances of deafness in children undergoing chemotherapy; providing an alternative to drug therapy for attention deficit disorders; and the creation of a new injectable spinal fluid that would increase recovery rates for patients suffering from trauma induced paralysis among others. Partnering with the national and international 3MT competitions promotes these important initiatives to the general public and future benefactors of this research. Their research may take a little longer than three minutes to change the world, but they'll do an excellent job explaining how before the clock ticks down.
Watch a video of the event here.
Read first-hand accounts on the GradLife blog here or here.