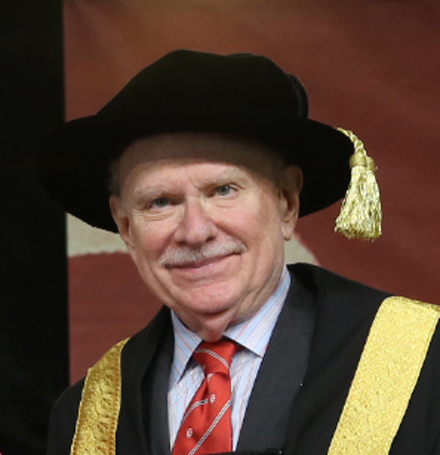 By Doug Sweet
McGill Chancellor H. Arnold Steinberg will have something in common with Principal Heather Munroe-Blum following a Quebec City ceremony Thursday, when he will add an Ordre National du Québec lapel pin to the Order of Canada pin he already wears.
Steinberg said he's very proud of being made an Officer of the Order and, as a life-long resident of Quebec, feels very honoured to be recognized by his province.
Although this award, as well as other honours, celebrates Steinberg's outstanding 40-year career as a volunteer in the health-care sector, the Chancellor said he is most proud of the instrumental role he was able to play in the development of McGill's renowned Arnold and Blema Steinberg Medical Simulation Centre.
"That has been such an extraordinary success," he said. "Beyond everything we dreamed of."
The groundbreaking Centre, which opened in September 2006, provides the next generation of doctors, nurses, physiotherapists and occupational therapists with hands-on training in difficult and potentially dangerous procedures without risk to patients, as well as underscoring the importance of teamwork in delivering health care.
"McGill's is the only one accredited by three different bodies – two in the United States and one in Canada," Steinberg said, adding that recent changes to the curriculum in the Faculty of Medicine will mean even more exposure to medical simulation centres to be set up in teaching hospitals, as medical students spend more time in the hospital setting and less in the classroom.
"That's a whole exciting new development," he said.
Principal Munroe-Blum said she is delighted that Steinberg's lifelong efforts to improve health care and medical training are being recognized yet again.
"We are tremendously proud of Chancellor Steinberg's prestigious recognition. He served 19 years as Chairman of the Board of the McGill University-Montreal Children's Hospital Research Institute and more than 10 years on our Board of Governors, has made an extraordinary contribution not only to McGill and its affiliated hospitals, but to Quebec and society more broadly," she said. "He has been involved in so many health- related causes, dating back to his successful campaign to have Vitamin D added to the milk sold in Quebec. As a business leader, as a tireless volunteer, as a great friend to McGill, Chancellor Steinberg has demonstrated a sense of generosity and integrity of the highest order. This is well deserved."
McGill's Board of Governors Chair Stuart H. ("Kip") Cobbett echoed Principal Munroe-Blum, noting, "Arnold Steinberg has, with grace and dedication, accomplished a great deal in the vital field of health care over many years. He has given selflessly of his time and resources toward a goal and a cause that is of benefit to all. I, too, am delighted that he has been selected for this honour, which he has truly earned."
A graduate of McGill (BCom54) and Harvard University (MBA57), Steinberg is currently a senior officer with Cleman Ludmer Steinberg Inc, an investment holding company. After his graduate studies, he worked in Corporate Finance for Dominion Securities, now RBC Dominion Securities, later joining Steinberg Inc. serving as both a member of the Board of Directors and its Executive Committee, and holding various senior management positions. He has also served on the boards of several companies, including Bell Canada International, Teleglobe Inc., Provigo Inc. and Banque nationale du Canada.
McGill awarded Steinberg an honorary degree in 2000 in recognition of his contribution to the University and society at large.
His wife, Blema Steinberg, taught political science for 41 years at McGill and is a Professor Emerita.
The Order of Quebec began in 1985 as a means to honour outstanding Quebecers, "who, through their achievements, values and ideals, have influenced Quebec's growth and contributed to its renown."
In addition to Chancellor Steinberg, other inductees to the order who are affiliated with McGill are:
Frederick Andermann, BSc"52 (officer), Aldo Bensadoun, BCom'64, LLD'12 (chevalier), Claude Corbo, LLD'96 (officer), Monique Jérome Forget, BA'71, PhD'77 (officer), Bernard Lamarre, DSC'01 (grand officer), and former faculty member Hany Moustapha (chevalier).