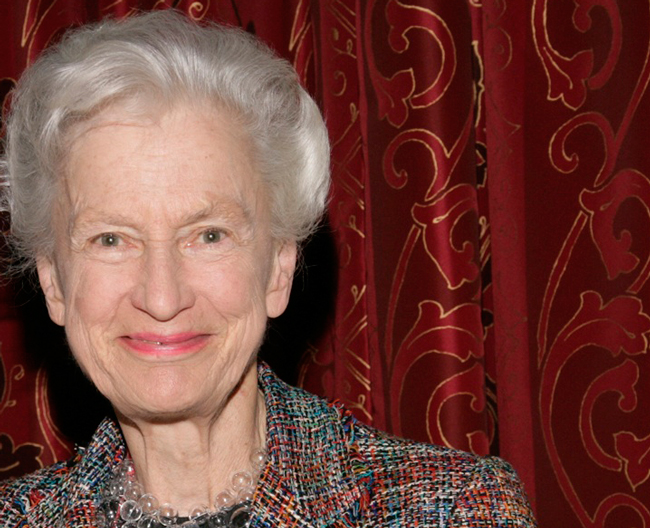 Funeral services will be held Saturday, Sept. 16, for Gretta Chambers, McGill's first female Chancellor, who died Saturday, Sept. 9, at age 90, in St. Mary's Hospital.
The Chancellor Emerita's roots at McGill were deep and long, as was her love for the University. Chambers was frequently seen on campus, where she was in her element. For many she seemed immortal, a constant presence, a fact noted by Principal and Vice-Chancellor Suzanne Fortier in a statement issued Saturday and which was distributed to the University community Monday afternoon.
"I was deeply saddened to learn of the passing of our Chancellor Emerita, Gretta Chambers," Principal Fortier said. "On behalf of the McGill University community, I extend my condolences to her family and pay homage to the many ways she supported McGill throughout her life. She has made an immense contribution to our University and to the society in which she lived.
"It was always a special joy to recognize her at our Convocation ceremonies, which she attended loyally to celebrate the accomplishments of our students," Principal Fortier said. "As a journalist and political commentator, and as a significant figure in the life of her community and her institution, Gretta brought insight, wit and wisdom to the various roles she played. We will deeply miss her presence on campus but she will forever remain in our hearts."
Chambers, who served as Chancellor from 1991 to 1999, received her BA in Political Science from McGill 1947, at a time when very few women pursued degrees. She was 20.
She was one of the first anglophone journalists to take an interest in French-speaking Quebec and wrote a weekly column for The Gazette.
Chambers had been a member of the Board of Governors since 1978, and Governor Emerita since 1988. She was a member of the Conseil de la magistrature du Québec, and chaired the task force on the anglophone school network in Quebec in 1992 and the Advisory Board on English Education for the Minister of Education, Recreation and Sport. She was a member of the board of the Laurentienne générale and the Institut de Design de Montréal.
"Gretta set the bar high for those who followed her as Chancellor of McGill," said current Chancellor Michael Meighen. "She was a tireless supporter of the University and her good humour and energy were contagious. I shall miss her deeply."
Board of Governors Chair Ram Panda also had kind words for Chambers. "Gretta made so many important contributions to McGill, that it is impossible to keep track of them all. She worked passionately to bring various communities together and was a perpetual  ambassador for the University, which she served with remarkable dedication and distinction. She is going to be missed greatly."
In recognition of Chambers' longstanding service to McGill, the McGill Alumni Association presents its annual Chancellor Gretta Chambers Student Leadership Award to "one or more students who have demonstrated leadership qualities while contributing in a volunteer capacity to the advancement of the McGill Alumni Association, McGill or the community."
The child of an anglophone father and a francophone mother, Chambers was devoted to the rapprochement of the two official language groups.
She was also a pioneering woman journalist in print and broadcast media, in both official languages. From 1966 until 1980, she hosted the weekly CBC radio show, called The Province in Print, when the voices of women were rare on the airwaves. From 1977 to 2002, Chambers wrote a weekly column in the Montreal Gazette. She hosted The Editors, a weekly public affairs show broadcast on CFCF 12. She was a member, from 1977 to 1980, of the editorial board and a journalist for Report Magazine, a Canadian business magazine, and a columnist for the Regina Leader Post and the London Free Press, beginning in 1988.
Chambers contributed to Langue et Société, CBC Newsworld and CBC radio as a political commentator, as well as the International Herald Tribune, CJAD, CBF, CJMS, Radio-Canada and Radio-Québec.
She was named an Officer of the Ordre national du Québec in 1993 and in 1994 Chambers was made a Member of the Order of Canada, and promoted to Companion in 2000. She was inducted into the Academy of Great Montrealers in the Scientific category in 1995 and was named a Commander of the Ordre de Montréal in 2016. Chambers' other honors include the Édouard Montpetit Medal (1997), the National Symposium on Official Languages Award (1998), the Médaille de l'ordre de la Pléiade (1999), the Mérite Philanthropique from the Quebec Chamber of Commerce (2000), and the Friend of Education award from the Canadian Council for the Advancement of Education (2001).
McGill University awarded Chambers with an honorary doctorate, the University's highest honor, in 2001. She also held an honorary doctorate from the University of Victoria.
CBC News reported Saturday night that Chambers had suffered a fall recently and, when taken to hospital as a result, medical staff discovered other underlying medical issues, which were brought to the attention of her family.
Quebec Premier Philippe Couillard was among the first of many to pay tribute to Chambers's important contributions to Quebec over the years.
"Very sad to hear of the passing of Gretta Chambers. She was a great Quebecer. My sympathies to her family and friends," he said in a message on Twitter Saturday night.
Chambers is survived by her five children – Susan, Geoffrey, Michael, Simone, and Bill — and eight grandchildren. She was predeceased by her husband, Egan Chambers, a Progressive Conservative MP, who died in 1994.
"She was active in trying to help find a reasonable balance between the needs to protect the French language and the preservation of the English speaking community of Quebec and she undertook a serious study on the issue of access to English schools," former McGill Vice-Principal  Michael Goldbloom, and current co-chair for the McGill Institute for the Study of Canada, told CTV News. "She and her husband Egan used to have the best Christmas parties in Montreal because they really did bring together people who didn't naturally have an opportunity to come together and meet," he said.
Like her brother, world-renowned McGill Philosophy Professor Charles Taylor, Chambers was a strong proponent of human rights and was involved in the Montreal Consortium for Human Rights Advocacy training (MCHRAT) at McGill from its inception in 1991. When a MCHRAT project, the McGill Middle East Program (MMEP), took off in 1997, Chambers became a Co-Chair of its Executive and Management Committees. Committed to public service and human rights, Chambers continued to hold her position as MMEP Co-Chair.
When Chambers was awarded the Sheila and Victor Goldbloom Distinguished Community Award in 2012 she told the CBC, "You can take everything away from a person; his or her looks, health, friends. You cannot take away what they know. They have that forever."