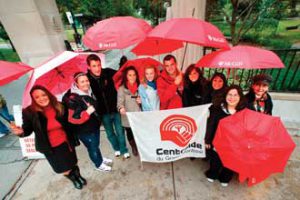 By McGill Reporter Staff
McGill's annual Centraide campaign is gearing up for a launch on Sept. 28 under co-chairs Chandra Madramootoo, Dean of the Faculty of Agricultural and Environmental Sciences, and Vaughan Dowie, Executive Head of Public Affairs.
The goal, Dowie said, is to encourage more McGillians than ever to join in the campaign and help support an organization that reaches out to thousands of Montrealers who need help in one way or another. Centraide funds a network of more than 350 organizations in the greater Montreal area.
"It's all about participation," Dowie said. "No amount of support is too small. All contributions are welcome. It's a way all kinds of worthwhile organizations are funded. It's a really cost-effective way to raise money for organizations that would otherwise have trouble mounting a fundraising campaign of their own."
The McGill community, Dowie noted, comes through all the time when called upon to help those in need. He cited the strong responses to the Haitian earthquake and other natural disasters like floods in Pakistan and the catastrophic 2004 tsunami as examples.
"Here is a chance to help out those in need in Montreal."
This year's campaign target hasn't been announced yet, but last year McGill succeeded in meeting its $320,000 goal.
If every McGill employee gave just $2 per pay (a donation of $48 over the course of a year), the University would raise about half a million dollars for Centraide.
"It's less than the price of a latté," Dowie said. "It's like the cost of a lottery ticket. All by itself, it's small change. Added together, this small change changes lives."
More information about the campaign will be forthcoming after the Sept. 28 kickoff.