Whether it's by tracking forest fires from outer space, influencing Quebec's cannabis legislation, or advocating for human rights, many McGill researchers, at all stages in their careers, are making a difference. Each year, the Principal's Prize for Public Engagement through Media recognizes the many members of the McGill community who, by sharing their expertise and knowledge, advance our understanding of a range of pressing issues.
"Part of what we do is advancing knowledge. We are honouring those of you who take the time to share what you know with others. It's incredibly important," said Principal Fortier, in a presentation ceremony in her office back in March, before the COVID-19 shut down most on-campus activities. "Because by sharing your knowledge, you bring our University into the community and you bring the community into our University. That's a real gift."
Since the competition began four years ago, the number of applicants has grown annually, with an increase in applications of over 10 per cent this year. A list of strong candidates made it difficult for this year's jury.
"It was quite challenging to separate the winners from the runners-up, because the candidates were so impressive, not only in terms of sharing their research and their knowledge, but also in terms of the impact their work has on the community," said Pierre Boisseau, Senior Director of Institutional Communications at McGill, and a member of the jury.
McGill researchers do it all, from fireballs ….
The winner of the 2020 Collaboration Prize, a new prize given to groups of students who engage with public and/or the media, was the Chemistry Outreach Group, a group that in 2019, reached over 2,000 people through their interactive chemistry workshops in both French and English. Ada McVean and Christophe Lachance-Brais, both PhD students in the Department of Chemistry, accepted the prize on behalf of the group.
"McGill Chemistry Outreach's core value is accessibility of education," said Lachance-Brais. "We believe that everyone should be able to learn and appreciate chemistry and we hope to spread the love of nature, as seen through the lens of science. In this age of alternative facts, we spread science literacy and we fight misinformation, one fireball at a time."
They then exploded a (small) fireball, to laughter and applause from around the room.
… to fire monitoring …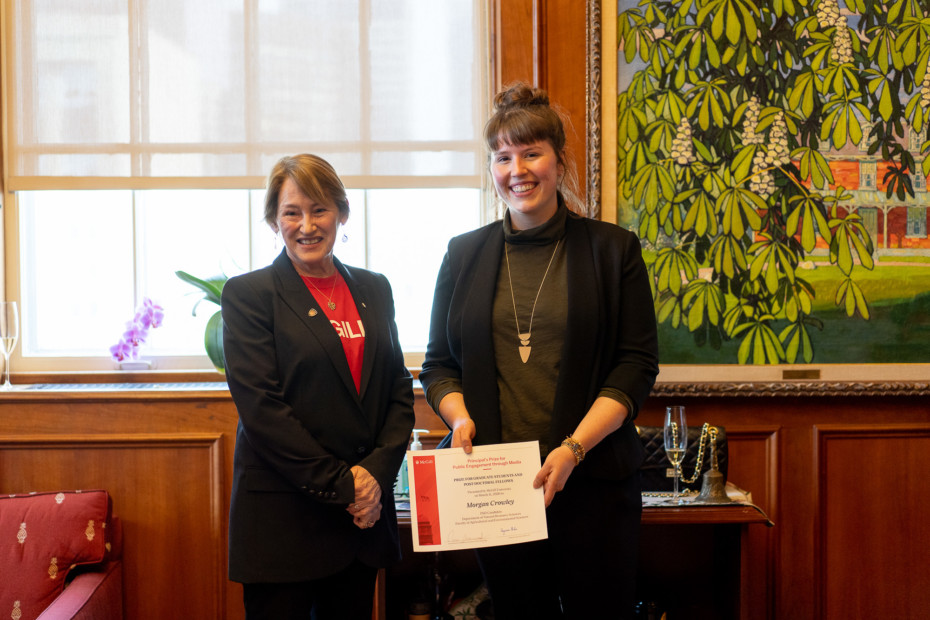 The winner of the 2020 prize for Graduate Students and Post-doctoral Fellows was Morgan Crowley, a PhD candidate in the Department of Natural Resource Sciences. By developing techniques to monitor forest fires in real time from space, her research has helped stakeholders such as the Canadian Forest Service manage thousands of acres of Canadian forests better.
The jury was also very impressed by how active Crowley is in encouraging and promoting the work of other women in STEM through the popular Ladies of Landsat Twitter account and through her leadership of the Macdonald campus group for Women in Science.
"As a PhD student in science, sometimes I worry that when I interact with the public or stakeholders, it isn't considered a contribution to science because it could be seen as taking away from my research," said Crowley. "However, with this award, I know that what we do does matter, because we have the support of McGill, our home institution."
… to housing access …
The prize for Emerging Researchers, a new category added this year for researchers who are in the first 10 years following their final degree, was won by Professor David Wachsmuth from the School of Urban Planning. Wachsmuth has established himself as one of the foremost experts on short-term rentals (such as AirBnB) and their impact on local housing markets and affordability.
"Receiving this prize is an enormous validation of my work to understand the impacts of short-term rentals on cities in Canada and around the world," said Professor Andrew Kirk on behalf of Wachsmuth, who was unable to attend. "As a pre-tenure faculty member, it can be a difficult decision to divert time and energy away from maximizing peer-reviewed publications. Knowing that McGill values a diversity of research outputs makes a big difference to someone like myself working with the commitments of publicly oriented and publicly accountable scholarship."
… protecting youth from early cannabis consumption …
The prize in the category of Established Academics, those who are more than ten years beyond their final degree, was won by Dr. Gabriella Gobbi, from the Department of Psychiatry. 
After seeing a link between depression and cannabis consumption in young people, Dr. Gobbi made it a point to communicate this information to the public, especially after cannabis was legalized for 18-years-olds in Quebec. Through presentations to the Quebec Ministry of Health and Social Services and to Research Canada, Dr. Gobbi's engagement with stakeholders and the media had a tangible impact on cannabis legislation and policy in Quebec and Canada. It resulted in a change in the legal age of cannabis consumption in Quebec from 18 to 21.
Dr. Gobbi will be donating her prize money to associations in Canada and in Italy that work with children and youth that have drug dependence and addiction problems. 
… and fighting for human rights 
Professor Robert Leckey, Dean of the Faculty of Law, was named the winner of the inaugural Change-maker. This prize is given out in exceptional circumstances to an individual who is a role model and whose engagement with the public and the media has effected important societal changes.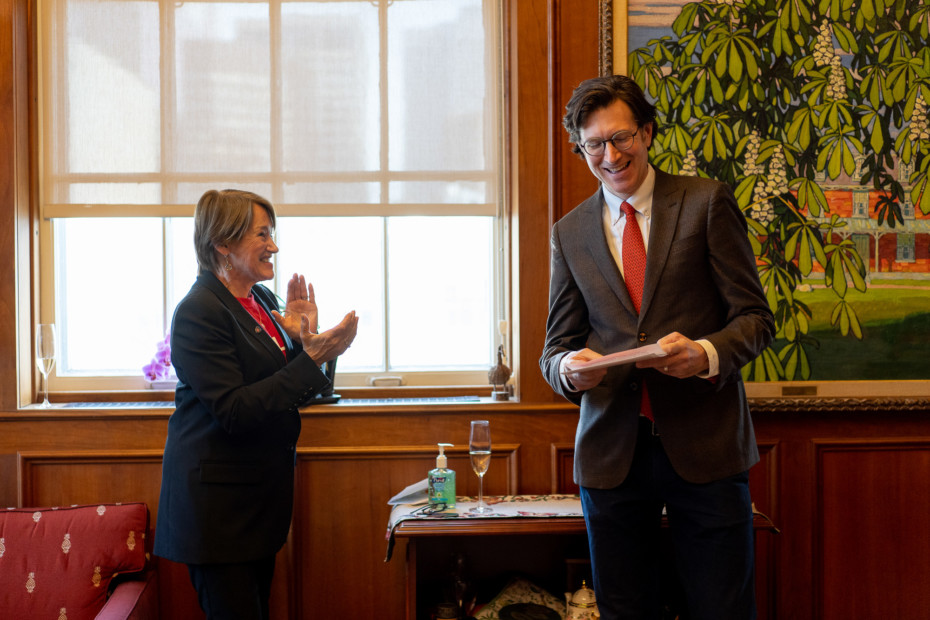 Through his op-eds, policy pieces and many interviews with media, Leckey has played a defining role in public discussions of human rights issues in Quebec for over a decade, whether relating to LGBTQ rights or more recently to those affected by Law 21. He was also commended for being an outstanding example to McGill students of the kind of role that lawyers, legal researchers and academics can play in shaping public discourse.
In his acceptance speech, Professor Leckey thanked Principal Fortier and the Provost, Chris Manfredi, for supporting his public engagement with the media. He added that through his work with media, he has become a better teacher, writer and researcher.
"Being a researcher and teacher at McGill, one of the world's great public universities, is a tremendous privilege. From the outset, it seemed obvious to me that we should use our opportunities to educate the public and to contribute to public debate," said Leckey. "Our Faculty of Law has a long tradition of public service and defence of those whose voices are under-represented or ignored. I'm pleased to contribute in a small way to sustaining this tradition."
Learn more about the Principal's Prize for Public Engagement through Media