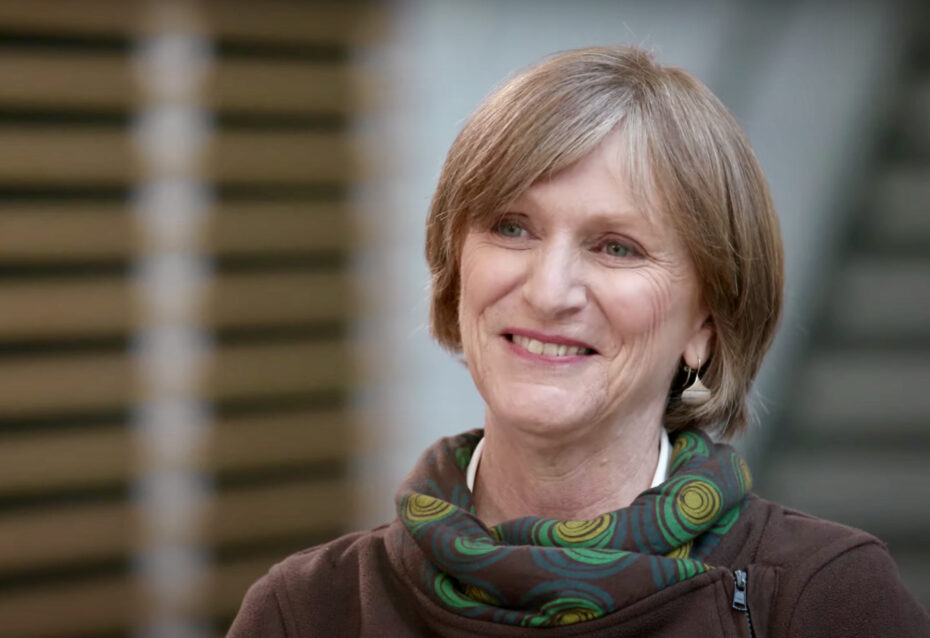 On September 14, the Royal Society of Canada (RSC) announced fifteen Canadian scientists, scholars, and researchers who have been honoured with RSC awards and medals for their outstanding achievements in their fields. Professor Catherine Potvin is the 2021 recipient of the RSC's prestigious Sir John William Dawson Medal for her significant interdisciplinary research in conservation biology, social-ecology, policy, and the arts. She will formally receive her medal at the RSC's 2021 Celebration of Excellence and Engagement, presented by McGill on November 19.
"An amazing part of winning the Sir John William Dawson Medal is that Pierre Dansereau, one of Québec's best botanists and ecologists, was also honoured with this medal in 1995," said Potvin. "It is great to see interdisciplinarity appreciated by the Royal Society of Canada."
Potvin is a Professor in the Department of Biology at the Faculty of Science, a Tier 1 Canada Research Chair in Climate Change Mitigation and Tropical Forest, a Trottier Fellow from the Trottier Institute for Science and Public Policy, and a Fellow of the RSC. She is an expert in tropical rainforest conservation and climate change whose work has focused on forest ecosystems and tropical forest carbon stocks—the amount of carbon that has been sequestered from the atmosphere and stored within the forest ecosystem—with particular attention to the land-use decision-making processes of Indigenous groups.
"I want to express my sincere congratulations to Professor Potvin for this remarkable and well-deserved recognition of her interdisciplinary research to mitigate climate change" said Martha Crago, Vice-Principal, Research and Innovation. "Now more than ever before, the world needs scientists such as Professor Potvin to work with Indigenous groups and bring climate action to the forefront of policy making."
A multifaceted approach to achieve climate change action 
Tropical forests are believed to store as much as 40 per cent of the earth's carbon, and currently, up to 15 per cent of annual emissions come from deforestation and degradation of tropical forests. As countries around the world struggle with climate change and rising global temperatures due to an increase of carbon dioxide levels in the atmosphere, Potvin focuses on the conservation of tropical forests to reduce greenhouse gas emissions caused by deforestation.
Potvin's interdisciplinary approach to fight environmental degradation and encourage climate action incorporates social-ecological systems, politics and policy change, and multimedia outreach. This multifaceted strategy has generated exceptional outcomes in translating the complexities of global environmental change into evidence-based policy for biodiversity loss and climate change. 
Biodiversity collaborations with Indigenous communities
To better study the clash between biodiversity and environmental degradation in a tropical climate, Potvin initiated the first long-term biodiversity and ecosystem function experiment in Sardinilla, Panama. Part of the experiment included the planting of about 5,000 individual trees to identify native tree species that could be best used in reforestation aimed at enhancing ecosystem services such as biodiversity or carbon stocks. In parallel she developed strong collaborations with the Emberá Indigenous communities with whom Potvin and her students developed participatory methodologies to quantify the forest carbon stocks of the Indigenous territories to understand the effects of land use on forest carbon storage and to develop scenarios of future change. This work earned Potvin the International Society of Tropical Foresters' Innovation Prize in 2016.
Merging fundamental and applied research, Potvin used the knowledge accumulated from her experimental tree plantation to develop action-research with Indigenous peoples of Panama interested in reforestation for carbon offsets. The experience resulted in the Emberá Indigenous communities offering to neutralize part of McGill University's carbon emissions by planting over 40,000 trees between 2020 and 2023.
Bringing natural and social science into the arts
Engagement with Indigenous peoples in Panama led Potvin to take another interdisciplinary leap, bringing natural and social science into the arts. She partnered with the Montreal-based non-governmental organization, Wapikoni Mobile, to host video training workshops for Indigenous and farming youth again in Panama to discuss environmental destruction and cultural protection through the lens of film.
She co-produced ten films which were screened in South America, North America and Europe. The goal was to bring Indigenous climate change and sustainability initiatives into policy conversations though a participatory process, and to establish a long-term basis for cultural exchange between Indigenous groups working on low-carbon initiatives and a community of scholars studying climate change mitigation.
In recognition of the meaningful impact she made to environmental conservation in Indigenous communities, Potvin was named a 2016 Pierre Elliot Trudeau Foundation Fellow.
Leading expert of climate policy in Canada
Wanting to produce a 'made in Canada' climate action plan, Potvin founded Sustainable Canada Dialogues, a pan-Canadian network of now more than 80 scholars committed to accelerating the low-carbon transition. The network has produced numerous reports, opinion pieces, and has given extensive media interviews to reach policymakers and Canadians on the issue of evidence-based climate action.  For her leadership of this network, Potvin won the Clean16 Award as Canada's Education and Thought Leader in 2016.
Given her research contributions, Potvin was designated co-leader of the Technical Assessment Panel of the World Bank's Forest Carbon Partnership Facility, an international benchmark for methodological development. She has been named Ecological Integrity Expert for Parks Canada's Ministerial Working Group on Ecological and Cultural Integrity in National Parks in 2018, and Climate Mitigation Expert for the Canadian Climate and Clean Growth Institute in 2019. She was most recently named a member of Québec's Comité consultative sur les changements climatiques, a permanent and independent body created by law with the mandate of providing advice to the Minister of Environment and Climate Change on the orientation, programs and policies to fight climate change.
About RSC's Sir John William Dawson Medal
The Sir John William Dawson Medal was established in 1985 by the RSC to honour the man who was its first President (1882-1883) and who was the foremost Canadian scientist and educator of his day: geologist, naturalist, teacher, author, man of religion, educational administrator and promoter of learning. The medal was endowed by McGill Graduates Society (founded by Sir William in 1857), the Henry Birks Foundation and the RSC itself, with contributions from Fellows, and staff and friends from McGill, to commemorate his term as Principal and to honour "the man who built McGill".
To commemorate Dawson's great versatility, the award is made for important and sustained contributions in two domains of interest to the RSC or in interdisciplinary research. The silver medal is awarded every two years if there is a suitable candidate.