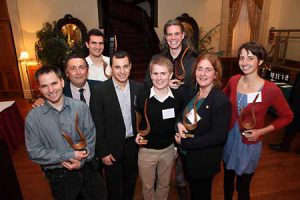 Annual award winners include students, staff and faculty
By McGill Reporter Staff
A funny thing happened to Jim Nicell at the second annual Catalyst Awards ceremony recognizing McGill students and staff who have gone above and beyond in their work to integrate sustainability into the University's knowledgebase, operations and culture. On hand to applaud the winners, he actually won one himself.
"It was a complete surprise. I was in total shock," said the Associate Vice-Principal (University Services) a few days after receiving the Special Career Achievement Award. "The organizers had my three children present the award to me – they've never been to work with me, never seen what I do. As powerful as getting the award was, having my family there for it made it all the more touching."
Nicell has championed sustainability efforts at McGill since he arrived in 1992. That year, he was a key player in the development of the Green Plan that ultimately laid the groundwork for McGill's Environmental Policy.
Nicell was one of seven McGill people and projects recognized with a Catalyst Award presented by the Office of Sustainability. Here are the other award winners: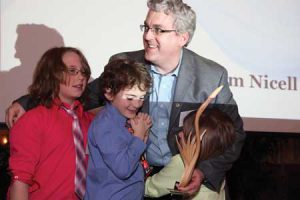 Joshua Kyle (Catalyst Award for Collaboration with the Administration)
Joshua Kyle has changed the way electronics are looked at and dealt with on campus by finding opportunities in the e-waste produced. He helped create Reboot McGill in 2010. Now an integral part of McGill's landscape, Reboot extends the lifespan of McGill's used computers by refurbishing and donating them to campus groups, students, the wider McGill community and off campus non-profits.
Teva Recycling Initiative
(Catalyst Award for Applied Student Research)
A joint venture between students and the McGill administration to improve recycling rates on campus is proof-positive that students can use academically rigorous experimentation to make concrete impacts within the University.
Teva was launched in 2009 with a pilot project to redesign the McLennan Library's waste management system. In 2011, the group expanded to study several recycling systems in the Schulich Library. Teva designed a centralized recycling system that improved recycling rates so significantly that the group was given the green light to implement the system across six high-traffic on-campus libraries.
Caroline Begg (Catalyst Award for Staff Contribution to Sustainability)
Caroline Begg, Faculty Lecturer in the Dept. of Plant Science, has been pivotal in the success of many applied student research projects. She's worked hard to support the Macdonald Student-run Ecological Garden students, helping them integrate the project with coursework. Begg has been a key member of the Out of the Garden Project, an initiative working to create a collaborative café that will integrate the skills and values of the Macdonald Campus community. She is also currently supervising the Farmer's Market applied student research.
Ground Services (Catalyst Award for Staff Contribution to Sustainability)
Almost every day the Grounds Services team demonstrates the importance of the sustainability mind shift in looking for ways to reduce its impact and preserve the environment. Among the team's numerous initiatives are xeriscaping and native landscaping to preserve local biodiversity; not using pesticides or chemicals on the lawns for aesthetics; using natural methods of pest control as much as possible; experimenting with less environmentally toxic road salt; favouring rakes over leaf-blowers; and trying a biodiesel conversion on one of their trucks.The team has also played a key role in the Big Hanna composting project since its inception.
Max Luke (Emerald Key Award)
This year, as student Senator, Luke helped organize a faculty forum which brought faculty members and senior administrators together to examine sustainability in research and curriculum. In the fall of 2011, as part of an independent study, Luke and his team interviewed over 40 individuals from the McGill community and other universities to understand how academic departments are thinking about sustainability and what the best strategies are for integrating sustainability into the curriculum. They produced a comprehensive report titled "Sustainability & Curriculum at McGill University: A Toolkit for Effective Strategy Building."
Macdonald Student-run Ecological Garden (Catalyst Award for 'Lessons Learned')
The Macdonald Student-run Ecological Garden is a project designed to providing students with the opportunity to learn and apply sustainable agriculture in practical ways. Since its creation in 2009, the project has expanded several times, increasingly making the hands-on farming experience more available to students and providing student-grown food on campus.
By treating each setback and difficulty as an opportunity for improvement and growth, MSEG has developed a clear presence on Macdonald Campus and intimately connects students with their food, promoting an appreciation for local, sustainable agriculture.