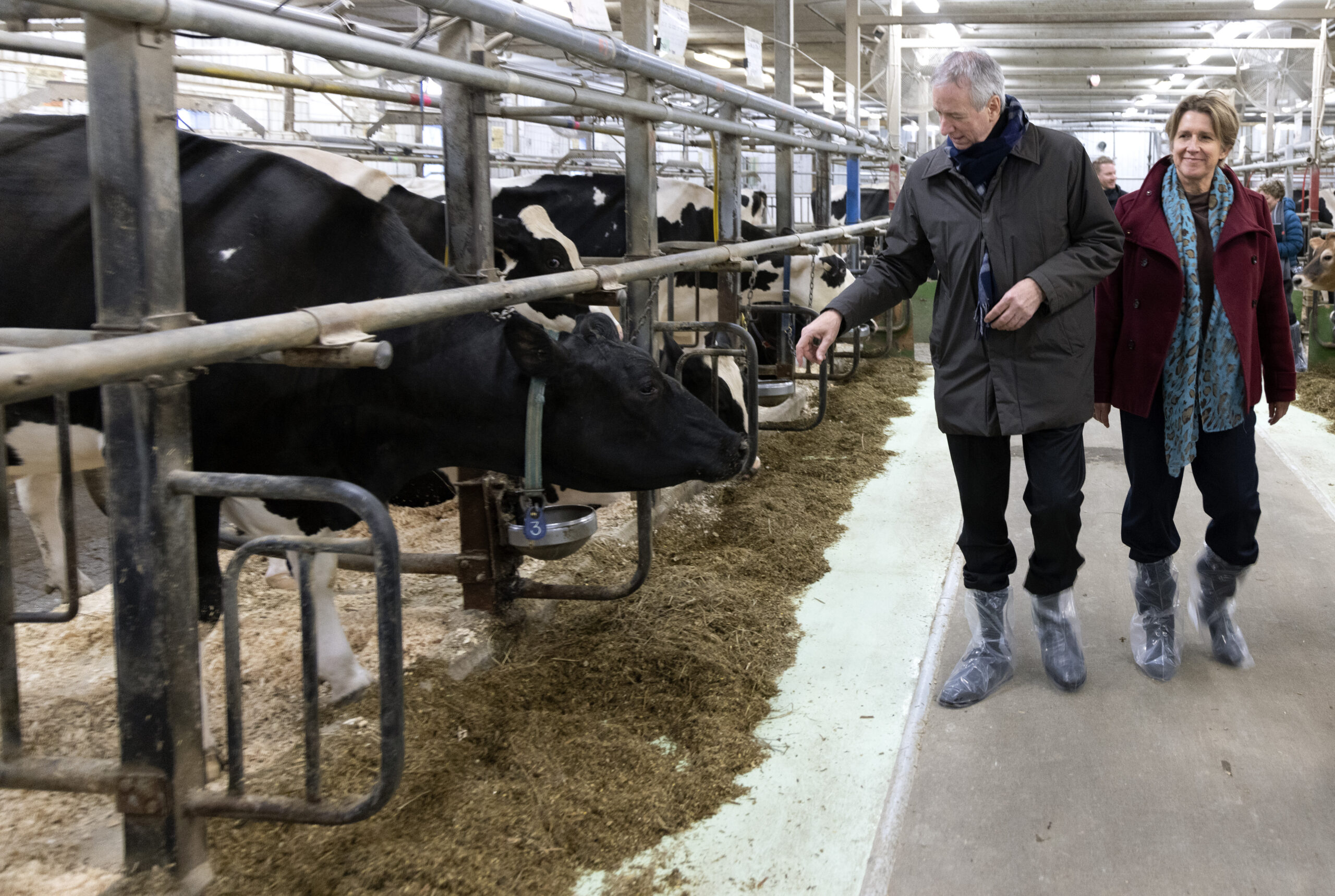 Anja Geitmann, Dean of the Faculty of Agricultural and Environmental Sciences, and some of McGill's top agricultural and environmental researchers, recently hosted André Lamontagne, Minister of Agriculture, Fisheries and Food at Macdonald Campus.
The Minister himself requested the meeting. He has also recently held a similar meeting with researchers at the Université Laval.
"I want to learn more about your research and hear your ideas on the challenges facing Quebec agriculture and how we can transform the industry to best respond to those challenges," he said. "I also want to hear what avenues or courses of action you think we should prioritize. There are enormous demands being placed upon us, but our resources are limited. When we make a decision, we want to ensure it is an informed one."
Minister Lamontagne began his visit at the Macdonald Campus Dairy Unit. Dean Geitmann gave him a tour of the facilities, which serve the unique multi-functional role within the University of research, education and milk production.
From there, the Minister made his way to the Faculty Lounge in the Macdonald-Stewart Building for a roundtable discussion with the following researchers under four key themes. The roundtable was moderated by Salwa Karboune, Associate Dean (Research); and Scientific Director, Consortium for Research, Innovation and Transformation of Agrifood.
Sustainable crop and animal production systems
Sustainable management of water and soil
Ecology and sustainability
Safe, nutritious and secure food supply
Each researcher gave a brief overview of their respective work with Minister Lamontagne asking questions. He seemed particularly interested in the applicability of the research to Quebec farmers and food producers; the feasibility of improving quality and quantity of food production in sustainable ways; and the extent to which researchers are collaborating with industry and colleagues from other institutions.
At the end of the roundtable, the Minister thanked Dean Geitmann and the researchers for their time and expertise, expressing his desire to tap into this expertise to help drive Quebec agriculture and food production. "Uncertainty sometimes holds people back from breaking away from what they already know and innovating," he said. "Your work is extremely important in developing concrete measures that can be employed directly in the field to improve production."
Following the research roundtable, the Minister participated in a roundtable discussion with students that was moderated by Pascal Thériault, Director, Farm Management and Technology.